There's good, there's evil, and there's Seluvis. He is a devious control freak who turns people he envies into his puppets by feeding them a nasty potion he secretly concocts in his sorcery lab.
We can find Seluvis in the Three Sisters Region, where he resides in his tower called the Seluvis' Rise. He is also a member of Lunar Princess Ranni's circle of conspirators, along with the Wolf Warrior Blaidd and Iji, the Blacksmith.
Not much is known about Seluvis, apart from his insidious ambitions fuelled with selfishness, which are clearly visible. Everyone who mentions Seluvis's name in the game does so with a tinge of bitterness and with no respect for him.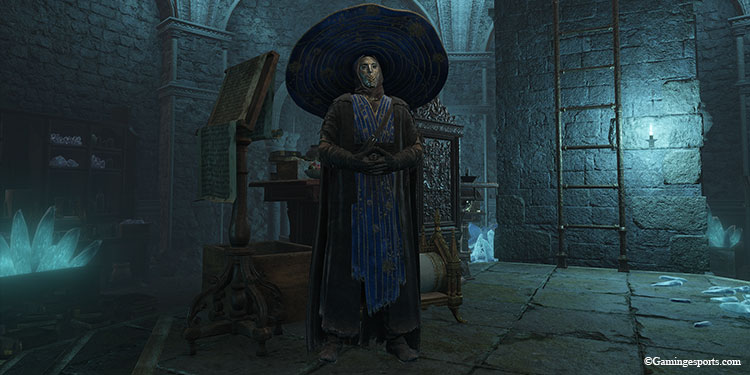 Seluvis has low opinion of Tarnished like us, and he scorns us every time he gets a chance. Despite that, he is still helpful if you wish to earn certain invaluable items only found by completing his quest line.
It is also very easy to accidentally lock yourself out of Seluvis's quest line, as he seems to have pissed off a lot of people who kill him as soon as you progress past a certain point in the game.
So let's carefully consider his quest line and complete it in the most efficient way possible.
Additionally, there are a few requirements to be eligible to complete Seluvis's questline without being locked out of it permanently,
You have to get into the service of Ranni the Witch, which means you should start Ranni's quest line.
You should complete Seluvis's questline before you deliver the Finger Slayer Blade to Ranni. After you give the blade to Ranni, Seluvis will be dead(killed by NPC Blaidd) and you won't be able to progress in his quest.
You have to reach a certain point in the quest line of NPC Nepheli Loux or NPC Dung Eater.
You need a bunch of Starlight Shards to buy puppets from Seluvis. So don't consume or sell the Starlight Shards you come across.
You might need a Celestial Dew at the end of Seluvis's quest to wash your hands and absolve your sins after doing dirty deeds for Seluvis.
With that in mind, let's start the quest. Here is a complete video walkthrough of the questline.
Meet Seluvis at Ranni's Rise
Reach Ranni's Rise to meet Ranni the witch. Once you enter her service, all 3 members of her circle will come to her tower to converse with you in their spectral forms. One of them is Seluvis, the rude one with a big round hat.
Talk to all 3 of them and exit Ranni's tower, then head southeast to find Seluvis's tower to meet Seluvis's physical self.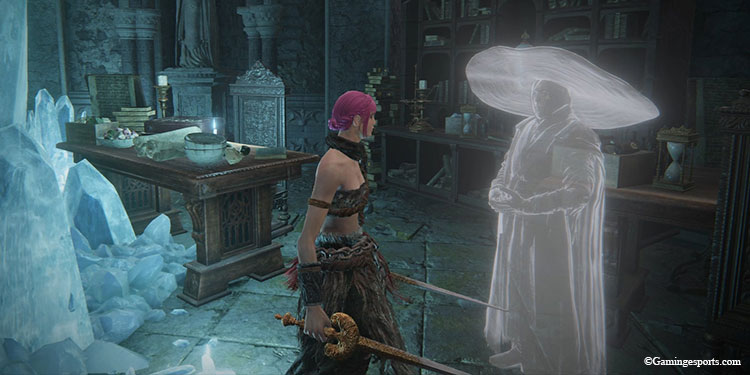 Go and Meet Seluvis at Seluvis's Tower
Enter Seluvis's tower after you meet his spectral form at Ranni's Rise and re-introduce yourself to him. Exhaust his dialogues, and he will ask you to give Nepheli Loux, an NPC, a potion he has made for her. He then hands you over the item Seluvis's Potion.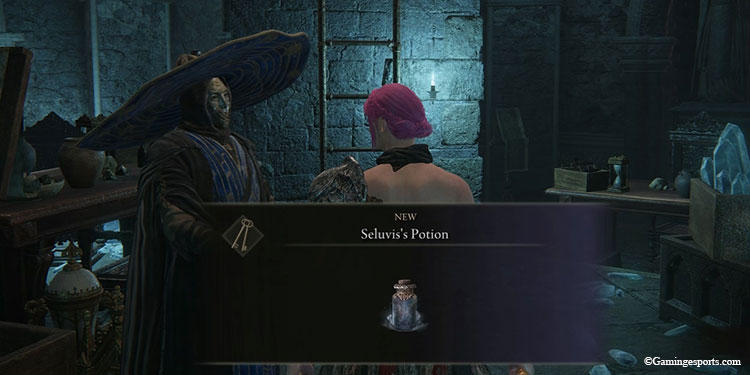 Deliver Seluvis' Potion
Irrespective of what Seluvis asked of you, there are a few options regarding what to do with this vile potion.
Administer the Potion to Nepheli Loux: You must progress with Nepheli's questline until she is on her knees at the Roundtable Hold. During her despair, you can give her the potion, this will create a puppet of her body in Seluvis' Laboratory, and later on, you can get her Spirit Ashes from Pidia. You can also buy the puppet of Dolores the Sleeping Arrow later on from Seluvis once you administer the potion to Nepheli.
(Note: Doing this ends Nepheli Loux's questline prematurely, locking you out of some rewards and her story)
Give the Potion to Gideon Ofnir the All-Knowing: Before you feed the potion to Nepheli, you can talk to Gideon in his chamber at the Roundtable Hold. He sees through the intention behind Seluvis' devious potion right away. Hand over the potion to Gideon and let him dispose of it safely, and later on, just lie to Seluvis about the potion.
Administer the Potion to Dung Eater: You need to progress with Dung Eater's questline for this interaction. Once Dung Eater is seated on a chair and asks for Seedbed Curses, you can feed him Seluvis' Potion instead. This makes it possible for you to buy the puppet Dung Eater's Spirit Ash from Seluvis later.
(Note: Doing this ends Dung Eater's questline prematurely, making you unable to get an alternative ending)
Seluvis only gives you one potion in each game. If you want both puppets of Nepheli and Dung Eater, you will have to play a New Game Plus(NG+).
Note: If you give Nepheli Loux the potion, you can buy Dolores the Sleeping Arrow puppet from Seluvis. You can buy a Dung Eater puppet if you administer the potion to Dung Eater. You won't get an additional puppet to buy if you let Gideon dispose of the potion. So choose carefully.
Find Seluvis' Laboratory
To progress with Seluvis' quest after you have administered the potion to either Nepheli or Dung Eater, you need to find his secret Laboratory. You can do this even after Gideon disposes of the potion.
The lab is found among the ruins, immediately northeast of Ranni's Rise. You need to go down a concealed room by breaking the illusory floor amidst the ruins.
In there, you will find puppets and a shining golden message you can read to progress Seluvis' questline.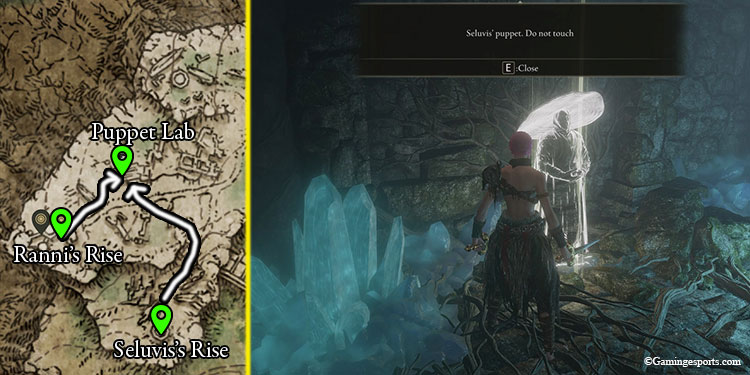 If you have administered the potion to Nepheli or Dung Eater, their body will be in the adjacent room later, opposite the entrance staircase, hidden behind another illusory wall.
Head back to Seluvis' Rise
Once you get rid of the potion, you can head back to Seluvis' Rise and tell him you gave the potion to Nepheli, regardless of what you did with the potion. This makes Seluvis a merchant, and he will sell you sorceries shown in the image below.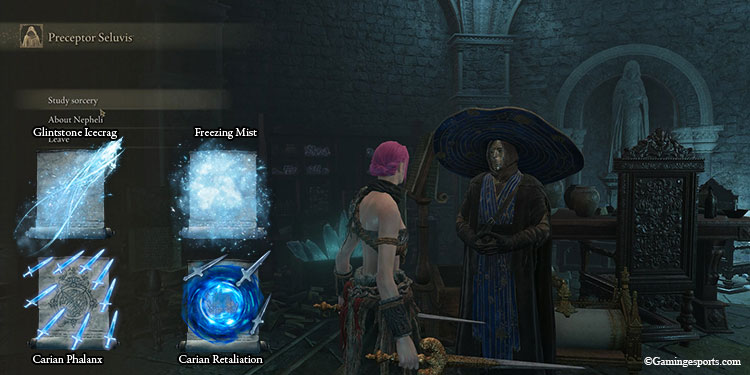 Additionally, as you have already discovered the hidden puppet chambers of Seluvis by reading the golden sign inside, you can now ask him about it.
After asking him about the chamber, Seluvis will give you a free puppet to choose from as he now wants you on his side.
You need to choose between the puppet of Finger Maiden Therolina and Jarwight. We suggest you pick Jarwight, as you will have to buy the one you did not choose to progress later in exchange for Starlight Shards.
Note: The Jarwight costs more Starlight Shards, so it's best to get it for free when offered the choice.
If you have enough starlight shards with you, you can ask Seluvis about getting more puppets. He will open his puppet shop, and you can get the puppet you did not choose from him by exchanging it for Starlight Shards.
If you have administered the potion to either Nepheli Loux or Dung Eater, you can buy an additional puppet from him, depending on your choice.
Get Amber Starlight for Seluvis
Once you have done the initial deeds for Seluvis, he will share with you his true goals. He wishes to turn Ranni into a puppet he can control, and for that purpose, he needs a potion made by using an Amber Starlight.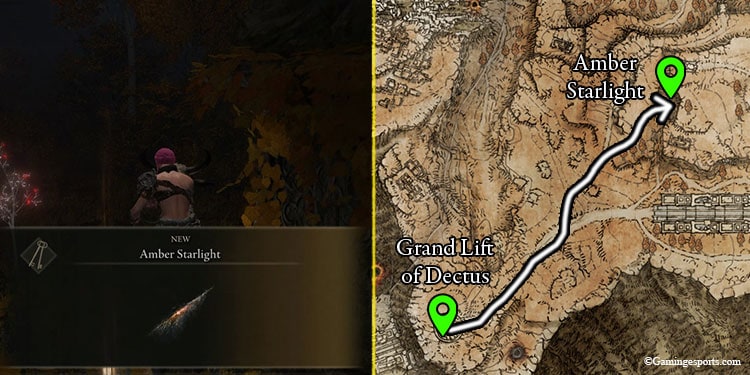 The Amber Starlight is not difficult to find, you just need to access the Altus Plateau. It is found northeast of the Grand Lift of Dectus, straight past the Altus Highway Junction Site of Grace. Loot it from a statue within a thicket of trees.
Once you deliver the Amber Starlight to Seluvis, he will give you Magic Scorpion Charm.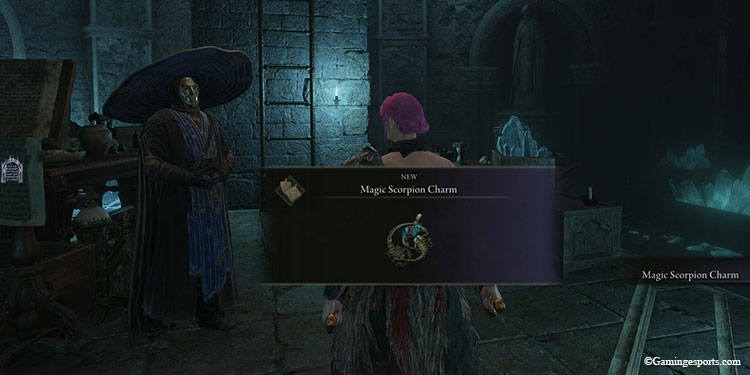 Note: You can stop doing Seluvis' quest after you get the Magic Scorpion Charm if you want to save yourself a Celestial Dew. As you won't miss out on any items past this point. The only things you miss are the interactions.
Betray Ranni
If you continue talking to Seluvis after you give him the Amber Starlight, he will turn it into a new potion called the Amber Draught, which he asks you to administer to Ranni.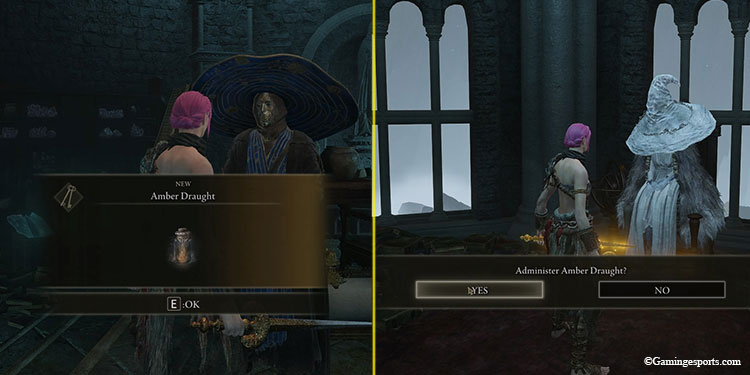 If you go and talk to Ranni with Amber Draught in your possession, she will get outraged and will order you to get away from her sights.
If you talk to her three times with the Amber Draught in your possession, she will kill you, and will also kill Seluvis for the betrayal. Thus ending his questline.
You can still buy things from Seluvis' empty husk of a body after he has died, revealing something more sinister, the possibility that he himself was a puppet under the control of someone else.
Note: To continue Ranni's quest after betraying her, absolve your sins at the Church of Vows by using a Celestial Dew.
What Happens After Seluvis has Died?
He will leave his equipment and his ball bearing as loot, so ensure you pick them up from his remains.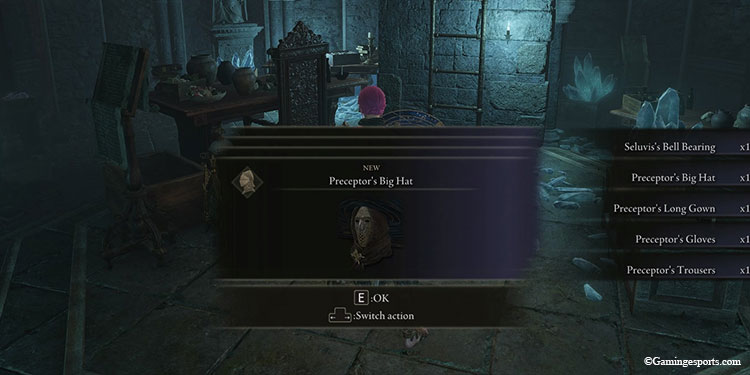 Once Seluvis has been killed by either Ranni or Blaidd, depending on your progress, another NPC related to Seluvis will also die, the NPC called Pidia.
Pidia is an Albinauric serving the Carian Royal Family and resides in the Carian Manor.
Before he is dead, he acts as a merchant, after he is dead, you can find his ball bearing along with Spirit Ashes called Dolores the Sleeping Arrow Puppet or Nepheli Loux Puppet, depending on the choices you make.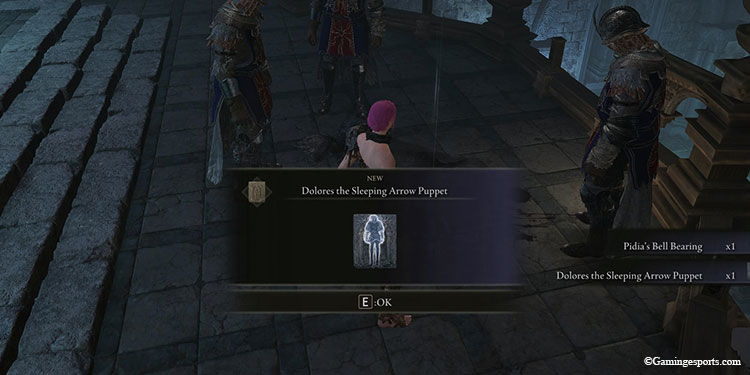 Note: If you gave Seluvis's potion to Nepheli Loux, you will get Nepheli Loux Puppet when Pidia dies. If you did not give Nepheli the potion, you will get Dolores the Sleeping Arrow Puppet from his corpse.