Good weapons can make the best of the enemies kneel in front of you in Assassin's Creed. The attack power and the elemental damage alone can make you an overpowered player, but getting some mythical weapons is no easy task.
Whether it's the iconic Mjölnir hammer or the mythical Spear, Gungnir, we have it all covered. Here in this list, we are providing players with a wide range of weapons that you can pick in AC Valhalla.
Best Weapons Assassin's Creed Valhalla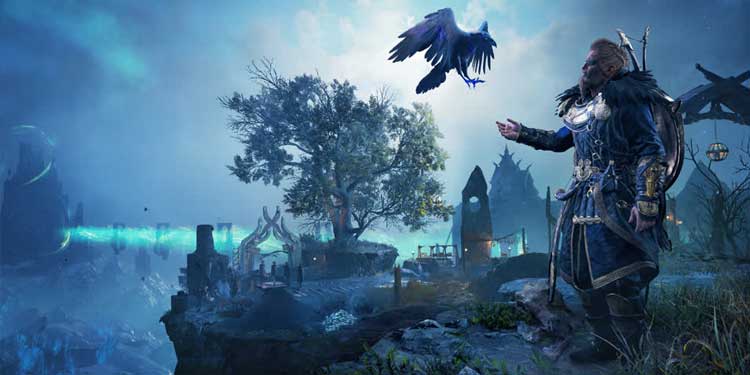 Some weapons deal less damage but are fast and agile, giving you enough room to dodge and hit back with lightning speed, whereas some are slow but hit enemies with such a force that they get stunned. Nevertheless, every best weapon has its own unique skills that provides players with intense power and extreme action.
Yngling Seax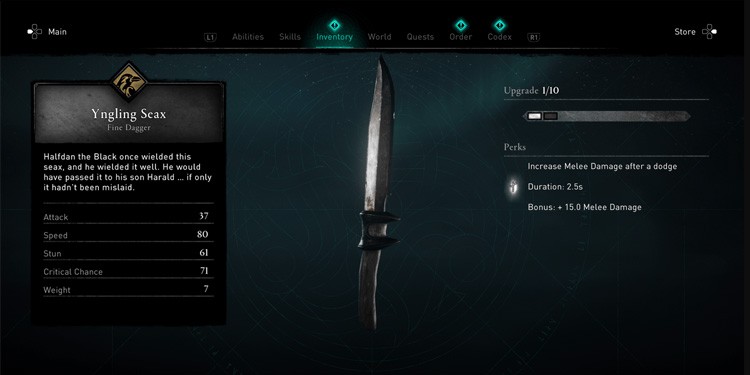 Yngling Seax is a one-handed weapon that is known for its speed. However, you might not see the damage dealt that much since it only decreases thirty damage in a single hit. But the weapon's quick and continuous attacks make Yngling Seax so powerful.
This weapon can be found in the early game, so players can progress through the game welding this powerful dagger. This dagger is located southwest of the nottfall camp in the Eikundarsund.
Upon entering the wooden gate, head straight to the house on the right side of Eikundarsund, and after killing a bunch of enemies, you will see a chest lying down the red flag where you will get Yngling Seax Dagger.
Spinning Death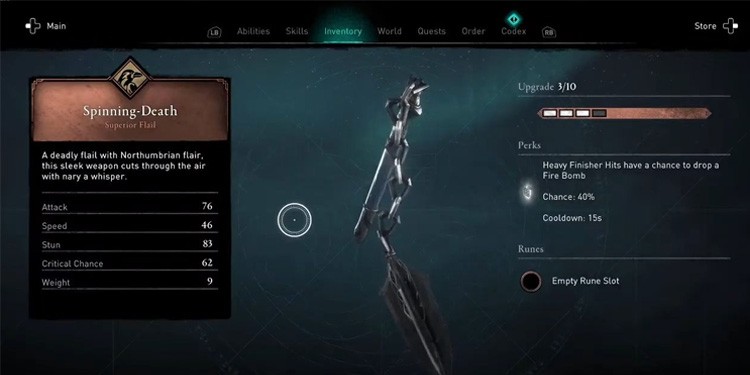 A one-handed weapon that has increased stun attack, you can keep spinning this superior flail until the enemy dies. That's how the weapon had its name. Due to its lightweight, you can swing as many times to land hits after hits. Spinning death also has a perk where heavy finisher hits have a forty percent chance to drop a fire bomb every fifteen seconds.
You can find this Weapon in Jorvik, located in the Northumbria region. Get to the trio deport and climb your way to the rooftop after you drop to the interior. You need to defeat a boss to get the key. Getting the key will unlock the chest containing Spinning Death.
Varin's Axe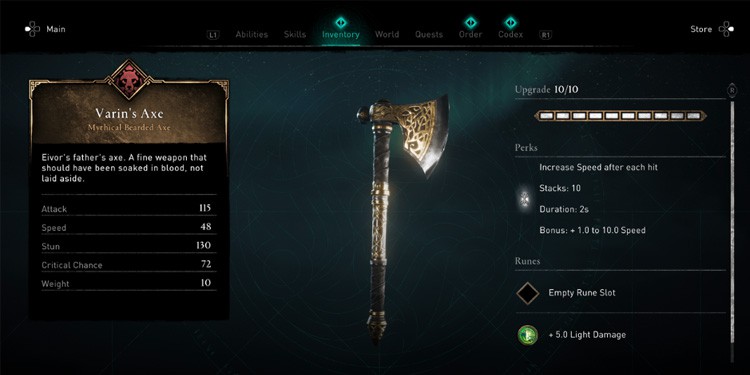 A Fine Bearded Axe that belonged to Varin heirloom. You can get Varin's Axe at the beginning of your campaign. Eivor's father's Axe went through many generations of battle but now it rests aside until you wield it. This weapon has the perks of increasing speed after each hit. You can get Varin's Axe after defeating Rikiwulf.
There are much more powerful axes than this, but its swift hit and light weightiness make the weapon much more preferable in close combat.
Blodwulf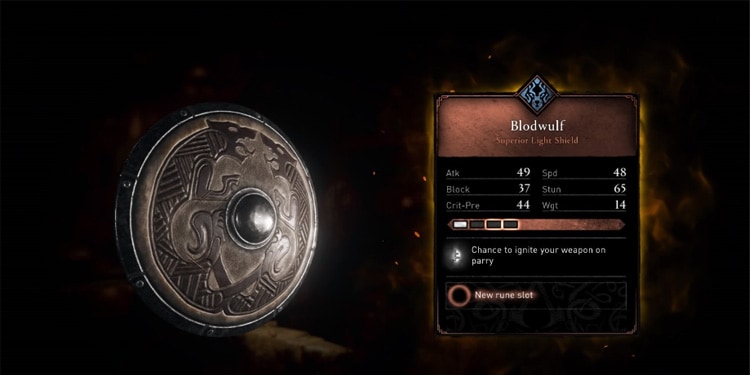 One thing that makes Blodwulf so badass is its ability to light your weapon on fire to deal some extra damage. You can go all pyro by welding in one hand and another reliable attack weapon on the other hand.
Completing the Grantenbridgescire questline is a major requirement for obtaining Blodwulf. After you help her overtake Grantenbridgescire, she will give you this shield as a reward.
Gae Bolg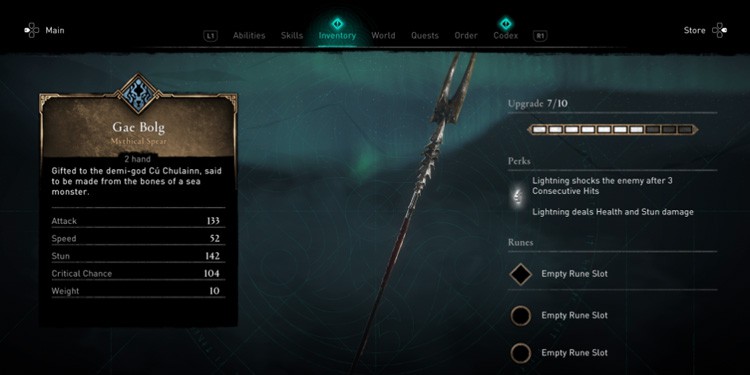 Gae Bolg is a powerful mythical spear that was added in "The Warth of the Druids" where players can now travel to Ireland to engage in new quests and collect new gears and weapons including Gae Blog.
The path to obtaining Gae Bolg is long and challenging, but it's all worth the fight since the weapon packs high power in overall stats. This weapon also has lightning shocks after three consecutive hits.
To get this weapon, you need to defeat boss Balor, but before that, there are ten children of Danu you have to kill to complete the Children of Danu questline that will then unlock the Amber Sun quest.
Gungnir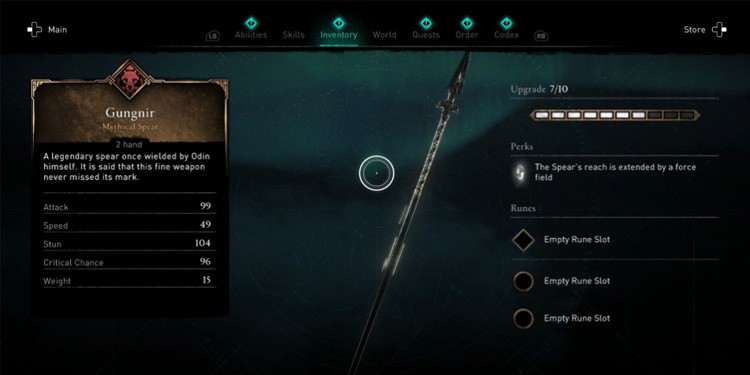 One of the legendary weapons wielded by almighty Odin himself, Gungnir is the only weapon reaching far and wide with its longest force field ability. With Gungnir equipped, you can destroy enemies from a pretty safe distance.
To acquire Gungnir, you need to complete most of the story arch and reach almost the end of the game. In the story arc called Brother's Keeper, you will start your journey to obtain this awesome weapon.
After completing Brother's Keeper quest, return to the mountain cave Goinnhellir and turn left instead of returning to the quest location. You should see a Gungnir spear pierced into the stone wall.
Lagertha's Axe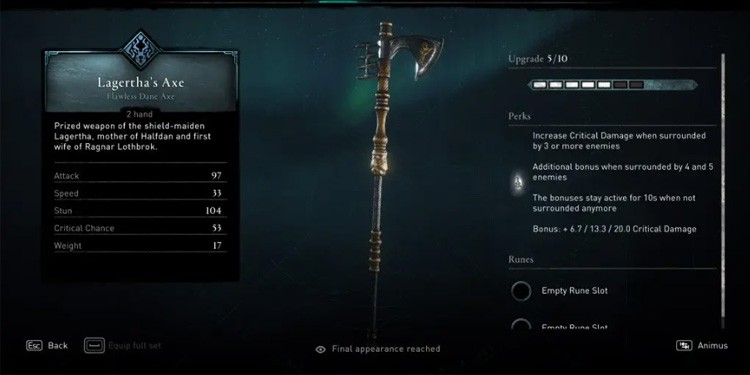 Lagertha's Axe is a two-handed Dane Axe that has a heavy attack hit and a high chance to stun enemies. This weapon has a built-in perk that increases critical damage when surrounded by more than three enemies.
To find Lagertha's Axe, you need to visit the far north end of Eurvicscire. But first, let's fast travel to Brunton Turret because it's the only location on the upper edge of England that is close to Housestead where you will find this weapon.
Destroy the stone rubble door either with a bomb arrow or an explosive pot located in the house behind, and you will see the chest on the left side of the entrance containing Lagertha's Axe.
Sarcophagus Shield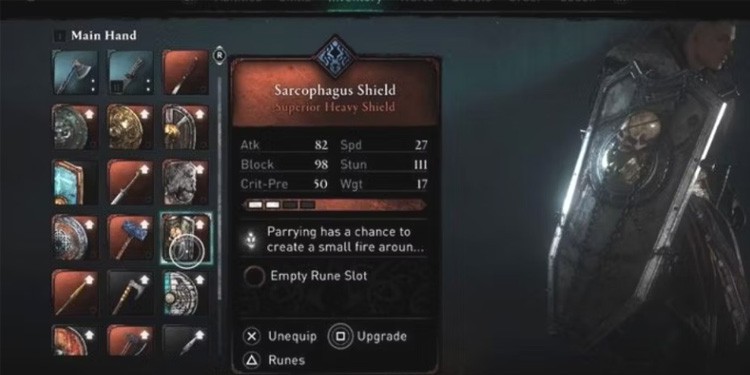 A mythical heavy shield with a thirty-three percent chance of creating a small fire around you while parrying. It's one of the most beloved shields in AC Valhalla because its offensive stats make the shield lethal. You can also add ruins to increase its fire damage to enemies.
It's one of the best shields that works like a tank. Minor enemies won't make you move if you are shielded by this heavy plank. You can find this shield while scouting Sciropescire, west of Ledecestriescire. You will come across the Dhustone Quarry area, where it lies inside a loot chest.
Mjölnir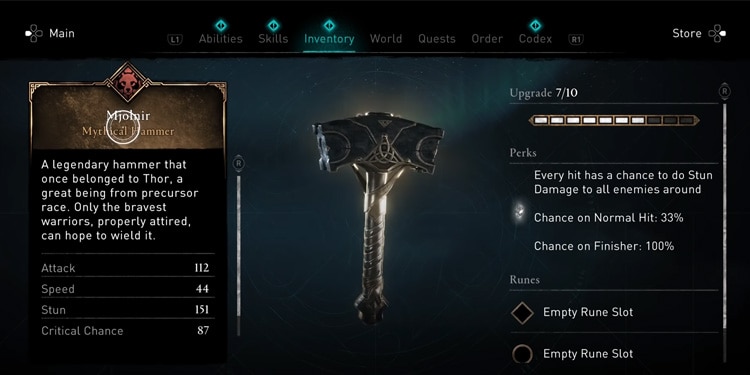 The Hammer of all-mighty Thor, Mjölnir, is the ultimate Hammer for destroying enemies. Although it has a pretty short range during combat, Mjölnir compensates for its speed by heavy-hitting damage and inflicting lightning damage to enemies.
With proper ruin attached, this mighty Hammer can be undefeated against some serious enemy boss too. As the Hammer itself is all-powerful, you need to prove your worth to weld this thunderous weapon by collecting all of Thor's armor setup.
After getting equipped with Thor's armor set, travel to Hordafylke, north of Norway. You can see Mjölnir lying at the end of a huge crater.
Norden's Arc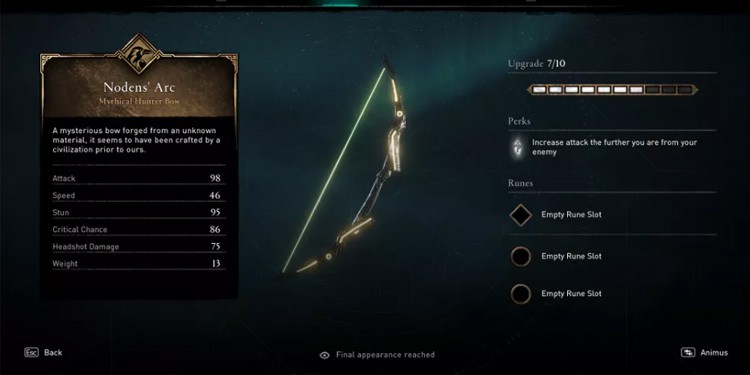 A hunter's bow used by the highly advanced species of humans called Isu for hunting purposes has a glowing bowstring. Now you can wield Norden's Arc to hunt enemies. This weapon was once acquired by Celtic hunting god Nodens, thus getting its name from its master.
To acquire Norden's Arc, you must first obtain the Excalibur sword to break the rock and reveal the weapon. If you already have Excalibur then head to the Large lake in the northern Euvicscire located south of Brunton Turret. You can see a rock on a small island of the lake.
The rock seems to cover something shiny that is glowing from the inside. The unbreakable rock only reacts to Excalibur when hit at the right time, that is, during the setting of the sun. This specific action, in particular, will break the rock revealing the mythical Norden's Arc.
Blacksmith's Hammer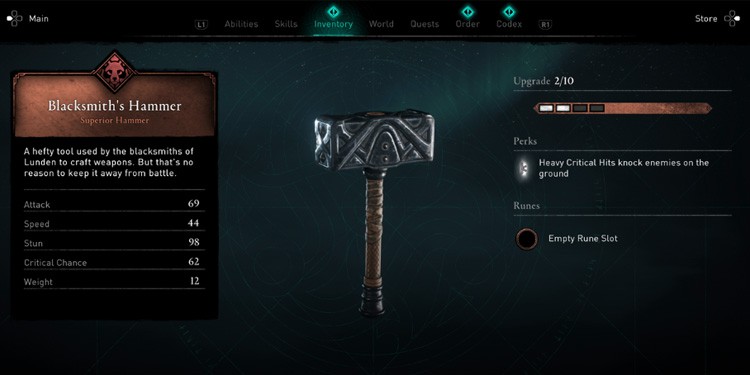 Blacksmith's Hammer might not be all-powerful like other mythical weapons, but it's built for all-round capabilities, making this right weapon to take a much less strong enemy down. One good thing about Blacksmith's Hammer is that it has the perk of knocking enemies on the ground with its heavy critical hits.
Blacksmith's Hammer can be found in Bodilsburg Garrison, in the Lunden area. There is a destructible platform on one of the houses, which upon breaking, gives you access to the area where the chest containing Blacksmith's Hammer is available.
Sepulcher Axe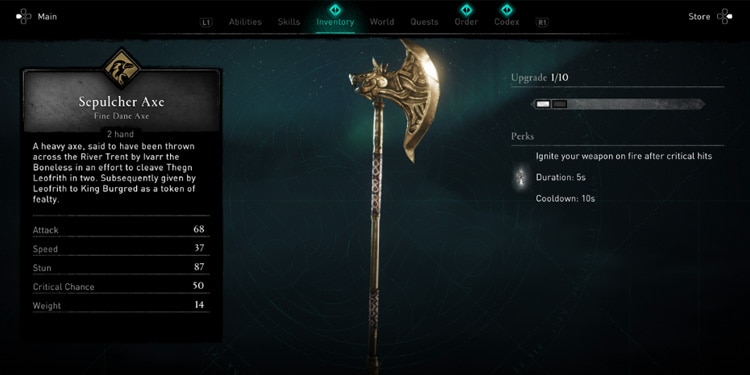 Sepulcher Axe is an awesome two-handed axe that you can get in the early part of the game and keep on upgrading to make it even better. This weapon has the perk to ignite your weapon after landing each critical hit. However, it has a bit slower speed compared to other axes.
Its attack power and igniting enemies on fire more than compensate for the negatives. You can find this weapon in a crypt beneath a church in the far southern part of the Mercia region.
You will be doing the quest called Tilting the balance and just after the quest is complete, there will be a lot of chest loot in the area, including Sepulcher Axe.
Fafnir's Fang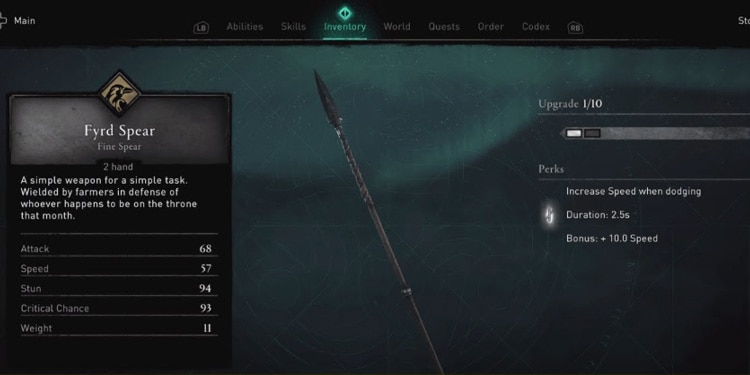 Fafnir's Fang is a great spear weapon you can get in the early game. The weapon has the ability to land critical hits when surrounded by more than three enemies. Its ability shines when you unlock heavy duel abilities in the Bear skill tree.
After unlocking the heavy duel abilities, you can pair Fafnir's Fang with Sepulcher Axe or any other powerful weapon to deal double the damage. To get this weapon, head to the Hidesvini's Crag in the Rygjafylke area. Enter the cave near the crag, and you will face a guy who will drop Fafnir's Fang after you defeat him.
Petra's Arc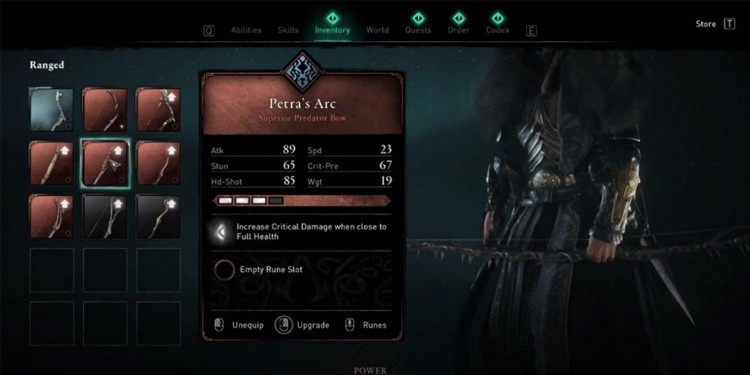 Petra's Arc is the most powerful bow that lets you control the flow of an arrow upon firing. The first-person view of an arrow flying is an awesome way for precise killing. Obtaining Petra's Arc is no easy task as you have to kill four legendary animals to unlock this bow.
This bow lets you have a critical hit chance when your health is close to full. To obtain this weapon, you have to kill four legendary beasts, deliver their pelts to Wallace, and he will present you with Petra's Arc that is yours to take. There are nine legendary beasts; you can hunt them in any order you like.
Excalibur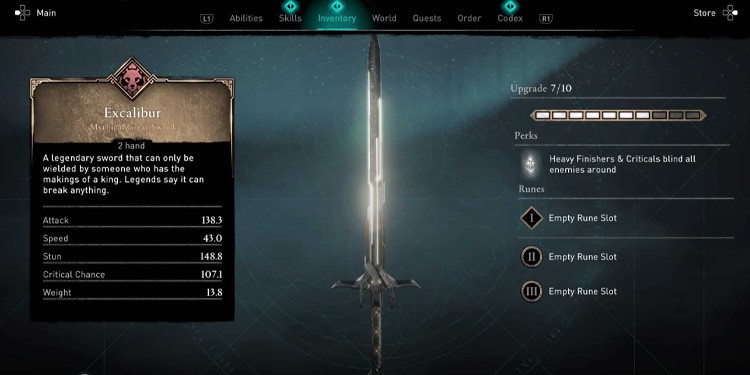 The King Arthur iconic and legendary sword Excalibur. This is the sword everybody's craving to get with Heavy Finishers and criticals that blind all the enemies in the nearby area. A two-handed greatsword that can be wielded with one hand if you have unlocked the heavy duel abilities in the Bear skill tree.
The process of getting this legendary weapon is a daunting task, but it's all worth the time and energy you put into getting it. You need to collect eleven tablets called the treasures of Britain. These tablets are hidden across the map in underground caves and are also obtained through story mode.
Nevertheless, it requires a lot of exploration, so I suggest you look into guides for obtaining the eleven tablets. Once you have collected all the elven tablets, enter the Myrddin's Cave in the northwest of Stonehenge and west of Readingnum Abbey. Through a lot of parkour platforms, you will reach a place with eleven pillars. Place each of the tablets into the pillar and draw the Excalibur that is stuck in the stone.