Arcane forces are abundant in the world of Elden Ring, and with a good staff a sorcerer can channel them into powerful magical spells.
Glintstone Staffs/Staves, by definition, are long sticks with magical Glintstone crystals studded in them. These magical sticks are what the Tarnished use to cast sorceries in the world of Elden Ring.
There are 18 Glintstone Staffs in Elden Ring, and not all are spectacular.
Each staff has its own function and specialty. That makes it very difficult to pick out the best among all. Still, we can separate them into categories based on their usage and determine the best from the rest.
Without further delay, let's find out why each of these staffs made it to the list and we'll help you locate them.
Note: You can watch this video guide to better understand each staff's location.
Carian Regal Scepter – The Best Staff in Elden Ring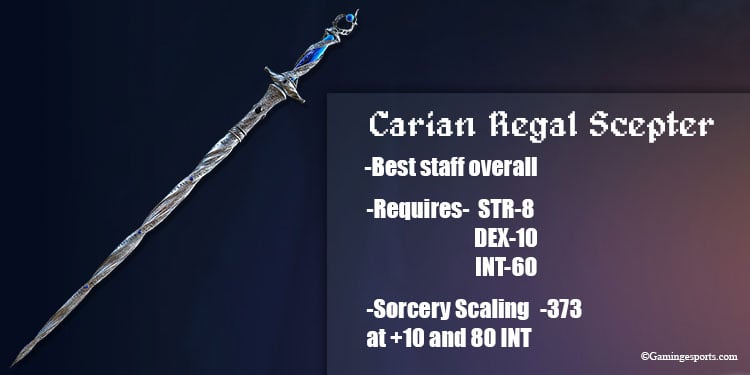 Rennala's Scepter is the most efficient late-game staff in Elden Ring. It is usually considered the second-best staff after Lusat's Staff, but I disagree.
The Regal Scepter has no extra FP cost penalty like the Lusat's Staff, making it better in many situations, both in PVP and PVE.
This staff scales to Intelligence really well and comes with a unique skill called Spinning Weapon which you can use in battle. Note that no other staves have a unique skill that stun-locks your enemies if they get too close.
If your main source of damage is Ranni's Dark Moon or Rennala's Full Moon, then Carian Regal Scepter and Lusat's Staff deal the same damage, but Carian Scepter does that with no increased FP cost.
Note: You can deal a little bit more damage with both Ranni and Rennala's Moon spells with both Lusat's Staff and Regal Scepter on your hand with the FP penalty of Lusat's applied.
Location
First, find and defeat Rennala, the Queen of Full Moon, to get her Remembrance.
Then, find Finger Reader Enia at the Roundtable Hold to obtain the Carian Regal Staff by trading away Queen Rennala's Remembrance.
Lusat's Glintstone Staff – Staff with The Greatest Damage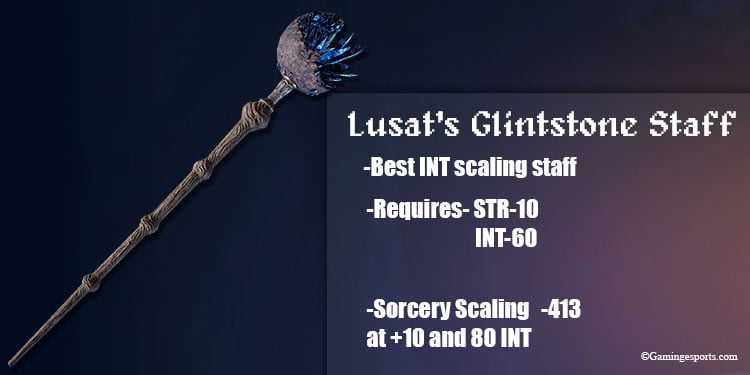 With no debates whatsoever, for an INT-focused sorcerer build, Primeval Sorcerer Lusat's Glintstone Staff is the one that makes your spells deal the most damage.
This staff boosts the damage of every spell you cast, with a downside, every spell you cast costs 50% more MP. That downside, in my book, is enough to make it less useful in many situations.
Although there is one way you can avoid this extra MP cost penalty, in that situation, this is the very best Glintstone Staff in the game.
If you use Lusat's Staff after consuming a Physick mix of Cerulean Hidden Tear and Magic Shrouding Crystal Tear, you will get the job done with no FP cost penalty for 15 seconds.
Even though Lusat's Glintstone Staff deals the most damage, there are conditions when another staff deals more damage than it, while some other staves prove to be more consistent.
Location
Defeat the Duo Nox Bosses at Sellia, Town of Sorcery, after unlocking the seals in the town. Then you can loot the staff from a chest in the boss fight arena.
Here's a video guide to solving the puzzle to unseal the gate and enter the boss fight area where you get Lusat's Staff.
Academy Glintstone Staff- Best Mid-Game Staff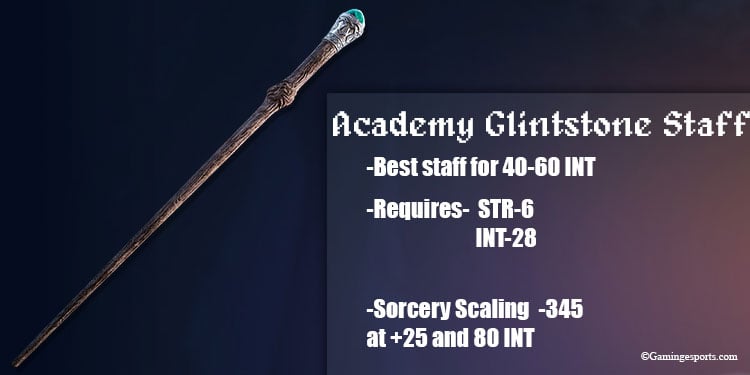 This staff outperforms every other staff in the game in terms of efficiency during the mid-game. When your Intelligence stat is from level 41 to 68, this staff even beats Carian Regal Scepter, but once past level 69, the Carian Regal Scepter begins to shine a bit more.
But keep in mind, as long as your character has their INT at around 60, this is the best staff in the game, both in terms of consistency and efficiency.
Academy Glintstone Staff is best used as your main staff with full upgrades, while other staves that boost the powers of respective sorceries can be on the off-hand without needing to level up.
Location
There is a chance you can loot from the body of Glintstone Sorcerors inside the Raya Lucaria Academy after defeating them.
Alternatively, it can be taken from Sorceror Thop's dead body once he returns to Raya Lucaria Academy if you give him the Academy Glintstone Key.
His body is found if you go back toward the large spinning water wheel from Schoolhouse Classroom Site of Grace. It is right along the walls of the building that has the aforementioned Site of Grace.
Azur's Glintstone Staff – The Fastest Staff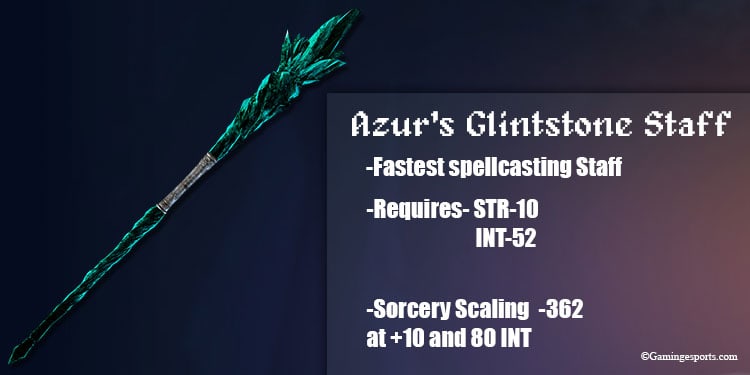 It is considered the third-best INT scaling staff and boosts the cast speed of sorcery, but it does so at an additional 20% FP cost.
The cast speed increase by Azur's Staff is similar to the bonus of a talisman, Radagon's Icon, and they stack multiplicatively with each other.
We do not recommend you use this staff over the ones above unless there is one condition, the condition being PVP. This staff can be the best in PVP.
Speed really matters in the PVP, especially if you are a glass canon sorcerer competing with melee builds that can shred you in an instant.
Use it along with Radagon's Icon and a decent amount of Dexterity to chain your spellcasting like the speed of lighting, and your opponents won't get any openings.
Note: The spellcasting speed differs according to spells. Some spells, like the Carian Greatsword, benefit a lot from Azur's staff, whereas some see only minute differences, like Loretta's Greatbow.
Location
Azur's Staff can be found in an intermediate chamber you can reach by jumping down from the chandelier, which has the second Academy Glintstone Key inside the Raya Lucaria Academy.
Be careful, it is guarded by Glintstone sorcerers and a High Page.
Meteorite Staff – Best Early Game Staff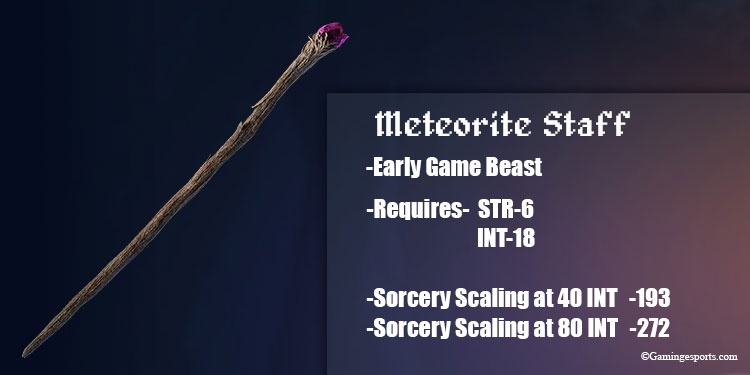 You can get this staff as soon as you start the game without fighting any bosses. Another thing to note, you obtain this staff at the highest possible level as it cannot be further upgraded, making it better than any other staff in the early game.
This staff's staple sorcery, i.e., Rock Sling, is located very close to this staff. Use Meteorite Staff with Rock Sling to turn the early game bosses into an utter joke.
As the Meteorite Staff cannot be upgraded, once you reach above 30 INT and have enough material to upgrade your other staves to half the max level, they will start surpassing Meteorite Staff in performance.
Once you meet those, you can ditch the Meteorite Staff and use either Academy Glintstone Staff or Carian Glintblade/Glintstone Staff.
Even Astrologer's Staff will outperform it once you upgrade it past the +15 level. But even after all that, nothing beats the Meteorite Staff's performance in the early game.
Location
It can be obtained in the Street of Sages Ruins, inside Aeonia Swamp, Caelid. Watch the video guide or read the tutorial for a complete guide.
Prince of Death's Staff – The Staff that Actually Deals the Greatest Damage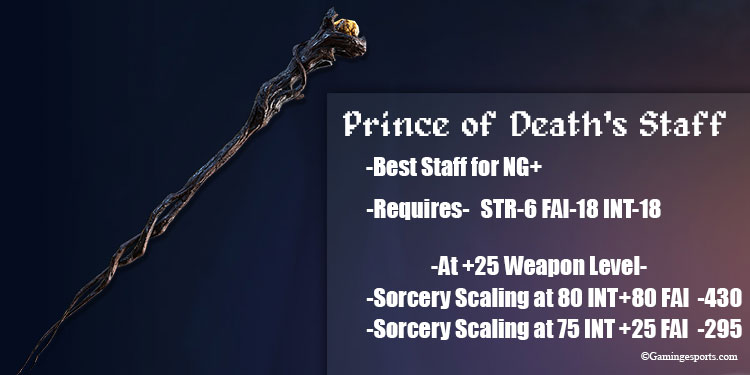 In terms of damage, this staff can even outperform Lusat's Glintstone Staff, but that comes with one harsh condition.
You will need to invest your levels in both Faith and Intelligence, whereas the staves above only scale with Intelligence for their damage output. That means you must reach beyond sorcery to make this staff useful.
The condition Death Prince's Staff comes with, makes it viable only in New Game Plus+, where your character is above level 200 to 250.
You can use it when you have excess level-ups to invest points both in Faith and Intelligence without sacrificing the levels for Vigor, Mind, and Endurance.
You cannot even use this staff in PVP as the levels you need to have both your Faith and Intelligence to outperform any other staff on the list is way too much, making it only viable in NG+1 to NG+7.
Location
You have to reach the underground location called Deeproot Depths. Once there, reach the Nameless Eternal City Site of Grace.
Climb a root to reach atop a tall tower in the northeast of the Site of Grace. The staff will be there.
Honorable Mentions
These are great staves, but later in the game, they will mostly be used in off-hand to boost the power of the sorceries while you cast your spells with the better staves.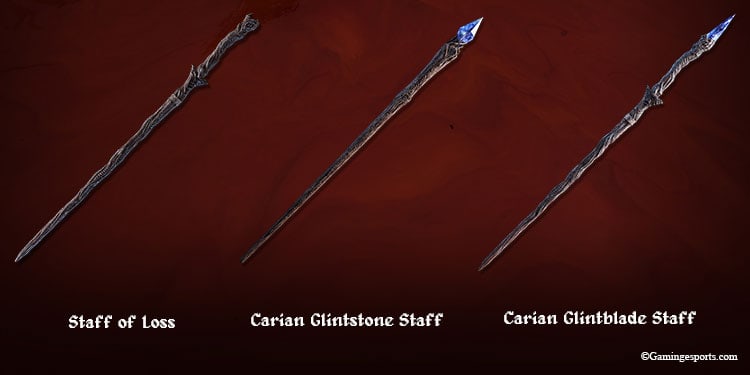 Carian Glintblade Staff
This can be an efficient staff and a close competition to Carian Regal Scepter and Academy Glintstone Staff, but if you use the Glintblade Sorceries, this staff will outperform them.
Location: Loot from the top of the Highway Lookout Tower in Eastern Liurina.
Carian Glintstone Staff
Another staff that will outperform all others if you prefer to use Carian Sword Sorceries. The staff has outstanding scaling, but Carian Regal Scepter always outperforms it during general use.
Location: Loot from a dead body in Carian Study Hall(also in Eastern Liurnia), before you reach the second lift.
Staff of Loss
If you use Night Shard or Night Comet, this is the staff for you, as it boosts the damage of these spells by a whopping 30%.
You can cast these two spells using a more powerful staff like Carian Regal Scepter or any in the list above, while this staff is equipped on off-hand to increase the damage even more.
Location: Loot from a corpse atop the rooftops of Sellia Town of Sorcery.