Most bosses fight you alone, even if you gang up against them with multiplayer friends or overwhelm them with your summoned spirit ashes.
Now meet Commander Niall—one who is not ashamed to gang up on you with a bunch of hard-hitting soldiers that will crush you before you even get to touch the boss.
If you manage to defeat his soldiers and get into a one-on-one fight with Commander Niall, you will know this big guy didn't need any guards to begin with, as he is one of the toughest, hardest-hitting bosses out there.
So let's tighten our shoelaces, buckle our belts, and prepare to fight. This guide will be all about learning how to defeat Commander Niall and his lackeys easily.
Commander Niall, Bossfight Information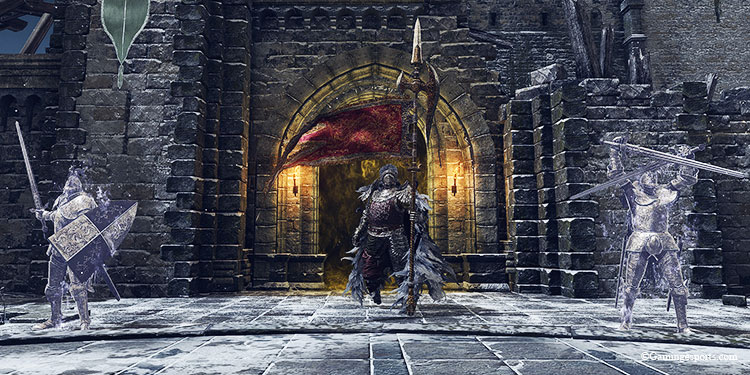 Here is some information on Commander Niall.
He has a grand total of 15541 Health Points and 117 Defense Points.
He has a stance health of 90 and can be hit with a critical hit once his stance is broken.
He drops 90000 runes and Veteran's Prosthesis, a fist-type weapon, upon defeat.
His non-AoE attacks can be parried, and each successful parry will stance break him, and you can perform a riposte.
He has low resistance to Pierce damage.
His attacks deal physical damage; in phase 2, he adds lightning damage to some attacks. He can also use AoE attacks that inflict frostbite.
He will summon two Banished Knights. One has dual blades, and one carries a greatsword and a shield.

Each knight has 1967 Health Points and 114 Defense Stat.
They each have a stance health of 60 and can be hit with a critical hit once their stance is broken.
Their attacks can be parried to perform a critical hit.
They deal physical damage with their attacks and inflict frostbite with charged attacks.
They are immune to all status ailments.
Pierce and Lightning damage have the best effect on them.

You can use multiplayer summons against this boss. There are no NPC summons to help you fight this boss. You can summon spirit ashes to assist you in this fight.
Commander Niall's Moveset
PHASE 1
He will summon two Banished Knights as soon as Phase 1 starts. One has power stance dual swords, and another comes with a great shield and a great sword.
Buffing The Knights
He has different buffing moves that he uses to empower his two knights.
White Buff—Shouts out "Glory Brave Knights!" to create a buff that glows white and gives the knights a spherical bubble that boosts their defense.
Red Buff—Shouts out "Glory Brave Knights!" to create a buff that glows red and buffs the offense of the knights.
Halberd Attacks
Halberd Combo—Uses his halberd to attack. This can be 1 hit of a forward stab to 3 hits beginning with a stab, sweep, and ending in a halberd chop.
This can also 4 hits with three sweeps followed by a halberd chop. He can perform multiple types of combos using his halberd.
Halberd Upward Stab—Uses his halberd to attack with an uppercut-like stab. Can follow it up with an Icy Stomp.
Freezing Attacks
Icy Stomp—Stomps the ground to create a single swirl of icy wind. This attack does damage and inflicts freeze.
Swirling Ice Wind Storm—Swings around his halberd, creating a progressively increasing storm of freezing wind that will damage you and inflict freeze.
PHASE 2
There are two conditions for Phase 2 to start.
When Commander Niall's Health is at 60% or below. Also, if the summoned knights are still alive, they will be unsummoned when phase 2 begins.
When both Banished Knights are killed, regardless of how much health Commander Niall has, phase 2 will begin.
Commander Niall starts with swirls of icy winds and ends with a bolt of golden lightning falling down upon the Commander to signify the beginning of the second phase. He now adds lightning damage to most of his existing attacks.
Dash—Dashes a medium distance sideways while producing golden sparks of lighting and freezing wind behind him. This does not do any damage. Uses this randomly or to dodge or move around.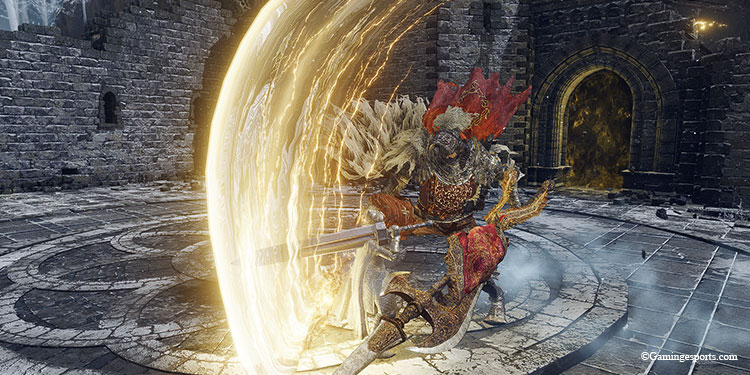 Lightning Prosthetic
Lightning Stomp—Stomps the ground creating an AoE shockwave of lightning.
Lightning Kick—Charges his prosthetic leg with lightning and slashes you with a kick.
Freezing Lightning Attacks
Icy Prosthesis Lightning Kick—Begins with a swirl of winds and ends with a swift stab with a lightning-infused kick with his sharp prosthetic leg.
Icy Leaping Prosthesis Lightning Kick—Stomps the ground while creating an icy swirl and infusing his prosthetic leg with lightning, then leaps up into the air and comes down upon you with a lightning kick.
Rushing Attacks
Freezing Halberd Rush—Spins around his halberd over his head one time and follows with a charged halberd upward thrust at your position.
Charged Freezing Halberd Rush—Spins around his halberd multiple times, creating damaging whirls of ice, and then charges towards you from across the arena with an upward thrust.
He keeps spinning his halberd and does not charge toward you if you are close by. Sometimes he doesn't charge toward you even if you are far.
Also, after charging at you, he follows this attack with an Icy Stomp or Lightning Stop.
Swirling Ice Wind Storm Rush—Creates a large whirlwind of freezing icy storm that almost envelops the whole arena and then charges at you.
If you dodge the charge, getting up on his feet takes him a long while enough to get in a few free hits.
Tips and Tricks to Beat Commander Niall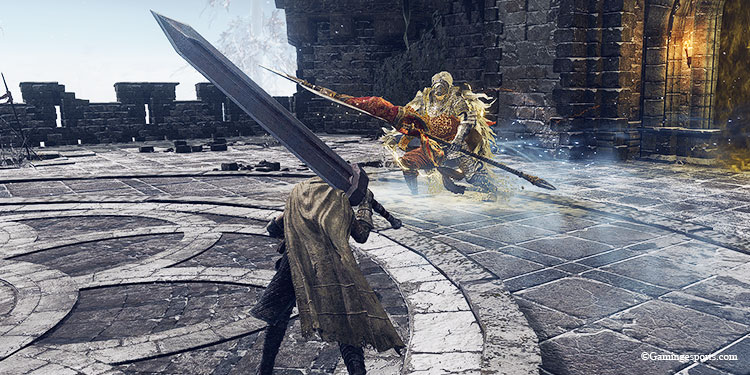 If you need to buff, use your buff as soon as you enter the arena, as Niall is summoning the two banished knights.
Kill the dual sword-wielding knight first and avoid killing the knight with the shield. The dual sword knight is very aggressive, so it's best to kill him right away.
Do not kill the shield knight right away, as killing both knights will trigger Niall's second phase right away. Keep the shield knight alive unless you are used to fighting Niall's second phase. The shield knight is also much less aggressive than the dual sword knight.
Attack Niall while avoiding the shield-banished knight's attacks till you take him down to 60% health, and then Niall will commence the second phase.
Another strategy for the first phase is to enchant the two summoned knights with bewitching branches (craftable consumable item), go to the right of the arena, and enchant the dual sword knight first, then enchant the shield knight. This will result in the knights attacking Niall till he gets to the second phase, and both knights disappear.
All of his attacks directed at you can be parried. Although, you cannot parry the overhead swings of freezing wind he performs in order to charge his attacks, and the attacks he does on the ground to create lightning or icy shockwaves cannot be parried.
During the second phase, if you have ranged attacks, you will have an easier time as you will have to dodge his charging attacks toward you and create distance in order to attack him. Meanwhile, melee fighters will have a slightly harder time as they get fewer openings to attack Niall.
You can also lock him in a cycle of the same attack over and over as he charges toward you, and you dodge the charge, get behind him and get in a hit and run away from him so that he has to use the same charging attack to get close to you again. If you have ranged attack options, use your ranged attacks as he is about to charge.
Make a good build, upgrade your weapons, use a good armor set, summon your spirits, and learn everything your character can do in Elden Ring if you find yourself lacking in defeating Commander Niall.
You can also cheese Commander Niall from atop a wall outside of the arena by using a bow and arrows. Jump to a lower platform with one dog enemy just before the area from bossfight arena. Then shoot arrows inside the leftmost of the slits in the wall with crenellations while looking towards the bossfight arena till you see HP decrease. Keep at it till the boss is dead.
How I Defeated the Boss?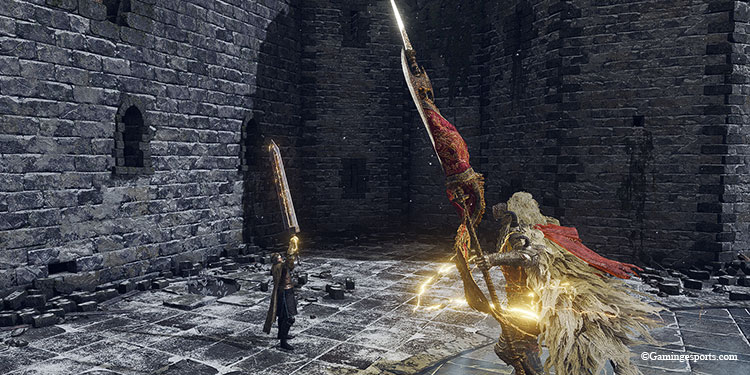 After entering the arena, it was buffing time. Flame, Give Me Strength, and Lightning Weapon were the buffs used. Even if Niall deals lightning damage, he has no bonus resistance to lightning attacks.
Right afterward, I made quick work of the dual sword-wielding knight. As Niall goes into the second phase after both knights are killed, I left the knight with a great shield for later.
After the boss entered the second phase, it was all about dodging and getting in hits until the boss was dead.
Alternatively, I also used the bewitching branch strategy and overwhelmed the boss, decreasing 75 % of his health even before he started his second phase.
And finally, a piece of good news for people who want it easy, the cheese strategy still works in the latest version of this game. I even tested it out to make sure.
I have summed up all three strategies mentioned above in the video guide.