From vast dungeons to multiple NPCs' questlines and many items, Volcano Manor withholds hordes of secrets. It will be challenging for any Tarnished attempting to tackle all the things Volcano Manor offers.
Just keep one thing in mind that if you progress too much, some questline will skip entirely, making it impossible for you to reap the rewards they offer.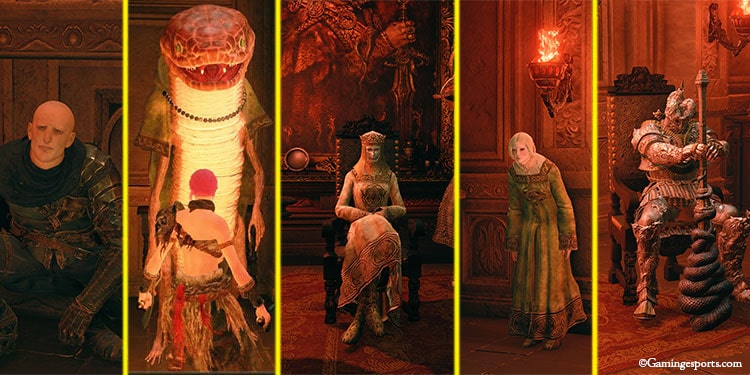 Volcano Manor Questline involves many NPC's storylines. The list includes,
NPC Rya's Questline
A portion of NPC Diallos' Questline
NPC Tanith's Questline
A portion of NPC Bernahl's Questline 
After completing these questlines, you'll meet the final boss of Volcano Manor, Praetor Rykard. Defeat him and experience the aftermath.
Note: Make sure you complete all relatable questlines in a sequence so we don't miss out on anything.
Watch our video guide for a comprehensive walkthrough of every quest interaction that occurs in Volcano Manor.
Meet Knight Diallos in The Roundtable Hold
When you reach the Roundtable Hold for the first time, introduce yourself to Diallos before you go to Liurnia. He is another NPC who will move to Volcano Manor later if you follow his quest line.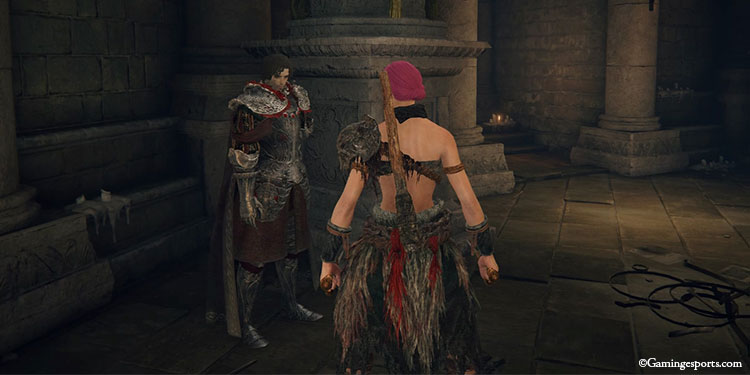 Meet Patches and Forgive Him
An important character related to the Volcano Manor can be found as soon as you start the game.
Find NPC Patches inside the Murkwater Cave, which can only be accessed once you defeat an Invader, Bloody Finger Nerijus, who attacks you at the entrance of the cave.
Once you reach a large empty room inside the cave, open the treasure chest to trigger the fight with Patches.
Take him to half health, and he will surrender while asking for forgiveness. At this point, stop attacking him to end the fight.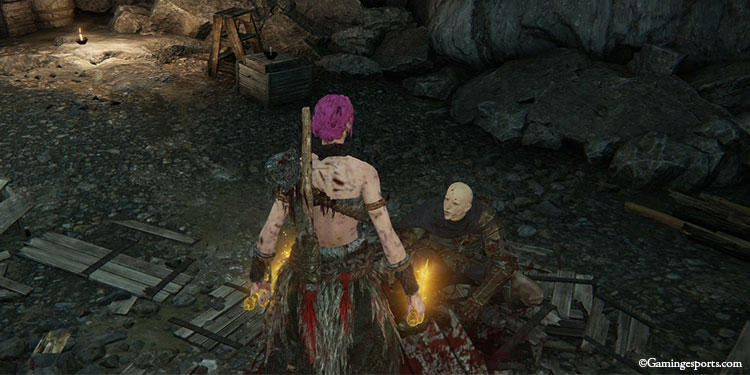 Reload the area and come back again to find Patches turned to a friendly merchant.
After this interaction with Patches, he will move to the Scenic Isle in Liurnia only after you reach there. He will give you some information on teleporting Abductor Virgins. He also tells you to help the NPC Rya if you can and continue selling his wares. 
Note: We advise you not to get kidnapped by the Abductor Virgins during this questline as you might miss a bunch of quest interactions and can also be locked out of entire questlines if you do so. 
Meet Knight Bernahl in Warmaster's Shack
A tiny bit east along the way from Stormhill Shack is the Warmaster's Shack, where you will meet an armored Knight called Bernahl who sells you Ashes of War.
Meet and talk to him there before you join the Volcano Manor because if you don't, he will move to the manor, making you miss out on the interaction.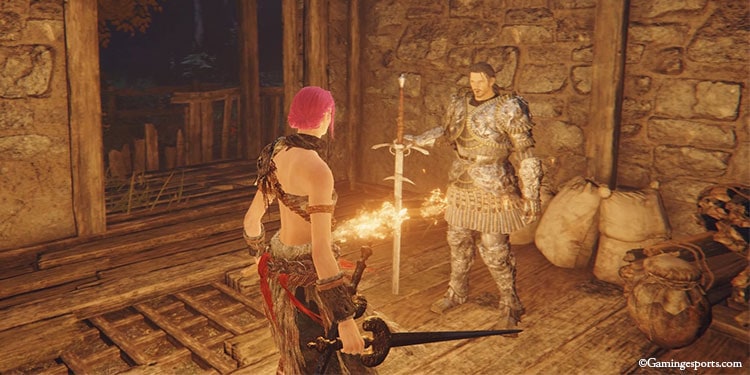 Meet Rya and Retrieve Her Necklace
The Volcano Manor Questline starts way before you reach the manor, from the midst of Lake of Liurnia.
Remember to do this before you reach the Altus Plateau, if you don't, Rya will move to her next location automatically. 
Go east of Scenic Isle in Liurnia, and there you will meet Rya, a resident of the Volcano Manor. She asks us to help her find her precious necklace which was looted by an NPC, Blackguard Big Boggart.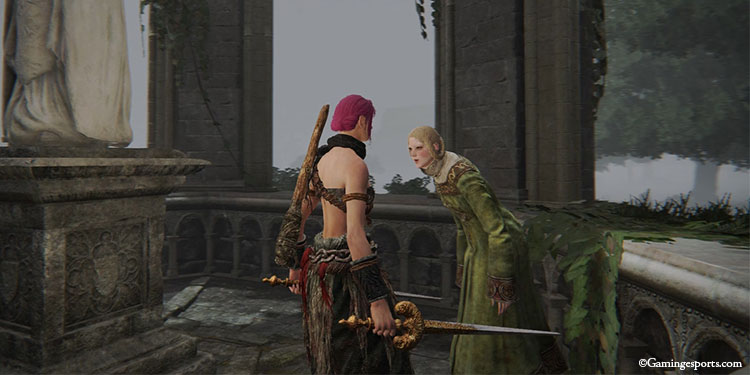 Now go exactly north of the Scenic Isle, and you will come across Boilprawn Shack, where Blackguard Big Boggart currently resides.
Buy Rya's necklace from him, and he will become a friendly NPC who will assist and give you quests later. 
Take the necklace and deliver it back to Rya. She will give you the Volcano Manor Invitation and asks you to meet at the start of the Altus Plateau region. 
Meet Knight Diallos
Since you are already in Liurnia, find Knight Diallos. He is initially found in the Roundtable Hold and asks you to find one of his servants. Once you discover Liurnia, he moves out of the Roundtable Hold to Liurnia.
You will find him in the crumbled lake town exactly north of Academy Gate Town Site of Grace in Liurnia, where he is devastated to see his servant Lanya dead.
He tells us he wishes to hunt down those who did the despicable act.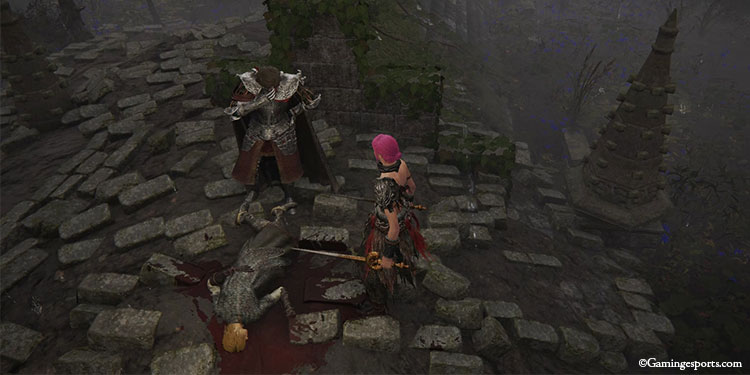 He will return to the Roundtable Hold once you exhaust all his dialogues.
Meet him there and again exhaust his dialogues where he will say he also got an invitation to go to the Volcano Manor just like we did. 
If you fail to do this before you complete Volcano Manor quests, you won't be able to proceed with Diallos' quest.
Meet Patches in Mt.Gelmir
Before you join the Manor, make sure you meet Patches in Mt.Glemir near the watchtower close to the First Campsite Site of Grace.
He will be sitting there very suspiciously. This interaction doesn't amount to much but does give you a hilarious confrontation with Patches.
Follow a trail of Rainbow Stones to the edge of the cliff, and Patches will promptly kick you off the cliff.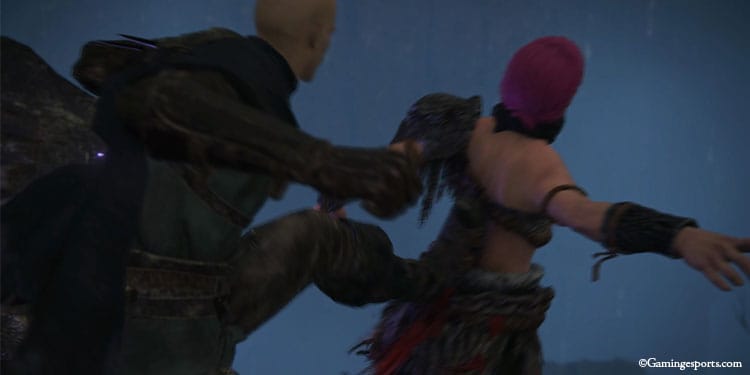 Return to him and talk to him to obtain a gesture called Calm Down if you haven't gotten it from him already.
Reach Volcano Manor
There are multiple ways to reach Volcano Manor but we advise you to take Rya's help to get there.
Meet Rya and Get Teleported to The Manor
This only happens if you have returned Rya's necklace to her. She will be waiting for you atop the Grand Lift of Dectus or the Ruin Strewn Precipice.
Talk to Rya there; she will teleport you directly to the Volcano Manor.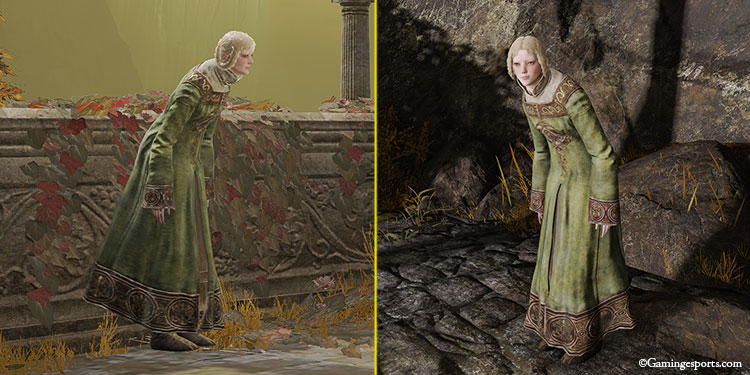 Note: We advise you to take the Ruin Strewn Precipice for this questline and summon the Great Horned Tragoth to fight the boss at the end of the Ruin Strewn Precipice. He will give you a gesture called Casual Greeting. As following the Volcano Manor quest means killing him, you won't be able to get this gesture from him during the Radahn's boss fight. Once you get the gesture, you can skip the boss and go through Grand Lift of Dectus if you like.
Alternative Paths
You do not have to take Rya's help to reach Volcano Manor. We have a complete guide with all the pathways you can take to reach the manor.
Do so at your discretion, as it changes some minor interactions you can have with the NPCs. 
We also have a video guide showing the full pathway to reach Volcano Manor.
If you reach Volcano Manor without the help of Rya, some of her dialogue interaction will change, but you can still progress with her questline.
Make sure you have done the portions of quests mentioned before in the guide, especially the quest interactions regarding NPC Dellios, NPC Rya, NPC Blackguard Big Boggart, and NPC Patches, before you head to the manor. 
Meet Tanith and Become a Member of Volcano Manor
Once you have completed all the interactions, meet Tanith and become a member of Volcano Manor. Now you can do the assassination quests at her behest.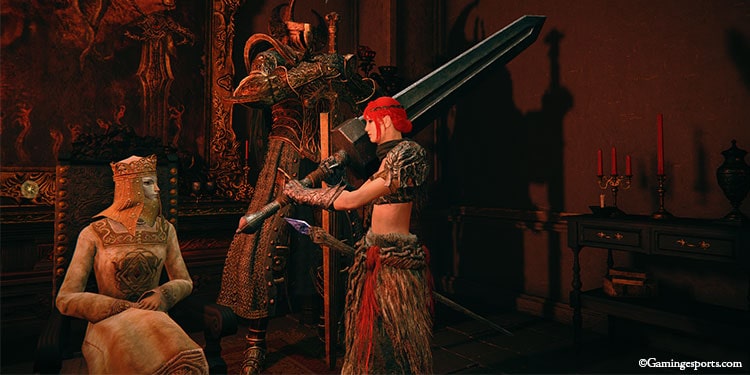 She will hand you the Drawing Room Key. Once you have this, you can unlock doors in the Manor.
Unlock the large drawing room, and you will meet Rya, Knight Bernahl, and Knight Diallos (if you have completed previous interactions with him), who all have moved to the manor. You can interact with them for some story interactions.
From the Drawing Room, you can obtain Recusant Finger, which is a reusable multiplayer item. You will also find a Letter from Volcano Manor from this same room that prompts the first assassination quest.
Also meet Patches at the entrance of the Manor, who will continue selling you his wares. 
First Volcano Manor Assassination Quest: Old Knight Istvan
Pick up the Letter from Volcano Manor from the drawing room and return to Tanith. She will request you to assassinate Old Knight Istvan and give you information on his whereabouts with a red marker on the map. 
Head to Stormhill exactly north of the Warmaster's Shack to the cliffside area where you might have gotten invaded by an NPC Recusant Henricus earlier. 
There you will find a red summon sign you can use to invade Old Knight Istvan. But be careful before you invade and proceed to kill him.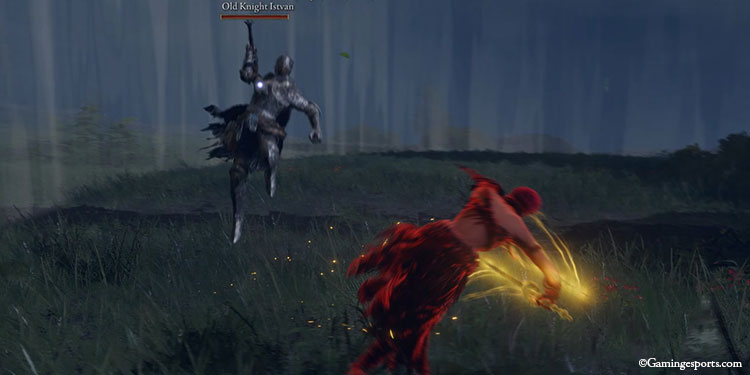 Important Note: Before you kill him, you can summon him to aid you in the Coastal Cave for the Demi-Human Duo Bossfight, a part of NPC Boc's questline to unlock armor alteration. 
Once Old Knight Istvan is dead, he will drop his whole armor set, the Scaled Set, and a few more items.
Return to Volcano Manor
After you assassinate Old Knight Istvan, you can now return to Tanith and receive a fire-based sorcery, Magma Shot as a reward.
You can now receive more assassination quests from the Manor. You will also have unlocked some new interactions with the NPC's there. 
Meet Rya and See Her True Form
Once you complete the first of Tanith's assassination quests, find Rya again. She won't be in the room as before and will have moved to another room.
You will find Rya in her true form there, i.e., her snake lizard form. Talk to her for some interaction. 
Rya will share her true name, which is Zorayas, and this will also unlock some interaction with Tanith about Rya.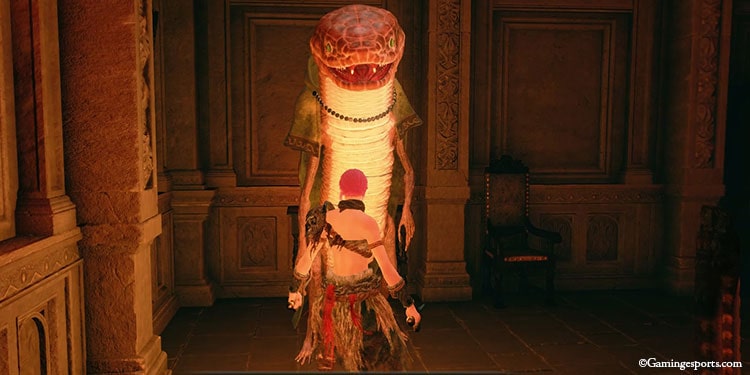 Patches' Assassination Quest: Great Horned Tragoth
Talk to Patches at the entrance of the manor and receive a letter from him, i.e., the Letter to Patches. This asks you to kill the Great Horned Tragoth.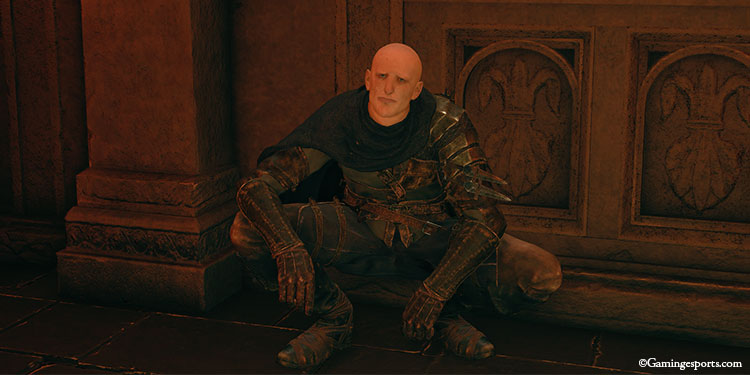 If you have not killed the Magma Wyrm Makar before, you need to do it now as Great Horned Tragoth's red invasion sign is found in the Magma Wyrm Makar's boss fight room and you won't be able to access it as long as the boss is still alive.
Now, invade and defeat Tragoth to complete the assassination quest.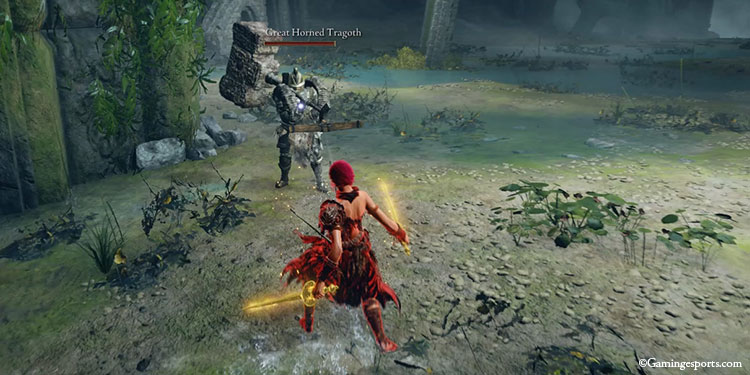 Note: When fighting Radahn at Wailing Dunes, Tragoth is one of the NPCs that can be summoned to aid you. If you have assassinated him, he cannot be called for this fight also, if you haven't acquired the Casual Greeting gesture from him, you will miss it as well.
Tragoth can also be summoned to aid you in the Draconic Tree Sentinel boss fight before entering the Leyndell Capital. This will not happen after you finish him off. 
Once you defeat Great Horned Tragoth, he will drop the invaluable Bull Goat's Armor Set and other goodies.
Return Once More to Volcano Manor
After you Assassinate Great Horned Tragoth, head back to Patches and talk to him till he reluctantly rewards you with the Magma Whip Candlestick.
(You will have to rest at the Site of Grace and keep talking to him till you get the option to ask him for your reward, Ensure you get this item before you reach Rykard Bossfight, or it will be skipped.) 
Note: Knight Diallos will leave the manor once you take on two assassination quests for Volcano Manor. The Patches' assassination quest adds as well, so talk to him before he leaves.
Second Volcano Manor Assassination Quest: Rileigh the Idle
Find the second Letter from Volcano Manor in the main drawing room. This prompts another assassination quest.
Rileigh's red invasion sign can be found in the ravine before you reach the Shaded Castle in Altus Plateau. Your map will have a red mark once you open the letter to ease your search.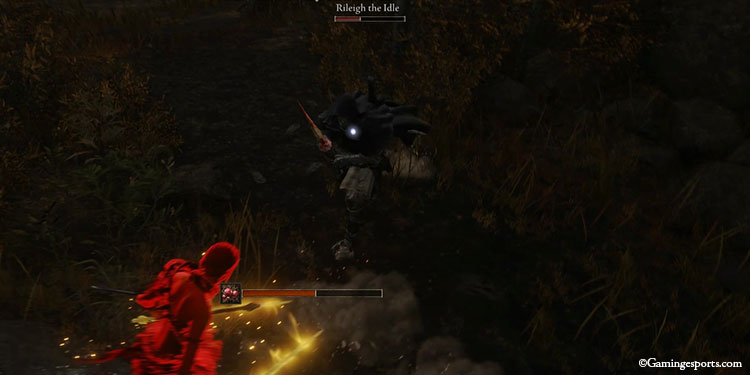 Once you defeat Rileigh the Idle, you will obtain Crepus's Vial, a talisman you can equip to silence all your movement. He will also drop some Black Crossbow Bolts and some goodies.
Meet Tanith at Volcano Manor
After You Assassinate Rileigh the Idle, head back to Tanith to receive Serpentbone Blade as your reward.
Completing the second assassination quest unlocks a bunch of new interactions and quests, which will be addressed in the headings below. 
Meet Rya Again and Progress Her Questline
Find Rya in the second room you found her in. She will be back to her human form. She will ask you to go and investigate some noises she hears from the Manor. You can now proceed with a part of her quest line.
To progress with Rya or Zorayas' quest, you need to find an illusory wall in a room that is just aside from her current room.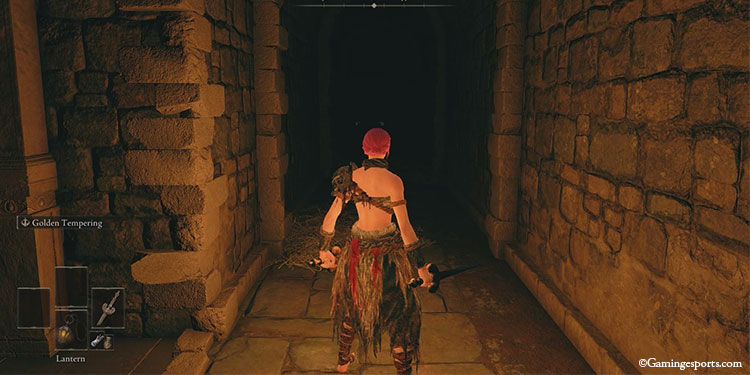 Head in from the illusory wall and navigate the dark dungeon to find the Prison Town Church Site of Grace.
Open the doors in the Prison Town Church, then Return to Rya and talk to her to progress with the questline.
You can now tell Rya the secrets of Volcano Manor and unlock more interactions with Tanith about Rya.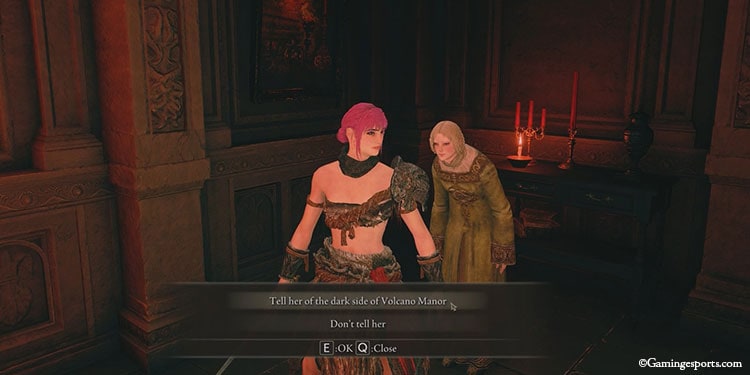 Defeat the Godskin Noble and Deliver Serpent's Amnion to Rya
You need to defeat Godskin Noble boss in the Church of Eiglay to proceed onwards. Once defeated, the Godskin Noble drops some items. You can also pick up the Serpent's Amnion from an altar that is in the center nave of the boss fight arena.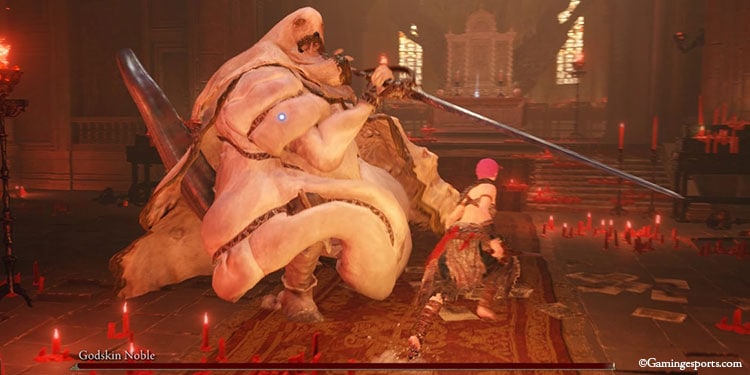 Return to Rya and give the Serpent's Amnion to her. Once the dialogue ends, when you reload the area, Rya will be gone from the main manor area.
You can speak to Tanith once more to get new dialogue options that offer more insight about Rya/Zorayas.
Once Rya is gone, exhaust Tanith's dialogues to receive the Tonic of Forgetfulness. Tanith asks us to administer this tonic to Rya so that she forgets her sorrows.
Rya will have moved on to the interior of the Volcano Manor dungeon area. You can reach there by progressing through the route along the Temple of Eiglay. 
Watch the video guide above to follow the exact path.
Once you meet Rya there, she will ask you to kill her. But you can ignore her request as there are other options.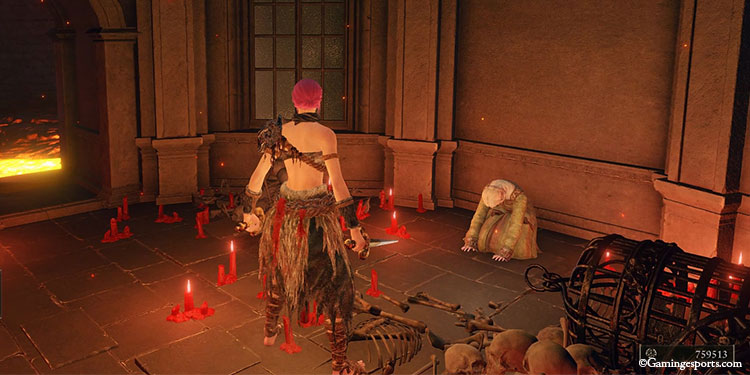 The first option, If you decide to kill her here, you can obtain the Daedicar's Woe item. If you wish to play Elden Ring on Hell Mode, you can equip this item, as it doubles the damage you take. 
The second option is you can give her the Tonic of Forgetfulness. The item we received after talking to Tanith once Rya/Zoraya is given Serpent's Amnion.
If you give this tonic to Rya, she will forget her troubles and return to her room in manor, where she can be found later in the game. You can talk to her there and exhaust her dialogues to obtain Daedicar's Woe in her place after she leaves.
If you do not decide to kill her or make her forget using the Tonic of Forgetfulness, there is a third and best option, according to our judgment.
For that, don't kill her or give her the tonic, we advise you to return here later in the game once you defeat Rykard. 
Meet Bernahl and Assist Him
Head back to the main Volcano Manor area and meet with Bernahl. This only occurs once you do the second Volcano Manor assassination quest.
Talk to Bernahl to receive the Letter to Bernahl. You have to assist Bernahl with an assassination quest.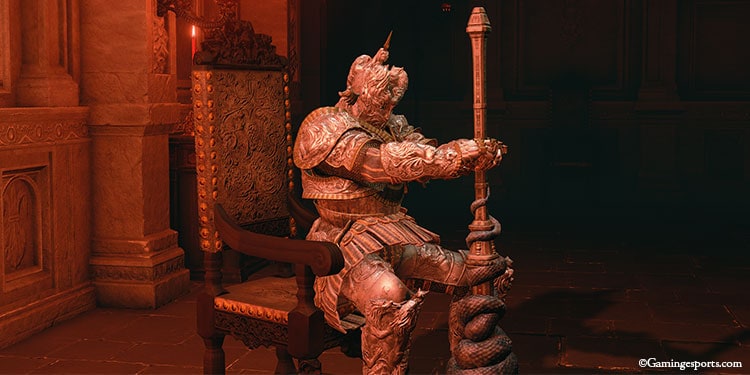 Where to Find Varagram the Raging Wolf and Errant Sorcerer Willhelm?
You can find Varagram, the Raging Wolf's red invasion sign in Leyndell Capital near the Fortified Manor, First Floor, Site of Grace.
You can head there easily from West Capital Ramparts Site of Grace by going downstairs from the staircase opposite the giant bird Kindred enemy.
Simply jump away from the building you are in towards the street and enter the large building with the red marker inside it.  
You will assist Bernahl in fighting Varagram and his ally, Errant Sorcerer Willhelm, in this fight.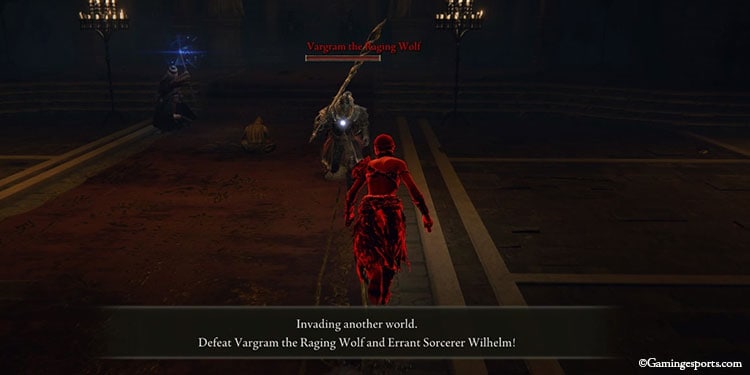 Defeat Varagram to obtain the awesome-looking Raging Wolf Armor Set.
Note: You need to complete this quest before clearing Crumbling Farum Azula or defeating Preator Rykard, boss of Volcano Manor, or else it will be skipped. 
Once you complete this assassination quest, return to Bernahl at the Volcano Manor, and he will reward you with Gelmir's Fury. It is a Magma sorcery.
Third Volcano Manor Assassination Quest: Juno Hoslow, Knight of Blood
Get a Red Assassination Letter from the drawing room and open the letter to get the details of the quest. This will ask you to defeat Juno Hoslow.
Juno Hoslow is the brother of Knight Diallos Hoslow, the NPC you met earlier, who was searching for his missing servant Lanya and ended up in Volcano Manor.
To complete this assassination quest, you need access to the Mountaintops of the Giants. Clear Leyndell capital, and Melina will give you the Rold Medallion. Use it to ride the Grand Lift of Rold to reach the Mountaintops of the Giants.
Head to the river in the north from the Ancient Snow Valley Ruins and head west along the river till you reach the Shack of Lofty, just before the shack, you can find the red invasion sign of Juno Hoslow. Invade and defeat Juno to complete the quest.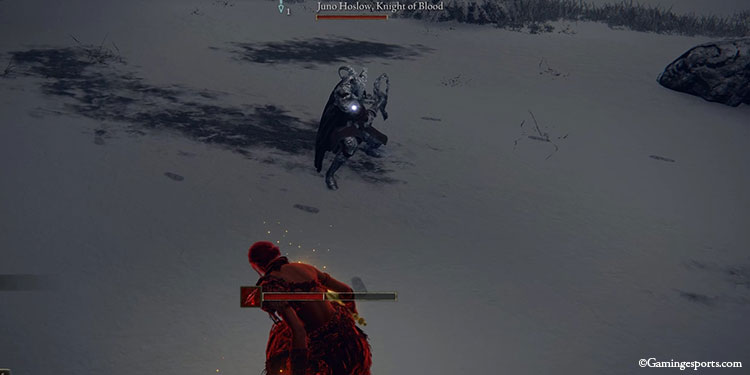 Note: You will also get Hoslow's Oath Gesture from Juno before the fight after Juno performs the gesture.
Once Juno is defeated, you can find Hoslow's Armor Set, Hoslow's Whip, and some more stuff.
Receive Taker's Cameo from Tanith 
After defeating Juno Hoslow, you can now return to Tanith and receive Taker's Cameo, an HP-restoring talisman. Tanith will now acknowledge you as a true champion, and you can progress with the quest line.
Note: If you have already defeated Rykard, the Lord of Blasphemy, the Taker's Cameo item can be found on the table where you found the red assassination letter earlier.
Defeat Rykard, Lord of Blasphemy
Once you complete all three of Volcano Manor's assassination quests, go and see Tanith, who will ask you to meet her lord husband, Rykard. 
Rykard is a demigod, son of Elden Lord Radagon with Queen Rennala of Caria. You will be directly teleported to a Grace Site close to Rykard's boss fight arena if you accept Tanith's offer to meet her lord.
You can now fight Rykard.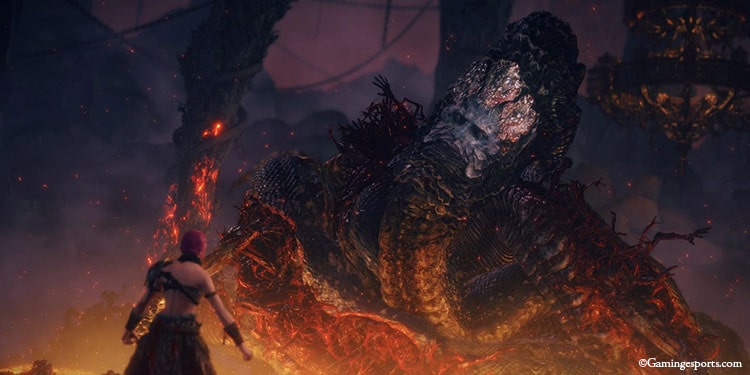 Note: Ensure you have completed all of the previous tasks before defeating Rykard, as beating him will make all those quests inaccessible.
Rykard has two phases: the Lord of Blasphemy and the God-Devouring Serpent. You have to defeat both phases consecutively. This is considered a gimmick boss fight, just like the fight with Yhorm the Giant in Dark Souls 3. 
Even though it is a gimmick fight, it is quite difficult, so be prepared to experience a fiery hell.
You will find a special weapon for this fight inside the boss fight arena as soon as you enter. The weapon is called Serpent Hunter, a Great Spear.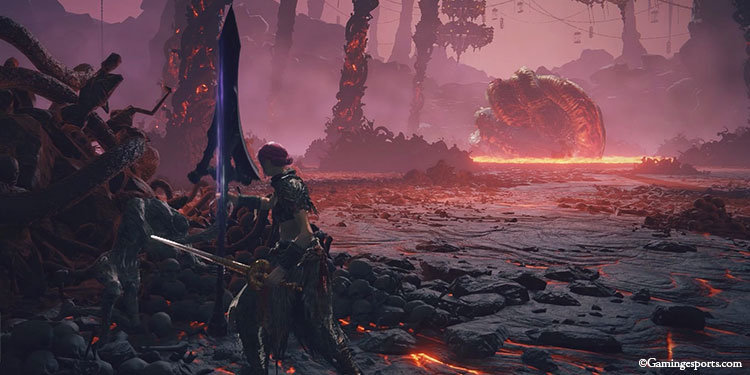 This weapon comes with a skill called Great Serpent Hunt which emits a blast of piercing light and wind, which is super-effective against Rykard. The weapon does not produce this blast when you aren't fighting Rykard.
You can even upgrade Serpent Hunter Great Spear with Somber Smithing Stones. We strongly advise you not to upgrade it at all and use it as it is in its base form, as the weapon will disappear when you complete the game and start a New Game Plus(NG+), unlike other weapons that will stay with you and carry over to NG+. 
Defeating Rykard will alter lots of things back in the world, but if you have followed the guide till now, you shouldn't have missed out on anything.
What Happens After You Defeat Rykard?
As discussed earlier, many things will alter or become permanently inaccessible once you defeat Rykard.
Patches
Once you defeat Rykard, exhaust Patches' dialogue and he will disappear from the Volcano Manor. He can be found in the Shaded Castle before the boss's room.
Talk to him here to receive Dancer's Castanets, which he will ask to be delivered to Tanith.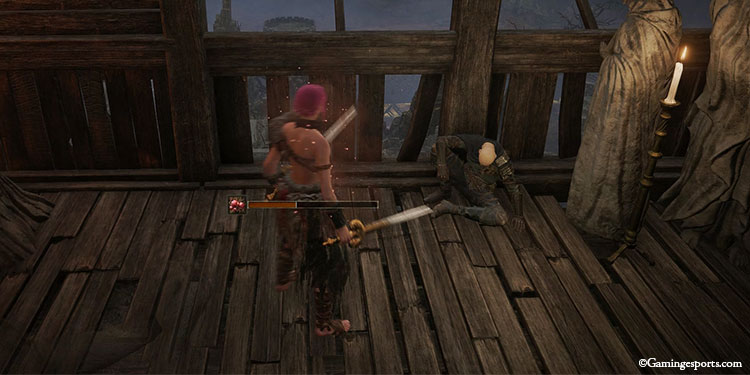 Reload the area, and he will be gone back to his hideout in the Murkwater Cave.
Note: Patches will attack you in the cave but do not attack him back. He will immediately recognize you and become friendly again. He will reward you with the Patches' Crouch gesture and will resume being a merchant.
Tanith
Return to Tanith once you defeat Rykard, she will leave the area along with the Crucible Knight guarding her.
Now head back to the boss fight arena where you defeated Rykard. You find Tanith there, and she will be eating the flesh from the dead body of her husband Rykard. She says that she wants him to be one with her.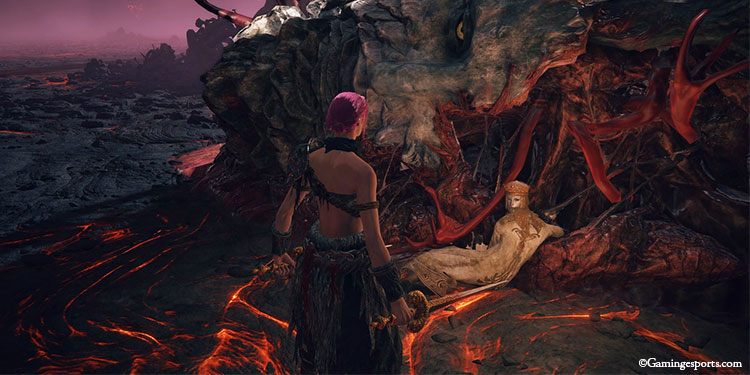 You can give her the Dancer's Castanets at this point, but it reportedly does nothing to change any outcome. This item also does nothing for you, so do as you wish with it.
You can proceed to kill Tanith here.
Killing Tanith will prompt an invasion by the Crucible Knight guarding her. Defeat the Crucible Knight to get the Erdtree Incantation called Aspect of Crucible: Breath.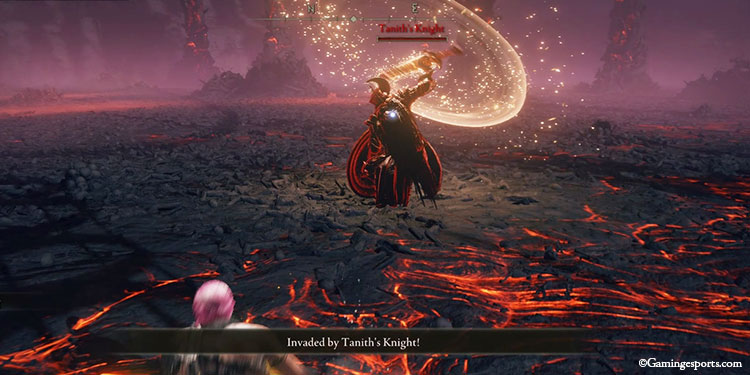 Once the Knight is defeated, you can pick up Consort's Set from Tanith's dead body.
If you do not kill her here, she will keep eating Rykard's dead body until the game ends.
Rya/Zorayas
If you have let Rya live and haven't given her the Tonic of Forgetfulness, go back into the chamber in the dungeon where you found her earlier.
She will interact with you and commend you for how you treated her. After that, she will leave the area when you return, leaving the Daedicar's Woe and Zorayas's Letter, addressed to you.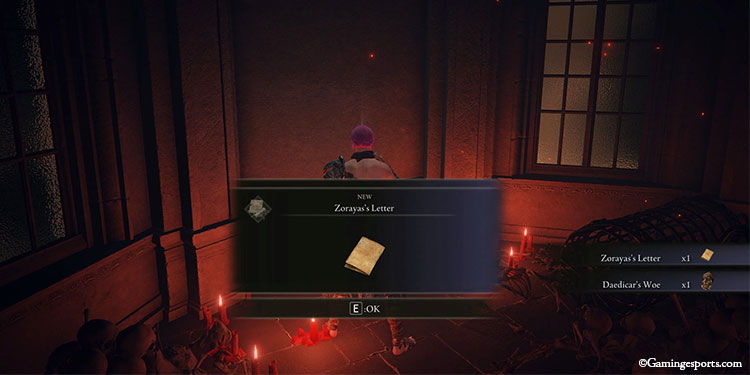 Knight Bernahl/Recusant Bernahl
Once Rykard has been killed and all of Volcano Manor is empty, head to Crumbling Farum Azula. Bernahl will invade you near the Site of Grace, Beside the Great Bridge.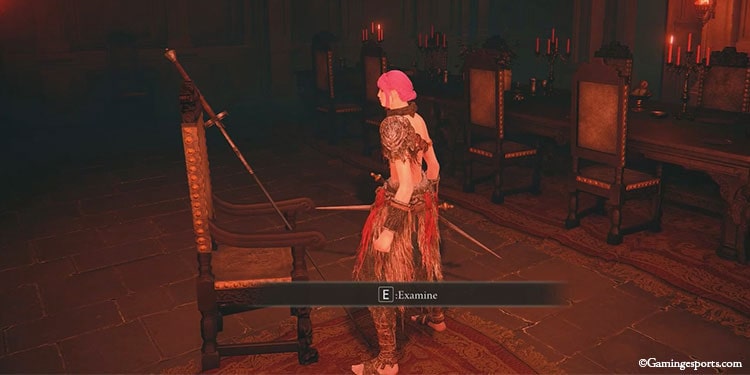 Defeat Bernahl during the invasion, and he will drop the full Beast Champion Armor Set, Blasphemous Claw, and Devourer's Scepter.
Before this invasion, Knight Bernahl's sword will still be in the Volcano Manor, and you can buy the Ashes of War by examining the sword.
Diallos
You can progress with Diallos' questline once he moves out of Volcano Manor after you take on the two of volcano manor's assassination requests.
He will be found in Jarburg, Eastern Liurnia, the hometown of Warrior Jars.