Maliketh, the holder of Destined Death, is the final boss of Crumbling Farum Azula. He is a mandatory boss you must defeat in order to progress Elden Ring's story.
Without beating him, your process of burning the Erdtree will not be complete, as he seems to have taken the Rune of Death with him to Farum Azula and hidden it inside his body. Meaning without defeating him, even if you initiated the burning of Erdtree, it doesn't actually burn, as everything in Lands Between is immune to proper death.
The bossfight with Maliketh has two phases. If you have met the Beast Clergyman at the Dragonbarrow, that will be the first phase, but the second phase is what jumpstarts the real action.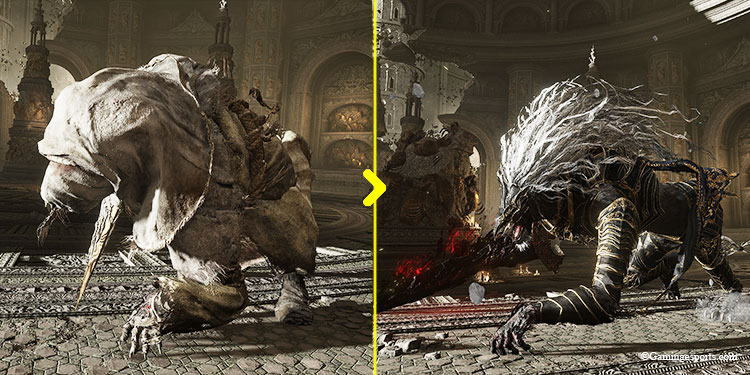 Maliketh removes his tattered cloak and reveals a shiny armor hidden beneath while taking out his massive sword and using his beastly physique to leap and jump around the arena like a panther on steroids.
During the extremely difficult and highly erratic second phase, he shoots MAX HP deleting waves of Destined Death from his black sword lowering your health pool.
Despite the difficulty, the battle with Maliketh is truly epic and one of the most enjoyable in all of Elden Ring.

So with this article, let's learn everything there is to know about beating Maliketh.
Maliketh—Boss Information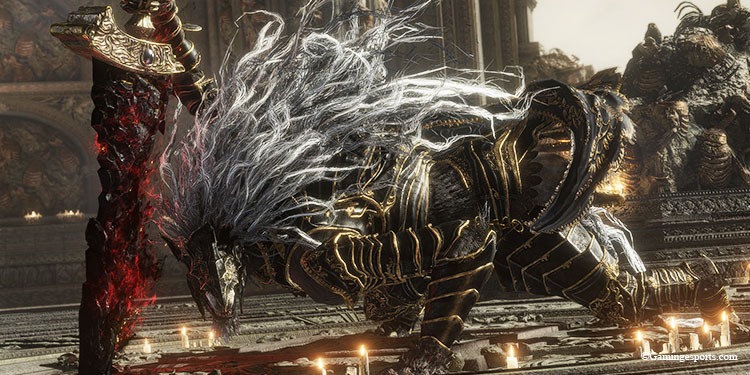 He has 10,620 HP and a defense stat of 120.
Once defeated, he drops 220000 Runes and the Remembrance of the Black Blade.
Maliketh has two different phases with completely different moveset during each phase.
He has a stance health of 80 and can be attacked with a critical hit once it is depleted. The stance damage done in Phase 1 carries over to Phase 2.
His attacks cannot be parried, but you can use the Blashphemous Claw to parry and stagger him when his attacks glow golden in the second phase.
He deals Standard, Strike, and Magic damage during the first phase. He deals Standard, Strike, Pierce, and Holy damage in the second phase.
He is highly resistant to Sleep effects and Holy damage.
He has low resistance to Poison and Scarlet Rot. He is also weaker to all physical damage.
Multiplayer and Summons: You can summon multiplayer allies for this fight, and you can also call your Spirit Ashes to assist you during this fight.
You cannot use Torrent during this boss fight.
Maliketh Moveset
He has two distinct phases with different names, and both phases share the same health bar. When you take away half of his health, the phase changes. The first phase is called Beast Clergyman, and the second Phase is called Maliketh the Black Blade.
Phase 1: Beast Clergyman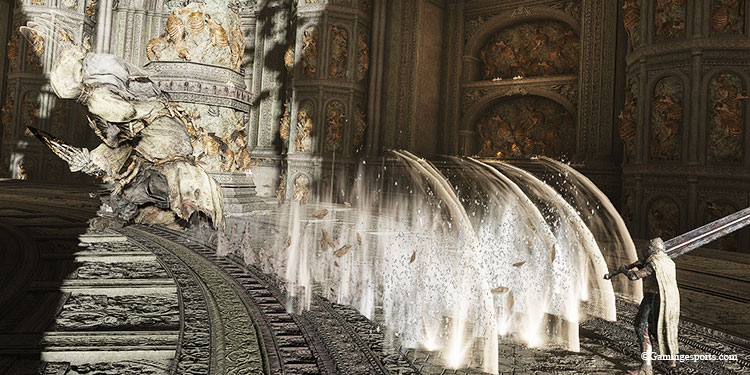 BLADE ATTACKS: Uses his blade to attack you.
Blade Swipe: He swipes side to side with his blade.
Lunge and Swipe: Clergyman lunges forward and Swipes at you.
Stab the Ground: He thrusts his blade and stabs the ground as he stabs through you.
Slash and Flip: He slashes and then quickly backflips away from you.
Blade Runner: The boss drags the blade along the ground while rushing towards you to attack.
Blade Combo: A slash and stab combo performed by his blade.
BESTIAL INCANTATIONS: Uses different Bestial Incantations.
Bestial Claw: Rends with his claws to create damaging shockwaves that travel forward, expanding as they travel.
Gurranqs Bestial Claw: Rends with claws around him, creating damaging shockwaves that travel outward radially all around the boss.
Bestial Sling: Slings rocks at you. Has varying types of this same move.

He slings rocks toward you from the ground.
He encircles and leaps up in the air and slings the rocks at you as landing.
He combos his attacks into the Bestial rock sling.

Stone of Gurranq: He takes a large round rock and smashes you with it. This attack has a long range.
Tearing Ground: He shoves his hands into the ground, tearing it and exploding out the rocks in a forward direction.
Phase 2: Maliketh the Blade Blade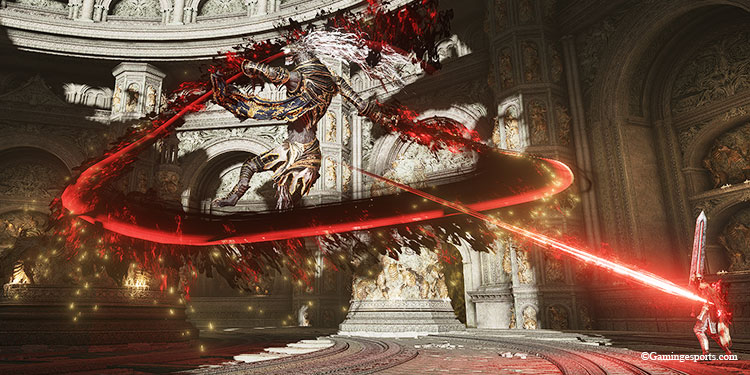 BLACK BLADE ATTACKS: He uses the black blade and its holy attacks against you.
Black Blade Maneuver: He flips with a ground swipe toward you and can combo it with an overhead attack with his blade. This is usually his first attack after changing to the second phase.
Blade Pummel: Leaps up in the air and then comes down, pummeling his blade toward the ground. Once the blade hits the ground, it creates an explosion.
Black Blade Projectile: Leaps around in the arena, shooting multiple rends of Black Blade projectile towards you.
Single Black Blade: Shoots a single quick rend of the Black Blade projectile towards you.
Blade of Death Combo: Swipes the ground with his blade and performs an overhead attack, if dodged, leaving the boss open to punishment.
Extended Blade of Death Combo: Swipes the ground with his blade and performs an overhead attack following it with spinning circular swipes with his blade, shredding the air around him. This combo ends with a ground smash attack.
Swinging Spin: The boss performs two circular swings around him.
Desperate Swings: Sometimes, after you parry the boss, he desperately swings the blade blindly around him to shred anything in the path.
OTHER ATTACKS
Roar: He sends a shockwave-inducing roar, sending you flying if it connects.
Tips and Tricks to Defeat Maliketh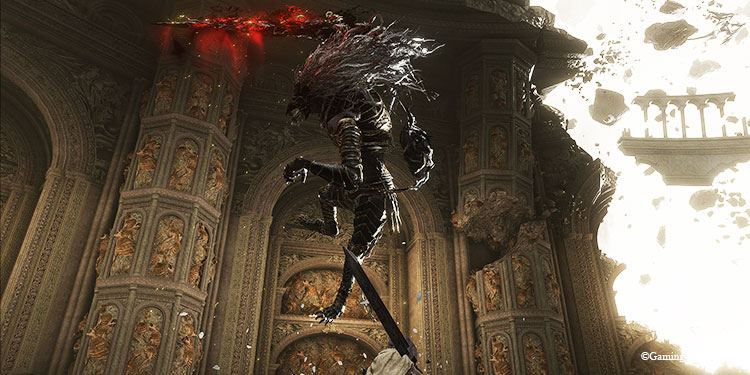 Get the Upper Hand During the First Phase
During the second phase, Maliketh becomes highly mobile. Use the status effects during the first phase to make him suffer with poison or Scarlet Rot.  With his low-health pool and pillars (we will talk about the pillars next), you can actually watch him die as you run around evading his attacks.
If you are trying to set up Comet Azur, the first phase is a good time to find a perfect situation to cast this attack.
During the second phase, because of how quick the boss is, you can forget the attacks which need to be set up, like Comet Azur.
Use the Pillars
This arena has indestructible pillars that can be used to take cover from many attacks and also can be used to hide behind as you heal.
During the second phase, if the Black Blade attacks reduce your MAX HP, the pillars can be used to create the distance between you and the boss as the reduced health recovers over time.
Circling around the pillars will force the boss to circle around, playing cat and mouse to find you.
Also, remember the pillars will only block projectiles. If he does melee swings at you from behind the pillar, they will still reach through the pillars.
Below in the video guide, we have used the pillars to win the boss fight. Give it a watch.
Pace the Stance Break
This fight's first phase is much more manageable than the second one. So if you are building up stance damage to posture break the boss, make sure you time your posture break to occur once phase 2 begins, as the critical hit damage will add up to make phase 2 considerably easier.
Blasphemous Claw Parry
If you are a rare sort who wants to use the Blasphemous Claw item to parry, make sure you know which attacks to parry and train yourself to learn the best parry window.
The attacks that can be parried glow Maliketh's blade golden or white color.
Once you parry Maliketh, he will be stunned and take some damage, leaving him open to your attacks.
CrimsonBurst Crystal Tear
Using this crystal tear in a Physick mix will let you gradually recover your HP. This is very helpful to negate the gradual decrease of HP done by Maliketh's Black Blade attacks.
Summoning Spirit Ashes
Just as with any other boss, if you are playing against Maliketh alone and aren't succeeding, it might be time to call upon your Mimic Tear or, better, very evasive spirit ash like Black Knife Tiche can be more help here.
Since Maliketh does not have a big health bar, when he is distracted by the Spirit Ash, you can quickly spam your attacks together to down him quickly.
Get Behind Maliketh
If possible, getting behind Maliketh is the best way to attack him in both phases. Although he has high mobility, most of his attacks are towards his front, and getting behind him means he will be forced to turn around, giving you a small window to possibly attack him.
Rolling Forward
During the first phase, many of his attacks can be avoided by rolling forward, and this also gives you a chance to punish the boss right away as he is left open to your attacks.