Radagon of the Golden Order is the first opponent of the final gauntlet boss fight in Elden Ring.
The male form of Queen Marika, Radagon, poses quite the challenge and packs a hefty punch with all his attacks. The additional challenge is to defeat him without losing a lot of health flasks, as you will have to fight the final boss, the Elden Beast, right after.
So if you are looking for a way to optimize your battle against Radagon and take the throne as the new Elden Lord, I'm here with all the help you need.
Radagon—Boss Information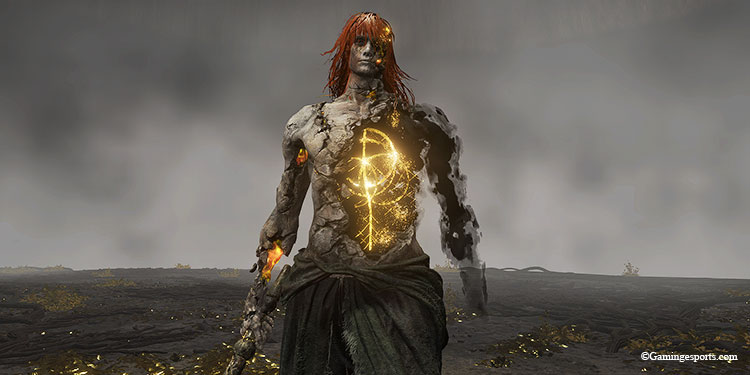 He has a total of 13339 HP during the New Game playthrough of Elden Ring.
Defeating him will make the Elden Beast appear for the final fight.
He has the poise health of 120. Once depleted, you can attack Radagon with a critical hit.
You can perform parry against the uncharged attacks performed by Radagon. Once you successfully parry Radagon thrice, you can perform a critical hit on him.
Radagon can inflict Standard, Strike, and Slash damage with physical attacks. He also imbues most of his physical attacks with Holy Damage.
Radagon is immune to Bleed and Sleep and is highly resistant to Holy damage. He also possesses a medium resistance against Standard, Pierce, and Slash damage. Radagon is also quite resistant to Poison, Scarlet Rot, and Frostbite.
Radagon has no resistance against Fire damage and has very low resistance against Strike damage. These are the best attacks to use against him.
The black fire-producing Godskin Incantations are very good against Radagon.
You can summon multiplayer allies to fight against him. You can also call on your Spirit Summons to battle against Radagon.
Torrent cannot be called upon during this bossfight.
Radagon's Moveset
Radagon uses his hammer and a variety of advanced Golden Order Incantations to attack you.
Offensive Moves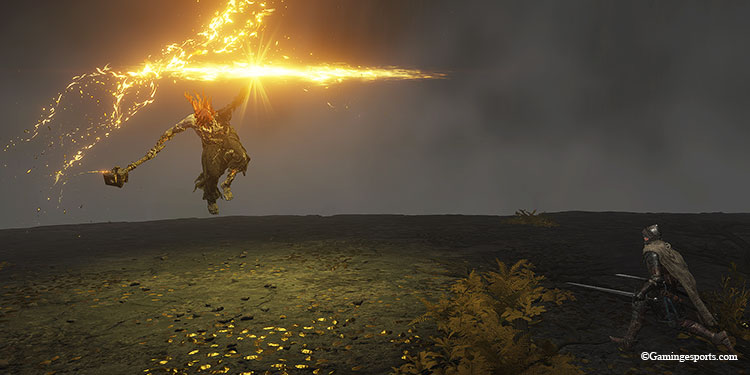 Light Spear: Summons a spear made of golden light and hurls it at you. Once it strikes, it will explode.
Spreading Light Spears: Summons five light spears that spread towards you. These also explode once they strike something.
Grab and Smash: He fills his missing arm with golden light and then lunges to grab you. If he successfully grabs you, he will hammer you into the ground.
Charging Hammer Swing: Radagon rushes at you with his hammer and then swings it at you.
Leaping Golden Hammer: Radagon leaps up in the air and, with the glow of the hammer, brings it down at you.
Golden Hammer Slam: Uses his hammer to slam at you, sometimes will drag the hammer leaving a golden trail before smashing you. The golden trail explodes later.
Golden Wave: Slams the hammer on the ground to create an expanding golden shockwave.
Shimmering Shattering: He charges his hammer and smashes at the ground thrice, leaving golden crack marks on the ground. The final smash marks the ground with a golden Elden Ring symbol on the ground.
Stomp: Stomps and creates a small shockwave around the foot.
Golden Stomp: Uses a heavy stomp and creates a golden shockwave around the foot.
Defensive Moves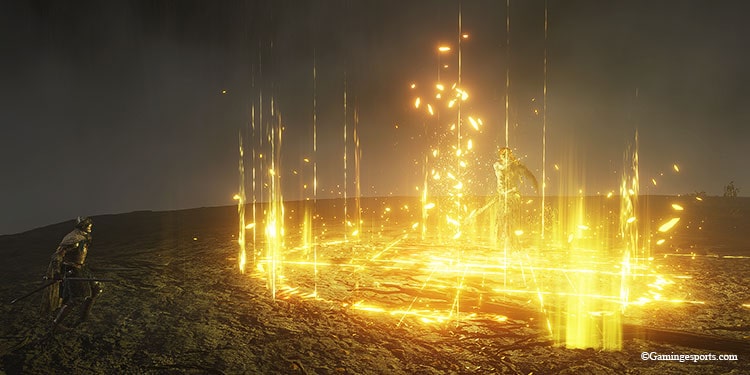 Teleportation: Radagon can teleport around the battlefield. Each time he performs teleportation, a damaging shockwave gets released when he reappears. Once he appears after teleporting, he can instantly attack you with one of his combos.
Block: Uses his golden light arm to block ranged attacks and items that are chucked at him. This can also block melee attacks if your melee attack hits Radagon when his Golden Arm is raised.
Golden Zone: Radagon embeds his golden spear into the ground. This move creates a golden field in an area that depletes your health over time if you enter.
Tips and Tricks to Beat Radagon
Radagon is not that tanky, but he is very heavy hitting. He usually will quickly strike you down, but once you learn his tricks, you can take him down and save most of your healing for the final boss.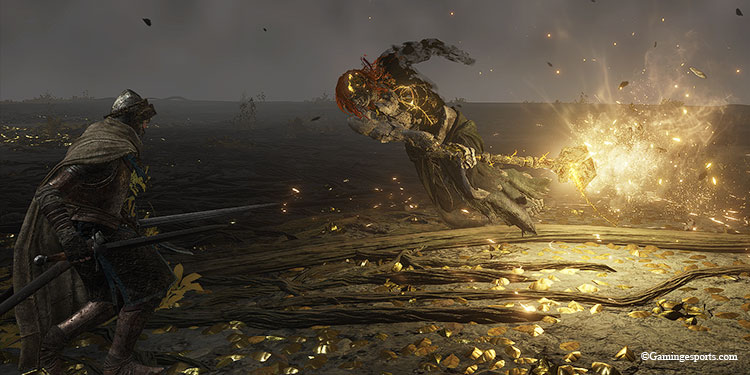 Tips for Melee Build
You can effectively perform guard counters with quick weapons against Radagon. You can also abuse his weakness to strike weapons and use a blunt weapon like a club, hammer, or flail to crack him open.
Colossal Weapons and the staggering attacks are very good against Radagon. Learn which of Radagon's attacks have hyper armor and avoid them, and if an attack does not have hyper armor, then use your Colossal Weapon to attack him through it to stagger him.
Watch the video guide above to see we defeat Radagon using the Guts Greatsword. Keep reading for more useful tips.
Avoiding and Attacking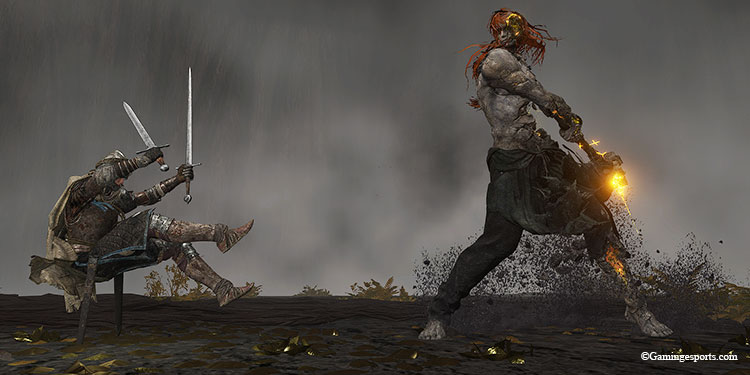 Note that he has a long windup time before most attacks and a hefty recovery time after his attacks.
Most of his attacks also create an AoE blast once they hit the ground, so it will be important to learn to dodge late rather than too early so you can also dodge the AoE blast too.
Evade his attacks and use the long recovery time to your advantage. You can even use the recovery time to get in a jump attack or heavy attack. These attacks will build up stance damage to stance-break Radagon and give you a chance to hit him with a critical hit.
If you are quick, you can poke him with a quick light attack before he attacks you and dodge roll to safety before his long winding attacks strike you.
For ranged attackers, you will have to dodge his large AoE blast attacks. This can be done by rolling backward or forward at a slanted angle.
Fire or Flame Weapons
Any weapons with fire or flame affinity will deal the most damage to Radagon, so I suggest using them if you find yourself lacking damage.
Blasphemous Blade and its builds are highly advised, as it will defeat Radagon quickly.
Tips for Magic Build
Frenzyflame Incantations and Fire-based Incantations are very good against him. Frenzied Burst is a very good cast against Radagon.
Ranni's Dark Moon and Glintstone Icecrag are sorceries that inflict quite a damage upon Radagon. The frostbite inflicted by these spells can help a lot.
Black Flame Attacks
Radagon is quite vulnerable to Black Flame attacks as he has no defense against fire damage. Black Flames additionally deal HP percentage-based bonus damage making them good against anything that packs a lot of HP.
If you have a weapon that can be buffed with Black Flame Blade, go for it. You can also use the Black Flame and Scouring Black Flame as your ranged incantations.
Increase Holy Resistance
This tip is helpful not just against Radagon but also against Elden Beast, as both inflict a lot of holy damage.
Lord's Divine Fortification or Divine Fortification both are the Incantations that fortify your holy resistance.
Haligdrake Talisman will also raise your holy resistance. Use the +2 variant for most benefits.
You can also consume Holyproof Dried Liver to boost your holy resistance temporarily.
Best Armor and Talisman Choices
Apart from increasing your holy damage, if you have enough damage output, then there are other armor and talisman that can be of great help for this fight.
Dragoncrest Greatshield Talisman can resist physical damage.
The Crucible Tree Set, Cleanrot Set, and Radahn's Set can be good choices if your loading capacity lets you. These armors have a very good Holy Resistance and Physical Resistance.
Avoid the Grab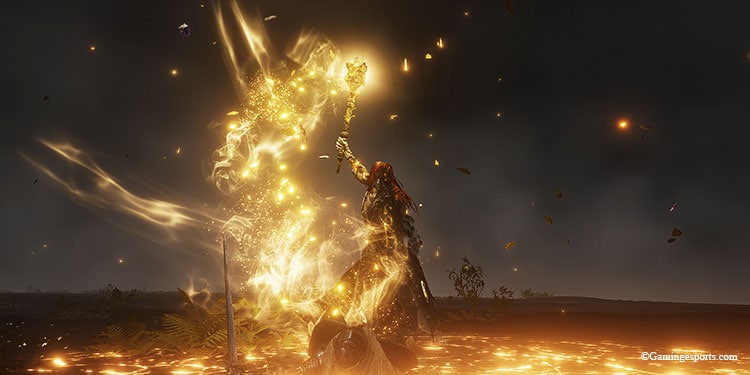 Most of the time, if the bosses grab you, then it's going to lead to your death. Radagon has a very mean grab that can one-shot you after a dramatic show of force. Fortunately, it is easy to avoid and tell when the attack is coming at you, as Radagon will create his golden light arm in order to grab you.
Best Summons Against Radagon
Mimic Tear, like always, is an excellent choice, and Black Knife Tiche is also very good against him.
But I recommend saving the summons for Elden Beast if you are getting the hang of battling against Radagon.