Adding to our ever-growing list of mysterious characters in Elden Ring is Fia, the Deathbed Companion.
Surprisingly, not many characters in the game will ask for a hug earlier, then later on, murder someone and disappear into nothingness while muttering something about her Lord rising from death.
Well, that's Fia for you.
She is a character we can meet from the very first time when we visit the Roundtable Hold. She is seated on a bed, in a warmly lit room, with a gentle fire crackling in the fireplace—a very romantic first meeting, eh?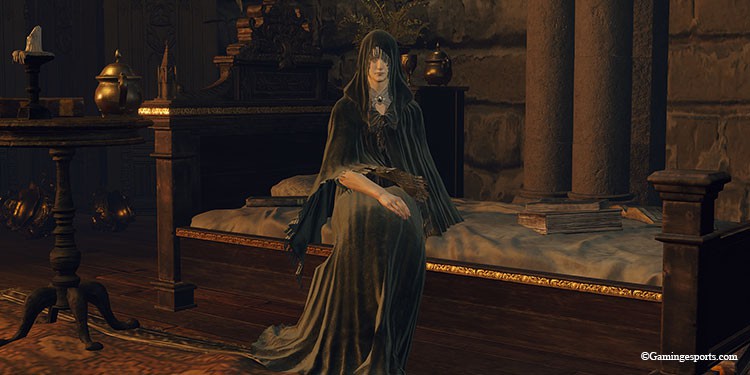 Deathbed Companion Fia also has a questline, which, when completed, can alter the very ending of the game.
Like most other Elden Ring questlines, this one is also difficult to follow, with optional interactions that are easy to miss. These interactions do not hold much of a importance in completing Fia's questline.
But, like we discussed above, missing them here might mean you may completely miss out on some story revelations. Hence, here we are, making a guide (with video) for you that encapsulates everything about the questline. 
Meet D Before You Visit Roundtable Hold (Optional)
Note: This meeting will only occur if you haven't already been spirited away to the Roundtable Hold by Melina.
Go east of Stormhill Shack and cross the Saintsbridge. Just past the graveyard, as you go downhill eastwards, you will see water-drenched ruins in your sight, the Summonwater Village.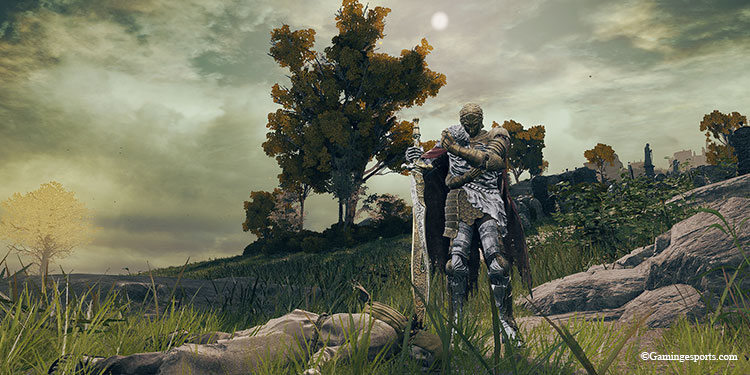 D, the Hunter of Dead, will be standing at the end of the Graveyard, paying respect to a dead body, before you reach the Village. If you talk to him, he will warn you not to go eastwards towards the Village.
Ignore D's warning and defeat the Tibia Mariner Boss, this will drop a Deathroot and will make D move into the Summonwater Village.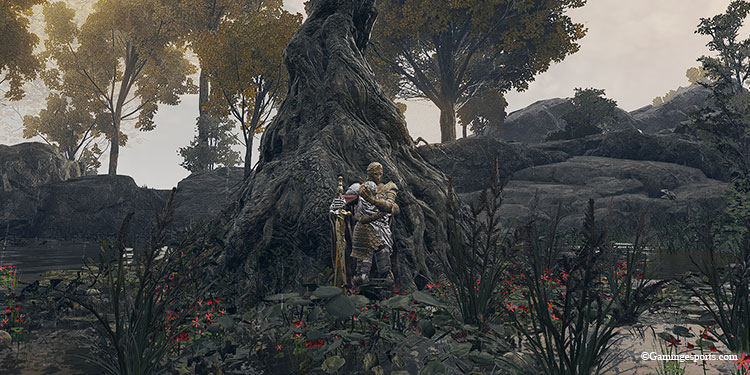 If you speak to D in the Village, he will give you the whereabouts of Gurranq and will ask you to weed out the Deathroot from the face of the Lands Between.
You do not necessarily have to speak to D here, but if you are taken to the Roundtable Hold before this occurs, the interaction will skip, but you will not lose or gain anything.
Meet Fia and D at The Roundtable Hold (Optional)
When Melina takes you to the Roundtable Hold for the first time, introduce yourself to everyone you can meet there. This includes Fia, the Deathbed Companion, and D, the Hunter of Death (regardless of the first meeting).
Fia will ask to hold you, if you let her, she will give you a Baldachin's Blessing in exchange and you will lose your max health temporarily.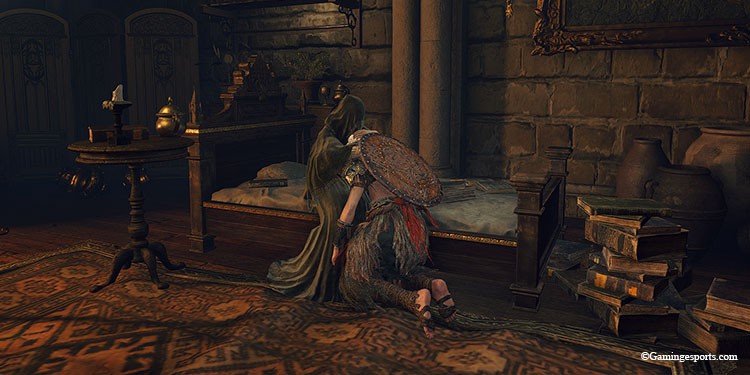 You can let her hug you repeatedly, but you won't lose your health as long as you have the Baldachin's Blessing with you, and the lost health will return once you consume the blessing, so don't worry about the lost health.
If you missed the previous interaction with D, talk to D in the Roundtable Hold after you get a Deathroot (you can get it early by defeating the Tibia Mariner at Summonwater Village, North Limgrave).
He will then give you Gurranq's whereabouts and become a merchant who will sell some incantations to you.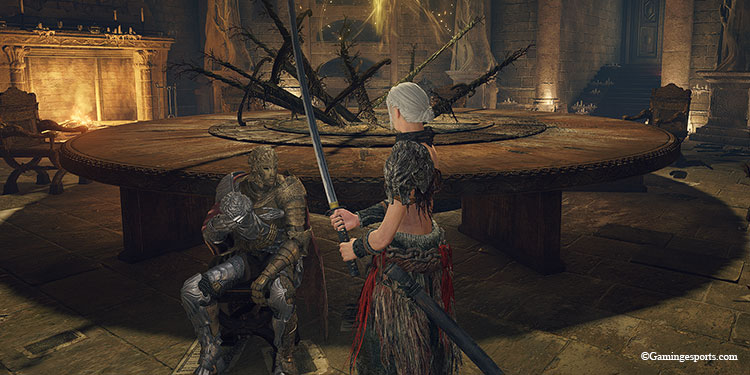 Talk to Rogier About the Dead Monster Deep Under the Stormveil Castle (Optional)
Rogier is a sorcerer you can meet inside the Stormveil Castle.
He is in a chapel within a building below the area where the sword eagles throw explosive barrels at you, outside the Rampart Tower Site of Grace.
You can introduce yourself to Rogier there, and he will sell you some Ashes of War.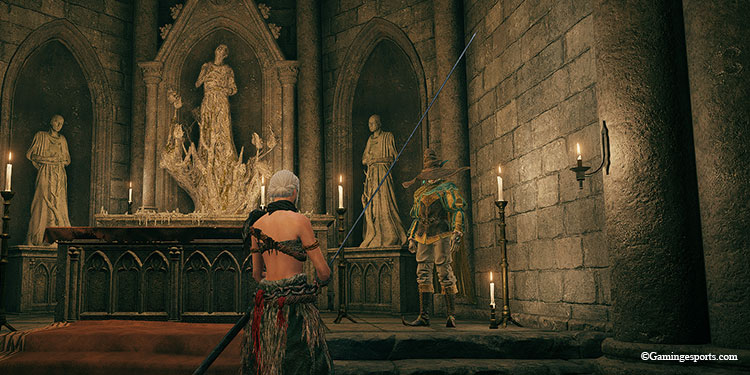 Again, inside the Stormveil Castle, you can find a pathway that will take you deep down the pits of the Castle (watch the video guide).
After defeating an Ulcerated Tree Spirit miniboss, proceed forwards to reach an area where a grotesque, giant squid-like, dead creature rests. 
Interact with a bloodstain aside this dead creature, and you will see Sorcerer Rogier being ripped and manhandled by something.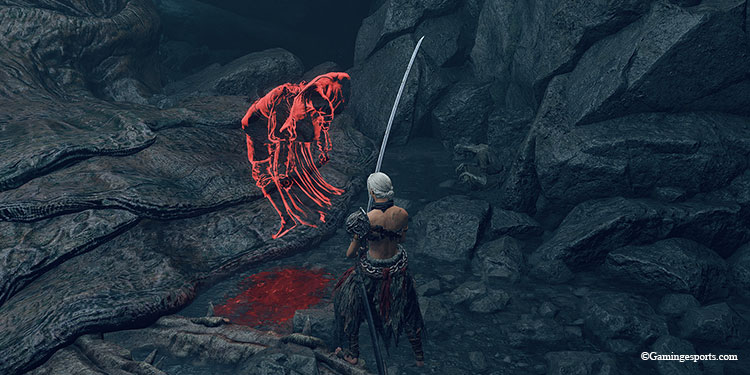 Then defeat Godrick the Grafted, which prompts Rogier will move to the Roundtable Hold.
Talk to him there, and he will give you some of his equipment as he is injured and cannot use them anymore.
You can ask Rogier about your discovery in Stormveil Castle. about the bloodstain and the grotesque creature's corpse.
He will expand on it by revealing to you a big plot of Elden Ring about the Night of the Black Knives when assassins killed prince Godwyn.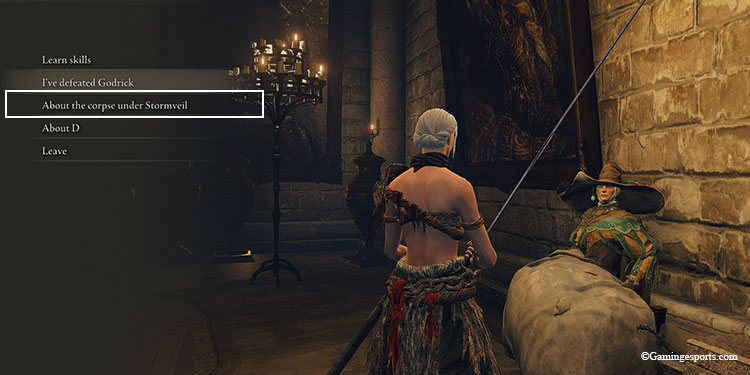 Speak to Fia About Black Knives (Optional)
After Rogier tells you about the Black Knives, go to Fia and hug her.
When you are within her embrace, another dialogue option will come up, keep exhausting them, and you will receive a Knifeprint Clue.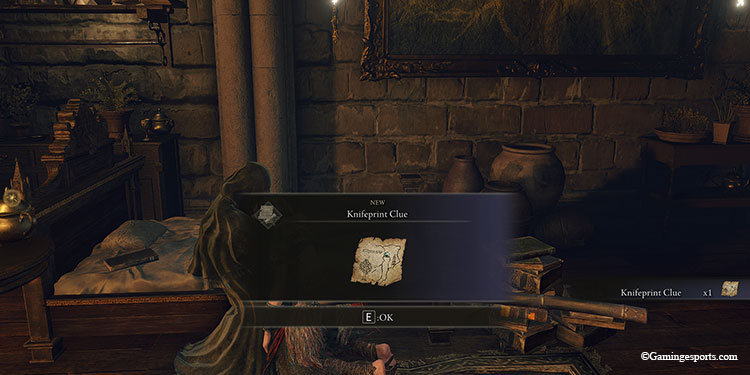 This will now put a mark on your map. The mark is in Northern Liurnia, pointing you to the Black Knife Catacombs. Inside the catacombs, you can defeat a Black Knife Assassin who will drop the Black Knifeprint.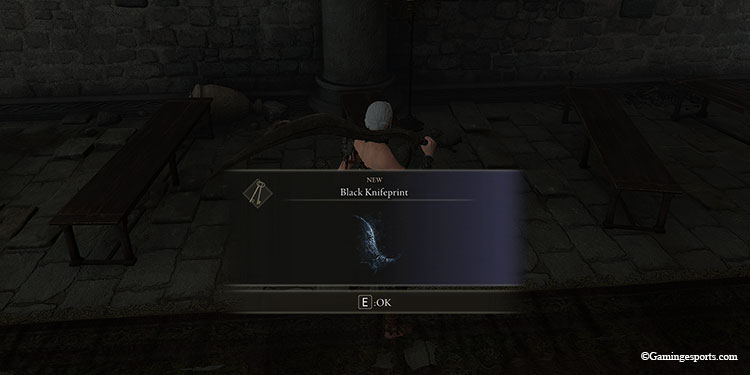 Rogier's Questline
Obtaining Black Knifeprint will help you with Rogier's questline, which now branches off away from Fia's Questline. You need to deliver the Knifeprint to Rogier who will start investigating it.
If you speak in secret with Fia after giving Rogier the Black Knifeprint, she will thank you for helping him and give you a Sacrificial Twig.
Rogier discovers that Lunar Princess Ranni is behind the Night of the Black Knives, so he asks you to meet Ranni, investigate her, and get the Cursemark of Death from her.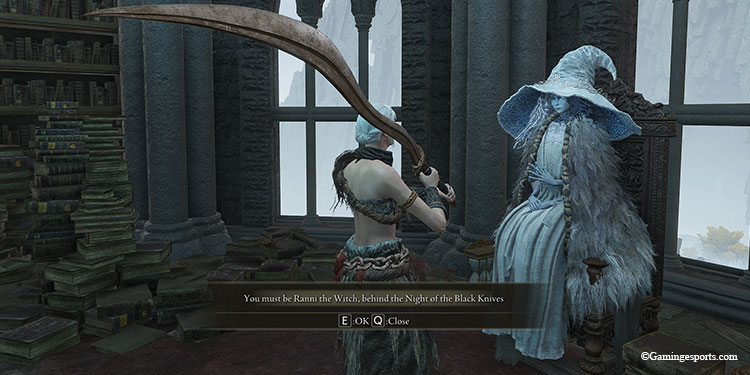 After you talk to Ranni and return to Rogier, he will ask you to become one of Ranni's vassals to investigate more about the Cursemark of Death.
Shortly after, Rogier will say goodbye to you, and he will become unresponsive due to the wounds he got beneath the Stormveil Castle.
Becoming Ranni's vassal this way also changes the dynamics of the interactions you have with Ranni, as you make the alliance for mutual benefit rather than to solely serve her.
Get the Weathered Dagger from Fia (Optional)
Once you make it to Altus Plateau and rest in a Site of Grace there, return to the Roundtable Hold and interact with Fia. She will hand you a Weathered Dagger. Then she will request you to find the original owner.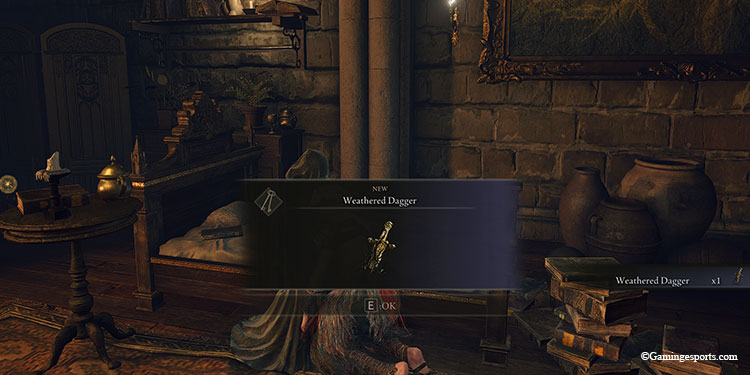 Next up, take the dagger to D, the Hunter of Death, and he will recognize the dagger and take it off you.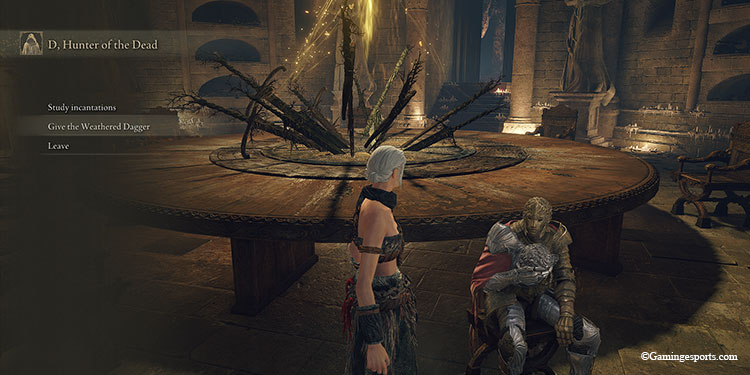 Reload the area by revisiting it, and a new room will open across the hallway from the Blacksmith's. 
Fia will be sitting aside D's dead body, and if you interact with her, she will proceed to say some very remarkable words before rising up and disappearing into the thin air.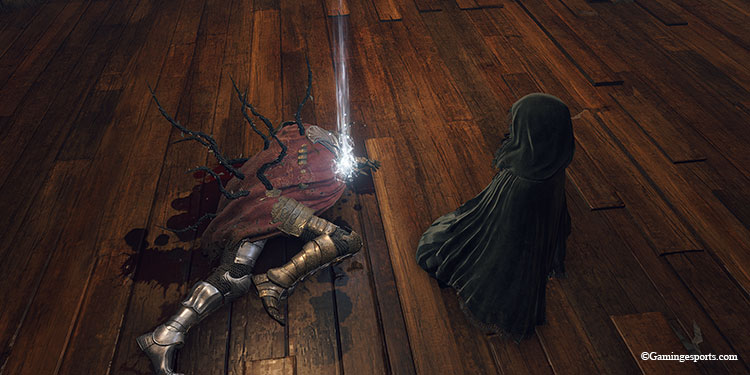 You can also loot the Twinned Armor Set (an alterable armor set) D was wearing from his dead body.
Fia also has taken something from D, which is one-half of the Cursemark of Death that he had discovered in his journey.
Note: With enough time and some conditions, even if you do not interact with Fia, D will be dead inside the Roundtable Hold, and Fia will move on, with or without your interference.
Rogier's Death
Rogier succumbs to his condition sooner or later, leaving behind Rogier's Ball Bearing and his Armor Set.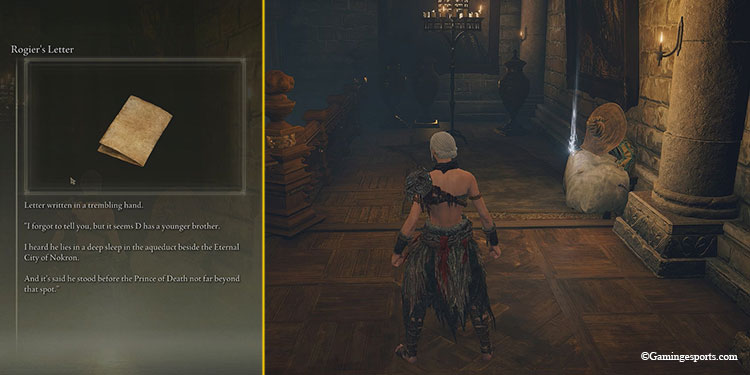 He will also leave you with a letter that tells about D's twin brother and his whereabouts.
Reach the Deeproot Depths (Compulsory)
Make your way to the Deeproot Depths. There are two ways, and both are detailed in the guide.
Meet D's Twin Brother Along the Way (Optional)
Just before the waterfall arena, where you fight the Valiant Gargoyle Duo boss in the Siofra Aqueduct, you can meet a pale man who seems to be having a breakdown.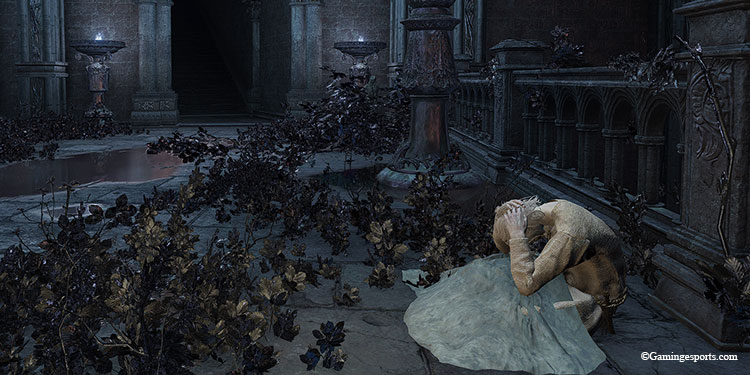 This is apparently D's twin brother, whose name is also D, the Beholder of Death. You can give him D's Twinned Set. 
Note: After giving the Twinned Set to D's twin brother, you can summon him to aid you in the valiant gargoyle duo boss fight.
Trust me, this boss fight is a lot more manageable if you have allies with you.
Find Fia in The Deeproot Depths (Compulsory)
Once in Deeproot Depths, reach the Across the Roots Site of Grace, it's directly east in a higher location from the Nameless City Site of Grace.
Enter into the opening from the Site of Grace and reach the end of the arena, where you will fight Fia's Champions. There are multiple battles with NPC who are summoned to battle for Fia,
First, you will have to fight one of Fia's Champions (this is randomly chosen, and if you play online, this can be a build of another player uploaded while hugging Fia).
Next, you have to fight Sorcerer Rogier.
Last is a group of 3, Lionel the Lionheart and two others, both other Champions are randomly chosen like the first one.
Once you defeat all of them, you will obtain a sorcery called Fia's Mist. Now you can find Fia at the end of the arena.
Talk to Fia and get a hug, she will ask you if you can retrieve another half of the Cursemark of Death.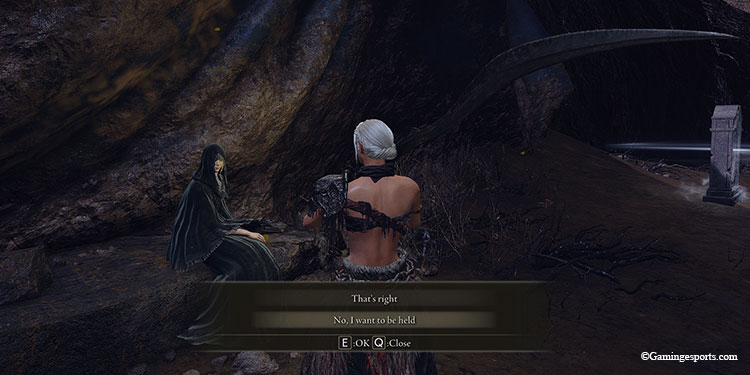 Get the Cursemark of Death for Fia (Compulsory)
Progress Ranni's questline till you give her the Fingerslayer Blade, and she, in exchange, will give you the Carian Inverted Statue and will permit you to reach her physical remains.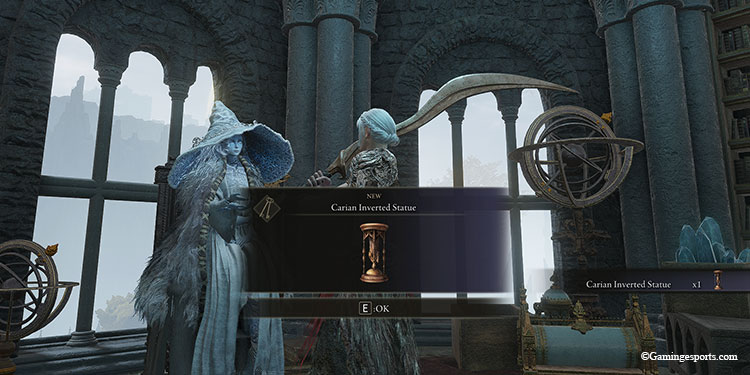 Place the Inverted Statue in the Carian Study Hall, this will now invert the tower and will let you head to the top of the Divine Tower of Liurnia.
Atop the tower, you will find Princess Ranni's burnt physical body. Interact with the body to obtain the Cursemark of Death and the Stargazer Heirloom.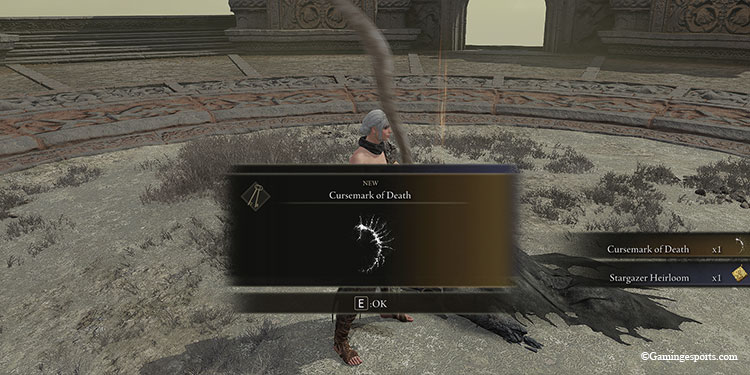 Deliver the Cursemark back to Fia at the Deeproot Depths. She will give you a Radiant Baldachin's Blessing in exchange. Exhaust all of Fia's dialogues till she says goodbye. And then reload the area, you'll find Fia asleep and dreaming.
Defeat Lichdragon Fortissax (Compulsory)
Once Fia is asleep, you can enter her dream to reach an alternate version of the same area where Lichdragon Fortissax will challenge you.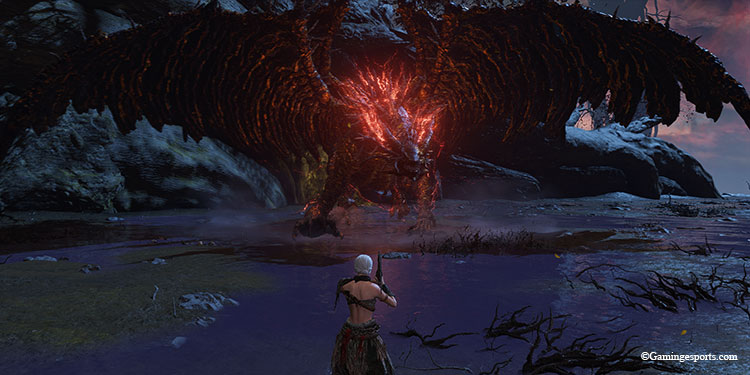 Defeat the dragon who will drop the Remembrance of the Lichdragon, and then you will be taken back to the normal world.
A shining silver spiral rune will be visible above Fia's slumbering body, which is the Mending Rune of Death-Prince. Pick it up, and you can use it later after defeating the Elden Beast to unlock the Age of Duskborn.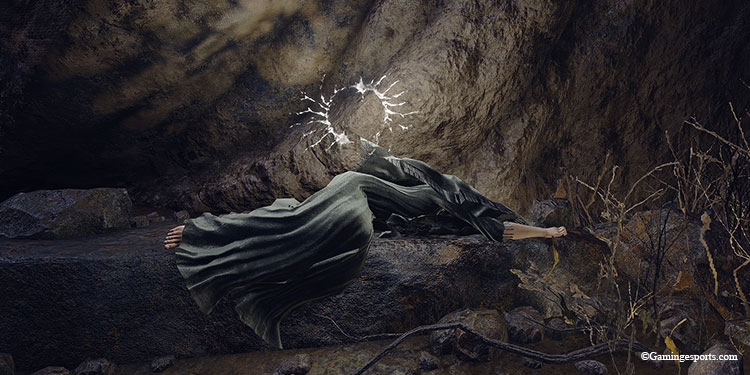 End of Fia's Questline
If you have given D's twin brother his armor.
Reload the area or fast-travel to where Fia is. You will see that D's brother has killed Fia, and you will find Fia's Deathbed set there.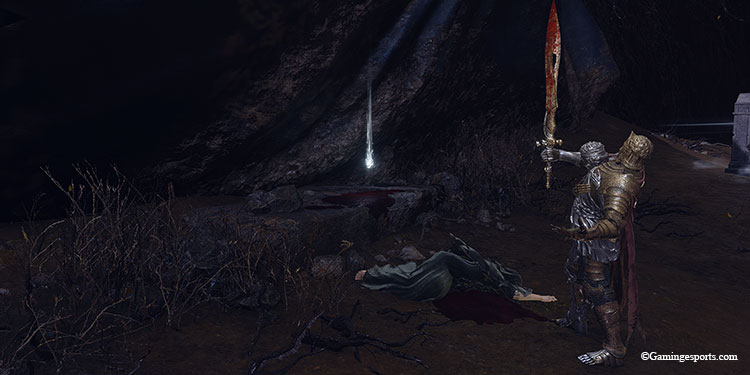 Exhaust D's Brother's dialogue and reload the area. He will have left the Twinned Armor Set and Inseparable Sword (a greatsword) where he stood.
Note: You can apparently prevent D's twin brother from killing Fia by killing D yourself in the first location near Summonwater Village before you are taken to the Roundtable Hold.
If you kill D yourself and give the Twinned Set to his twin brother, you can reload the area, which prompts D's twin brother to attack you.
Kill the twin to get the Twinned Armor Set back and get the Inseparable Sword as well.