Godrick, the first shard-bearer boss in Elden Ring, is the picture-perfect personification of vile and evil. He is the last of the Golden Lineage and a demigod descendant of Queen Marika and Elden Lord Godfrey.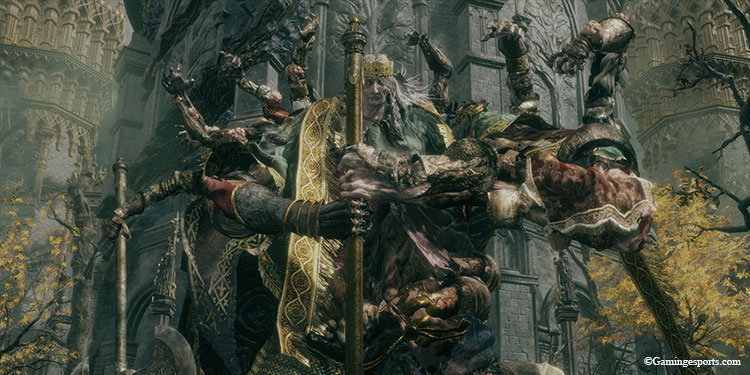 If there is anything Godrick likes, he takes it. Meaning if you have a body part that catches Godrick's eyes, then say goodbye to it, as Godrick will cut it off and attach it to his own body or the body of one of his Grafted Scion monstrosities. 
Godrick has dedicated his whole life to this contemptible venture of adding body parts of powerful beings into his own also known as Art of Grafting. 
By the time we meet him, he has somehow managed to obtain a corpse of a dragon. During the midst of our fight with him, he chops off his hand with the giant axe he wields and replaces it with the mutilated head of the dragon.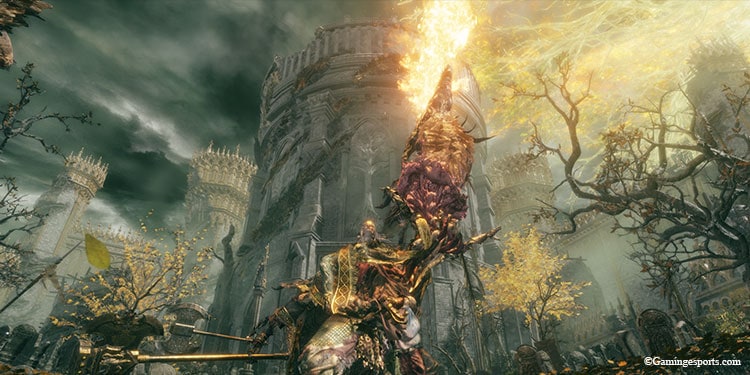 You can beat Godrick in battle by understanding his attack patterns and having a rock-solid strategy. We will guide you with everything you can use against Godrick to come out of the confrontation in one piece.
The Preparation
There are a number of things you can do to prepare for the fight with Godrick. You can start with a better understanding of the boss.
Next is to make yourself better equipped for the fight. Finally, don't hesitate to get help from allies and summons. Let's start.
Learn Godricks' Strengths and Weaknesses
Understanding Godrick's strengths and weaknesses will make the fight considerably more manageable. Few of his strengths and weaknesses are,
Strength: Godrick is strong against Holy Damage. He is also immune to Madness Status. These won't be an issue, as both are rarely used to fight against Godrick. 
Weaknesses: He is weak to all kinds of physical attacks, i.e., Slash, Strike, and Pierce are very effective against Godrick.
Talk to The NPC Nepheli Loux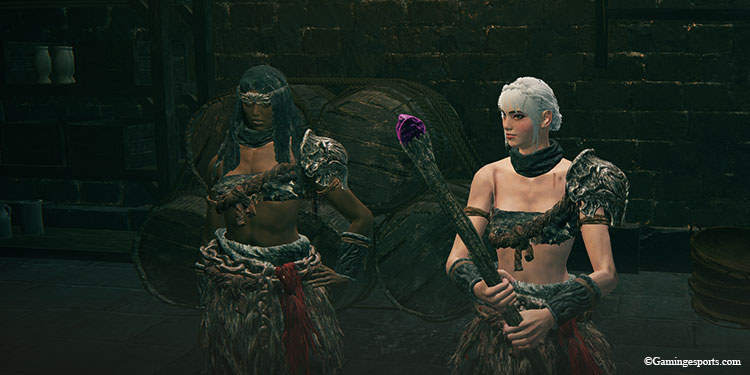 You can find this helpful NPC just before the gate to the Godrick boss fight arena, inside a chamber where she is mourning the death of a knight.
Talk to her and exhaust all her dialogues till she says she will aid you in fighting Godrick.
This enables you to summon her using a Gold Summon Sign in front of the fog gate from where you enter Godrick's boss fight arena.
Get the Spirit Calling Bell and A Spirit Ash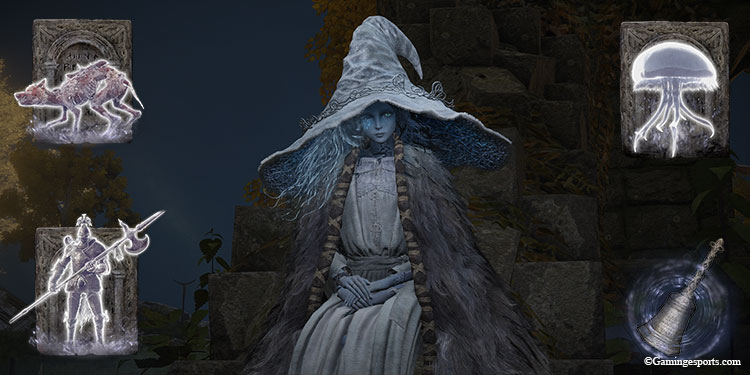 The Spirit Calling Bell can be obtained easily from Renna(Ranni the Witch) at nighttime in the Church of Elleh when you visit after you obtain Torrent.
The next thing is to choose a Spirit Ash to use against Godrick. We will suggest a few you can use. 
Spirit Jellyfish Ashes: Given by Roderica in the Stormhill Shack, located on the way to Stormveil Castle Entrance Gate, the Spirit Jellyfish has good defense and isn't affected by the shockwave attack used by Godrick. 
Rotten Stray Ashes: This Spirit is close to the Sellia Under-Stairs Site of Grace. You can easily access the area from the Transporter Trap inside the Dragon-Burnt Ruins. Although squishy, the Rotten Stray can inflict Scarlet Rot on Godrick, and the rot will do the job for us.
Banished Knight Engvall: You will need 100 FP to summon Engvall, which might be an issue in the early game. If you manage to summon Engvall, he is a tanky knight who will take a lot of aggro while assisting you to defeat Godrick. This Spirit Ash is found as a drop after beating Grave Warden Duelist boss in the Murkwater Catacombs. 
Get a Formidable Weapon
Although the starter weapons should be more than enough, there are a number of more effective weapons you can use to defeat Godrick. These include magical and melee weapons.
We don't recommend you use ranged weapons like crossbows or bows that shoot bolts or arrows, as Godrick produces spinning wind around him during attacks that can deflect these projectiles.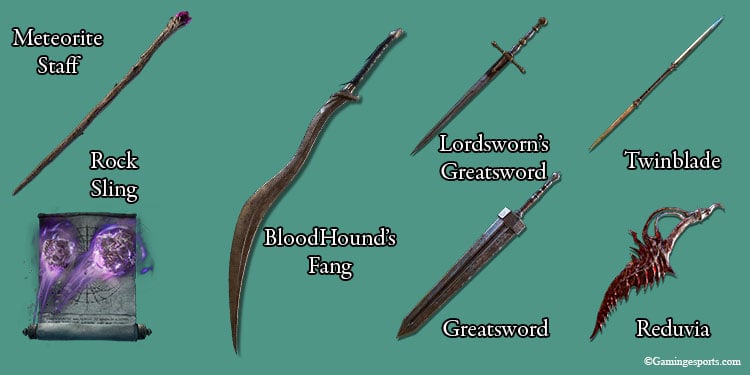 The best weapons you can use are,
Meteorite Staff and Rock Sling: Found in the Streets of Sages Ruins located in the northwest portion of the Swamp of Aeonia, Rock Sling deals physical damage. As Godrick is highly susceptible to the physical attacks, the Meteorite Staff and Rock Sling can quickly beat Godrick. Just make sure you have enough FP to spam cast the spells. 
Bloodhound's Fang: This incredible curved greatsword is dropped by Bloodhound Knight Darriwil. You will find him inside an Evergaol in the south of Limgrave. To be exact, the evergaol is located up the hill exactly south of Agheel Lake South Site of Grace, near the mouth of Weeping Peninsula. It has a fantastic weapon art called Bloodhound's Finesse, and its attacks cause bleed buildup. Use the curved greatsword by applying Blood Grease as it builds up the bleed even faster.  
Other Weapons: You can also take weapons other than the ones listed above.

Twinblades from the Dragon burnt Ruins
Greatsword from the chest inside an abandoned carriage in northern Caelid
Reduvia dropped by the Bloody Finger Nerijus NPC in Murkwater River
Lordsworn's Greatsword from the chest inside the carriage in the Gatefront Ruins
All these weapons are formidable on their own and can definitely help beat Godrick.
Upgrade Your Weapons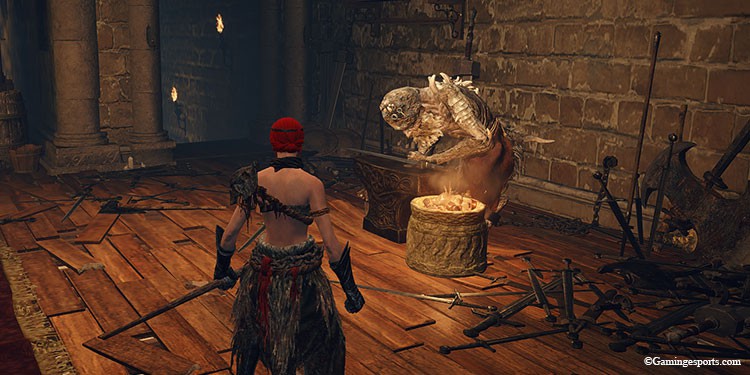 Find the materials to upgrade the weapon of your choice. Most people usually upgrade the starter weapon or simply choose the ones mentioned above.
You can find the materials to easily upgrade your weapon to +6, and if you work a bit harder, you can upgrade them till +8 before you meet Godrick. 
The upgrade materials, i.e., Smithing Stones, are found inside the tunnels and caves all across Limgrave and Caelid. 
Get a Useful Ashes of War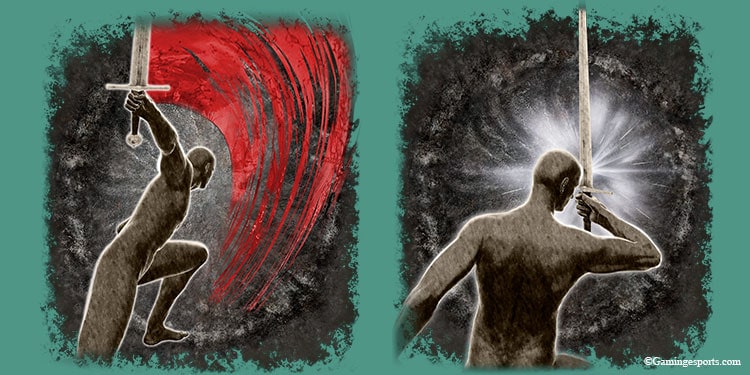 You can change the weapon art of your favorite weapon by applying an Ash of War on it. The best Ashes of War you can find before meeting Godrick are,
Bloody Slash: It is dropped by the Godrick Knight prowling Fort Haight after you vanquish him. It releases slashes of blood that deal damage which cause bleed build and blood loss. Try it against Godrick in the fight. 
Determination: You can use this Ash of War to deal massive damage with one hit. Find it by vanquishing a Teardrop Scarab east of the Gatefront Ruins before the bridge. You can use it with the Greatsword and deal big damage with a hit. 
Armour and Talisman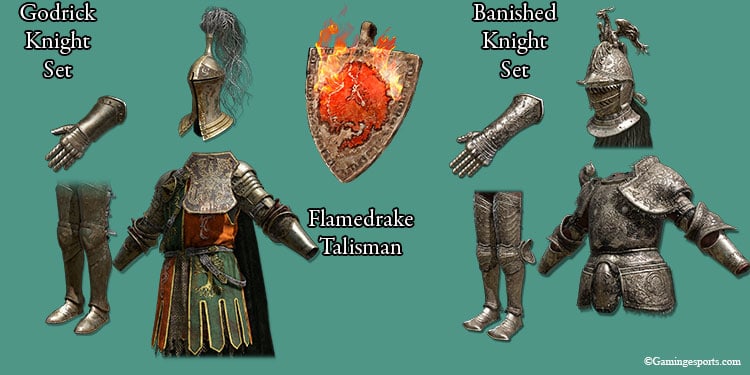 Godrick deals standard and fire-type damage. You can wear the Flamedrake Talisman to lessen the fire damage.
You can also wear an armor set that negates both standard and fire damage, although there aren't many fireproof armors available in the early game.
Regardless you can still try these ones,
Godrick Knight Set: You can get this from the elite Godrick Knight guarding the camp in Gatefront Ruins. It provides decent fire and physical resistance. It is heavy, so you might have to make do just by wearing the chest piece. 
Banished Knight Set: To obtain this set, you can farm the Banished Knights inside Stormveil Castle, which are not easy to beat. This armor provides significant resistance to both fire and physical damage. The issue to be noted is the weight of this set. Just the chest piece weighs as much as a complete armor set, making it almost impossible to be worn without fat-rolling in the early game. 
Consumable Items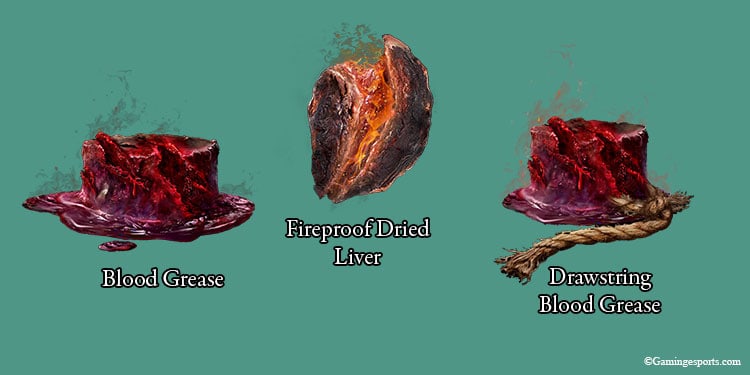 You can also use a consumable item called Fireproof Dried Liver. It is found before the boss-fight arena all the way inside the Stormveil Castle.
You can even craft it easily if you have the Armorer's Cookbook (1) and the ingredients : Smouldering Butterfly, Beast Liver, and 5x Rowa Fruit. 
You can apply Blood Grease to your weapon and inflict bleed damage to Godrick. This goes very well with most melee weapons.
Blood Grease can be crafted after obtaining the cookbook from Fort Haight. Its ingredients, Blood Rose can be farmed near Fort Haight, and Root Resin can be farmed near Warmaster's Shack.
You can also find two Blood Grease on the north of Weeping Peninsula, near a pole by the Church of Pilgrimage. 
Find Godrick, the Grafted
You can find Godrick as the final boss of the Stormveil Castle, which is a traditional dungeon area. Swathes of guards will block your way before you get to him.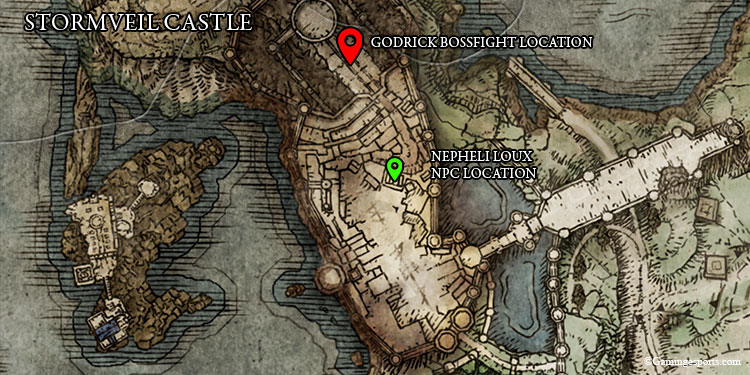 Fight and Defeat Godrick
The key things that will create the difference are you, the player, Godrick, the boss, and the arena where the fight takes place. 
We've talked about what Godrick and we are good at and not so good at. Now, let's talk about where the fight will happen.
Understand The Bossfight Arena
Godrick boss fight occurs in a huge rectangular arena with an open central nave surrounded by graveyards on its two longer sides.
The two shorter sides, which are the approach and the exit, have two large staircases going down to the center of the arena. 
You can take advantage of the trees and structures on the graveyard sides to hide and evade some of Godrick's moves.
Remember to be careful when hiding in small spaces, as you might quickly get trapped to death, so make sure to return to the open center area once you are done evading. 
If you are a ranged attacker, you can stay on the high ground up the staircases and pummel Godrick with your attacks.
If Godrick moves in close to you, run to the other end and take advantage of the second high ground as Godrick approaches you.  
Defeat Godrick
Ensure that you are fully prepared with the NPC helper, the Spirit Summon, and have equipped the best weapons and armor in your possession.
The strategy we used is the easiest way to defeat Godrick the Grafted, which any beginner can use easily.
Godrick automatically succumbs to the Scarlet Rot as we bash him constantly with Rock Sling Sorcery. However, there are numerous ways to defeat him, so don't shy away from making your own strategy to fight him. 
Like most bosses, Godrick has two phases. He goes to the second phase when he is below 60% and takes damage to his poise.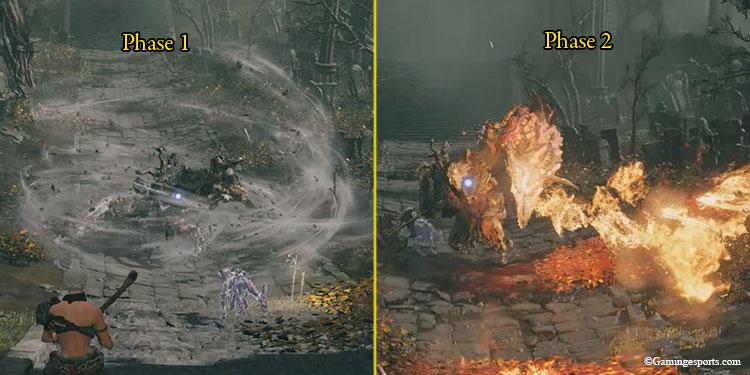 The First Phase: During this phase, he uses physical attacks and wind-based attacks, both of which deal physical damage. The wind he produces also deflects projectiles, so use arrows and crossbow bolts wisely. 
The Second Phase: The second phase starts after he grafts the dragon's head to his arm. Doing so his wind-based attacks now change into the fire element. Now, he also uses some additional moves with the dragon head to throw globs of fire at you. 
We have a video that shows our approach to this boss fight,
Use everything at your disposal to defeat him just like we did. Later, after you gain more experience, you can give yourself a challenge of defeating him handicapped without getting a single hit or only using a sword.
Note: There are reports stating that it's possible to defeat Godrick without triggering the second phase if you use an attack that does no damage to poise. Damage over time from Rot or Poison does not do stance damage. But this is unconfirmed from our side. 
Once you beat Godrick, you obtain Godrick's Great Rune and the Remembrance of the Grafted. You also unlock the main path to the Liurnia Region, where more of the Elden Ring's world unfolds.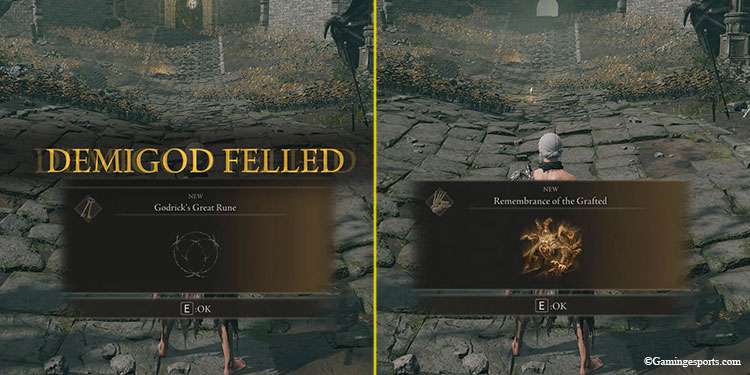 Additional Tips for the Bossfight
To summarize, here are a few additional things to keep in mind when fighting Godrick.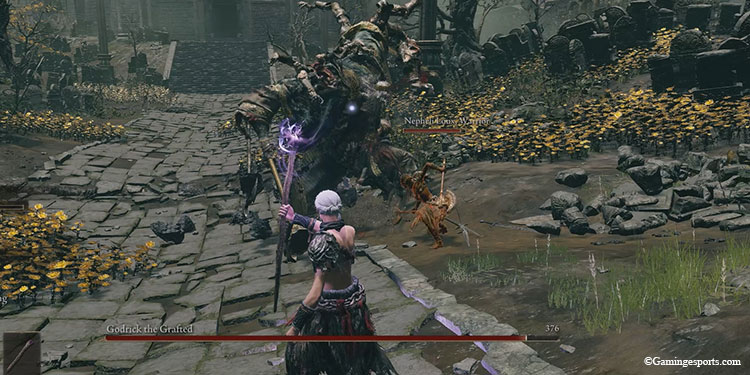 Use the arena to your advantage. In Souls game, the camera and the arena often act as a second enemy when fighting bosses, trapping you and obstructing your vision. Be wary of your surroundings. 
Make sure to get the help of the NPC, Nepheli Loux. She will make the boss fight considerably easier for you. 
Use the Rotten Stray Ashes as soon as you enter the arena. Once the rot is inflicted, you just need to evade Godrick's attack and wait for him to die. 
If you are using other spirit summons, try not to summon them right away. The best time to summon them is during the second phase, as you will get help from Nepheli Loux during the first phase. 
Melee attackers should try to get to Godrick's sides rather than stay in his face, as this makes him waste his time to turn, giving you more chances to land your attacks. 
The Melee attackers, rather than constantly dodge-rolling, jump up when he slams his axe on the ground and creates shockwaves. Jumping also dodges the shockwaves. Additionally, you can use a jump attack after you leap up. 
Ranged attackers can use summons and the NPC helper as distractions when you attack. Attack as Godrick finishes his attack and before he starts a new one. 
Try to run rather than roll to avoid attacks if possible. Although running does not have invincibility frames, some attacks can still be avoided just by running. This also costs less stamina, and you can make running attacks at the end of the run.
Use the fire resist consumables like the Fireproof Dried Liver during the second phase of the boss fight after Godrick starts spamming fire attacks. 
Godrick is susceptible to rot and poison both. He is weaker to physical damage than elemental damage. Therefore when using spells, use spells that deal physical damage, like Rock Sling or Bestial Sling. 
Figure out your strategy and commit to it. The best way to defeat bosses in Elden Ring is by learning their attack patterns and dodging them all while knowing when to punish the bosses. This is only learned with experience.
The final tip, remember not to panic roll or spam attack buttons, it will always usually end badly for you. Both these actions cost stamina, and panicking and spamming will leave you defenseless when the attack actually lands on you.