In the Elden Ring, Malenia might be the boss that's the toughest to beat, but there is a duo boss that can be notoriously more annoying than Malenia—the Godskin Duo.
The Godskin Duo fight is a classic player-against-two-boss fight you see all the time in Fromsoft games. Usually, one boss will be slower, while one will be fast, or one will be ranged and one melee so that the player can focus on one thing at a time during the fight.
But that formula is thrown all out of the window, even though it looks as if the Godskin Noble, "the big one," is supposed to be slow, he isn't, and the Godskin Apostle, "the thin one," is supposed to be the quick one, which he is, but he can also take his time to stall and throw fireballs from afar.
You have every right to use everything at your disposal to defeat the Duo, whether it is your Mimic Tear, Ash of War: Hoarfrost Stomp, Comet Azur, Sleep Arrows, or Sleep Pots.
The video above shows the two easiest ways to defeat the Godskin Duo. Further in this article, I will share more ways you can use to defeat the Duo. 
So, let's get ready to fight. 
Godskin Duo—Boss Information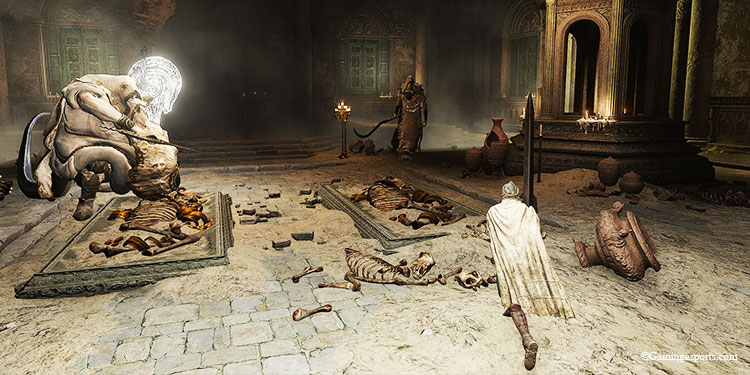 They share a single HP bar which will be shown in the display as Godskin Duo, but each Godskin has another individual HP bar. This means you can keep attacking one Godskin Duo to complete the fight, but when that Godskin dies, you will have to fight the other one until he eventually summons the dead Godskin.
They have a total of 26350 HP.
When defeated, they drop 170000 Runes and Stone Miner's Ball Bearing [4].
You have to fight this boss in order to complete Elden Ring.
You cannot ride horseback on Torrent during this fight.
You can call on multiplayer allies for this fight, and you can also summon Spirit Ashes.
If you meet the quest conditions, you can also summon the NPC, Recusant Bernahl, to assist you during this fight.
Individually the bosses have different stats, which will be discussed below.
Godskin Apostle
He is the lean and mean one with a twin blade as his weapon of choice.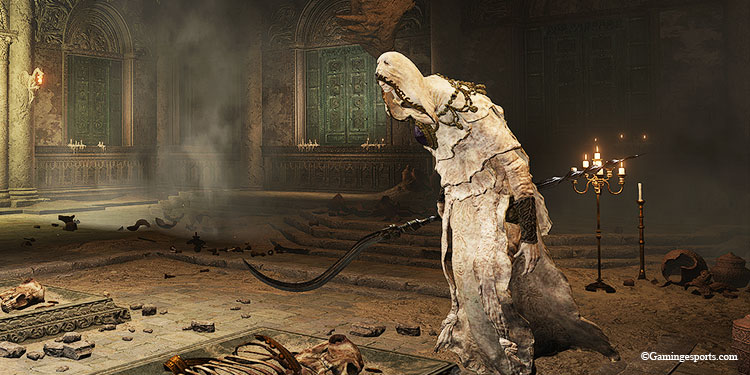 He has 6668 HP and a defense stat of 118.
He has a stance health of 80 and can be attacked with a critical hit once the stance health is depleted.
His melee attacks can be parried to break his stance and attack him with a critical hit.
He deals physical (slash and pierce) and fire damage.
He is strongly resistant to fire damage and has good resistance against other elemental damage as well.
He is weak to slash-type physical damage and can be inflicted with status effects like rot, poison, bleed, frostbite, and sleep. He is especially weak to sleep and bleed.
Godskin Noble
The thick man with the thin sword defines him perfectly. This round boss' weapon of choice is a rapier.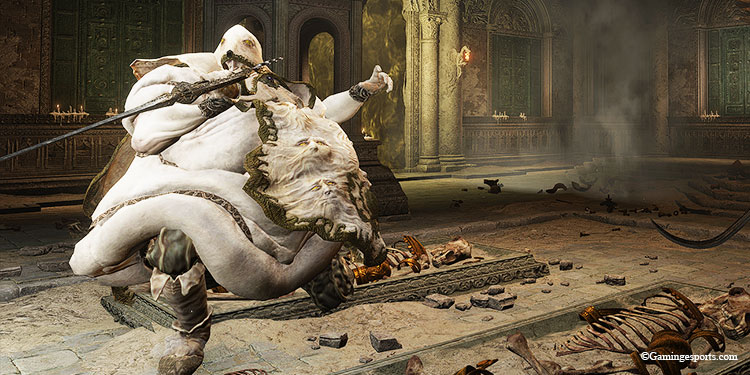 He has 8000 HP and a defense stat of 118.
He deals physical (pierce and standard) and fire damage.
Every other of his specification is the same as the Godskin Apostle.
Godskin Duo Moveset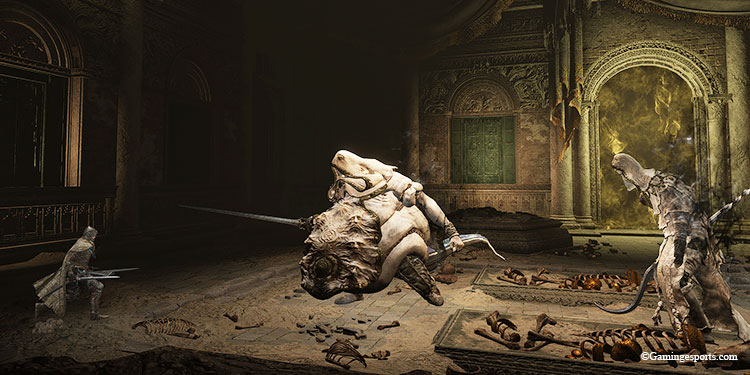 Each boss has a different move set you need to be aware of. We will discuss all of them.
Godskin Apostle Moveset
You can refer to my other article for each and every attack of the Godskin Apostle.
Godskin Noble Moveset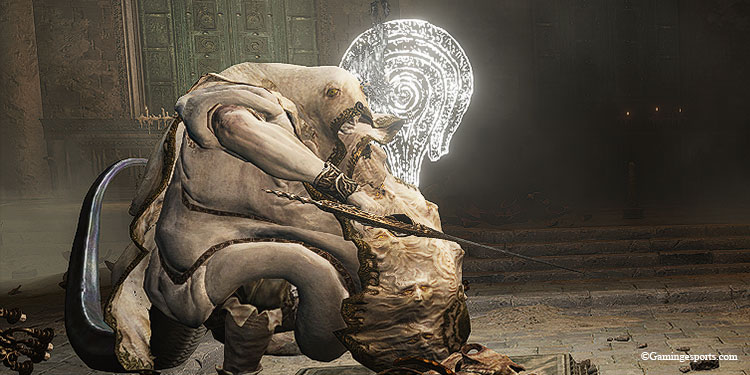 FIRST PHASE
Uses his Rapier and Melee attacks and a few black fire attacks during the first phase.
Rapier Attacks
Rapier Stabber—Quickly stabs at you with his Rapier. He can perform a lunging version of this.
Stab and Smash—First stabs you with the Rapier, then raises his hand along with the rapier to smash downwards at you.
Melee Attacks
Stomp Twice—Uses his feet to stomp and create shockwaves in front of him twice.
Stab and Slap—He first stabs you with the Raiper and then performs a roundhouse slap directed at you.
Black Fire Attacks
Black Fire Ball—Throws a black fireball at you. Tends to use this when you are far or when you are using your healing flasks.
Black Fire Zone—Creates a zone with walls of damaging black flames around him for a short duration. This prevents you from getting to a melee range to attack him.
Body Expansion Attacks
Body Expansion—He quickly expands his body to push you. This does no damage but can stun you briefly.
SECOND PHASE
Once he has 60% less health left, he floats up in the air enveloping himself with black flames before smashing down on the ground creating a small explosion and a shock wave. He can quickly use one of his two special attacks as soon as phase two starts.
Rapier Attacks
Rapier Rain—Launches a fury of Rapier Strikes directed at you.
Special Attacks
Rolling Wheel—Expands his belly into a wheel shape and then gets sideways to start rolling. He will chase you with a roll, and if you get caught, the roll will damage you multiple times before killing you.
Fly and Smash—Flies up in the air after expanding his body and smashes down at you while creating a shockwave. He can use this attack if you are in melee range.
Body Expansion Attacks
Belly Punch—He quickly Expands his belly forward, punching you with it. This damages you and pushes you behind.
Tips and Tricks to Defeat the Godskin Duo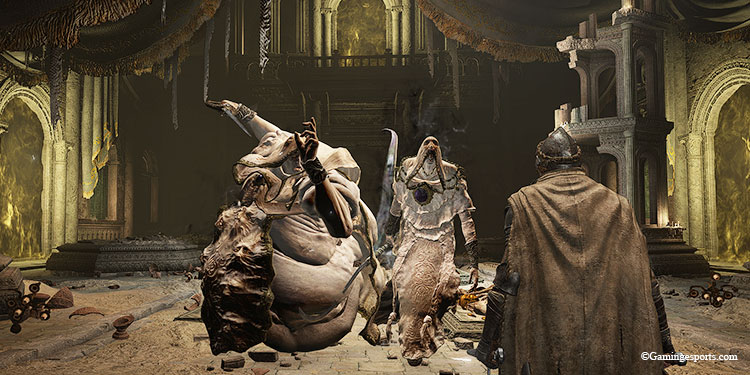 Sleep Arrows
First, use the sleep arrow on one of the bosses to make him fall asleep. You will need three sleep arrows. Once one is asleep, you can focus on one boss making this battle one vs. one and a lot manageable.
Additional Tip: Try to get the Noble "big one" to sleep first, as the Apostle "thin one" can sometimes dodge the arrows, thereby wasting your ammo. Try to fight the Apostle one on one once the Noble is asleep.
Use Your Summon
Use a tanky summon, or one that can take a lot of damage, to distract one boss and you yourself aggro and fight another boss. This, again, makes the battle one vs. one and a lot more manageable.
Hide Behind the Pillars and Use Hoarfrost Stomp
The pillars in the arena help a lot to create space between you and the bosses, along with letting you avoid some of their attacks. Use attacks that go through the pillars, like Hoarfrost Stomp, to damage the bosses while you avoid their attacks. You can combine this strategy with both of the above strategies to make this fight a lot easier.
Comet Azur
Put both bosses to sleep and line them up in a straight line. Make sure you have everything equipped to buff your magic damage.
Target lock on the one that is further away and get in front of the one that is closer while keeping both in a straight line.
First, cast Terra Magica on the ground and consume the Cerulean Hidden Tear + Magic Shrouding Cracked Tear flask before firing a relentless beam of Comet Azur at both of them in a straight line.
This attack should dispose of them very quickly. They won't even get a chance to respawn as, with enough damage, this strategy will kill both bosses before they have the chance to disappear from the battlefield and reappear again.
Address Their Weaknesses
Make sure you remember that both these bosses are weak to Slash, Bleed, and Sleep. Frostbite is also a good option to increase the damage of all attacks.
Do Not Stall
It's best to get rid of the bosses quickly, as stalling might increase the chances of you losing. If you use summons, they might die, leaving you to fend off alone. Fast-attacking weapons with bleed can be your best choice. For example, use a power stance bleed affinity curved sword build.
Use Armor and Talisman to Reduce Fire and Physical Damage
If you tend to get hit by the bosses often, remember that both bosses only deal physical and fire damage. So equip your armor and talisman likewise. The best armor for this fight can be Veteran's Set, and for the talisman, use the Flamedrake Talisman+3 along with Dragoncrest Greatshield Talisman.