Mohg is an optional, extremely difficult boss that we meet in the Mohgwyn Palace area of Elden Ring.
When fought head-on, most people consider his difficulty only second to Malenia, but unlike Malenia, there are straightforward ways to make the fight against Mohg considerably easier.
Just like Malenia and how she gains wings and flight in the second phase, Mohg also gets a new set of wings and performs airborne assaults at the player, raising the difficulty of the fight by a steep margin.
Additionally, he also puts a curse upon the player, which Mohg activates halfway through the fight. This curse deals massive blood loss damage three times while healing Mohg at the same time.
So if you find defeating Mohg challenging, let's learn everything to make this boss fight much easier.
Mohg, Lord of Blood—Boss Information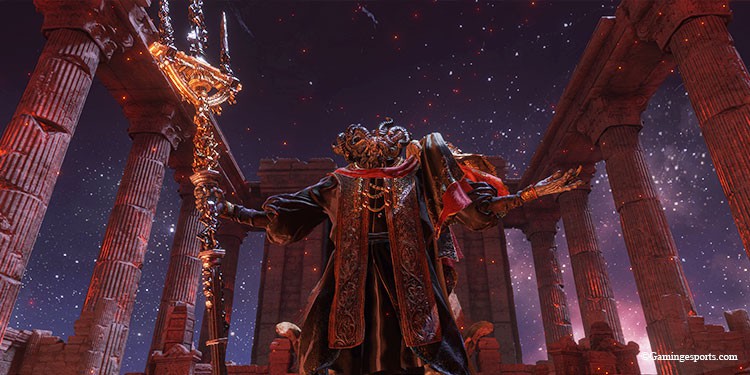 Although this is an optional boss, most people fight him for the challenge he poses and the huge amount of Runes he drops when defeated. His Remembrance can be exchanged for the very powerful Mohgwyn's Sacred Spear.
This boss has a total HP of 18389 and a Defense Stat of 122.
When you defeat Mohg, he drops 420000 Runes (NG), Remembrance of the Blood Lord and Mohg's Great Rune.
Mohg has a stance health of 110 and can be hit with a critical hit once the stance is broken.
Mohg's attacks cannot be parried.
During the first phase, the spear attacks deal Standard and Pierce damage. He also deals bleed and fire damage with his spells.
In the second phase, his spear attacks will also build up bleed and deal fire damage.
Mohg is highly resistant to fire damage and has significant resistance to other elements. Mohg does not have increased resistance against physical damage.
Mohg is resistant to most status effects but can still be poisoned or inflicted with Scarlet Rot. He is weak to bleed, but this can play to his advantage.
Mohg's damage increases by 20% when he or the player gets a bleed proc during the battle. This buff lasts for 20 seconds.
You can summon Multiplayer allies for this fight, and you can also call on Spirit Summons to assist you during the battle.
Torrent cannot be used during this battle.
Mohg's Moveset
Mohg has two distinct phases and uses new attacks during the second phase. Let's go through them all.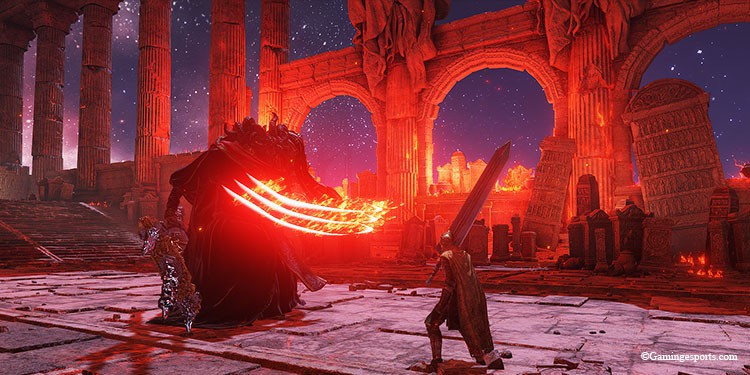 Phase 1
During phase one, Mohg's moveset is exactly similar to his weaker variant Mohg the Omen, but he is not to be taken lightly. His attacks are as follows.
Bloodflame Talons: He slashes at the air, leaving the mark of his claws that then explode, dealing fire and bleed damage. He can also leap forward at you with this attack.
Bloodboon: He splatters boiling blood in an arc that stays on the ground for a few moments. If you step on the blood, it will build up bleed status.
Blood Shower: The portal Mohg uses to summon his blood magic from showers boiling blood for some duration around it.
Spear Combo: Mohg uses his spear to combo horizontal swings with an overhead smash at you.
Spear Thrust: The boss stabs his spear through you, all the way into the ground, and pulls it back up.
Mohg's Curse: He stacks a curse upon you thrice during the first phase. A ring around you denotes each stack curse. Speaks out "Tres" to put on the first curse, "Duo" for the second, and "Unnus" for the third.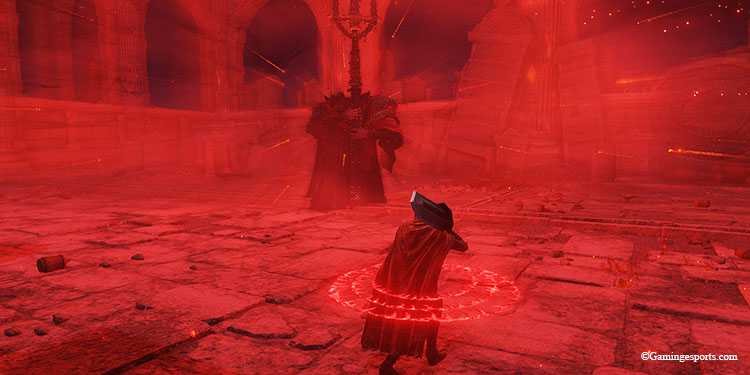 Phase 2
Mohg begins the second phase by activating the three curses he stacked upon the player and then grows a set of wings to take to the air. His spear also gets coated in Bloodflame buff that builds bleed, and deals additional fire damage.
Curse of Blood: The initiation of the second phase is signaled by Mohg screaming, "Nihil! Nihil! Nihil!"
Each time he says Nihil, he activates the curse put upon the player. This deals damage to the player thrice and simultaneously heals Mohg each time.
Note: The third activation deals the highest damage, almost double the damage compared to each previous activation.
Flying Attacks: Mohg takes to the air and throws boiling blood at you and then dives at you to attack.
Blood Stab/Tax: He uses his spear to stab forwards at the player, then menacingly twists it creating a disc of blood. This will damage and inflict bleed.
Spear Explosion: Mohg stabs the ground with his spear. This is followed by a glow that creates an explosion around the spear.
Blood Spear Combo: Swings his spear upwards, releasing flaming blood, and slams it down to create the Spear Explosion.
Tips and Tricks to Defeat Mohg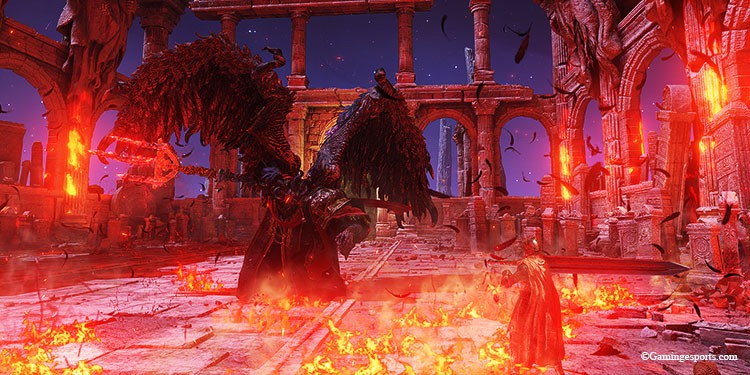 Purifying Crystal Tear
The first item to make the boss fight very easy is the Purifying Crystal Tear. Use the Wondrous Physick Mix made of this Crystal Tear to nullify Mohg's Curse.
The Crystal Tear can be obtained at the end of Yura's Questline by defeating Eleonora, Violet Bloody Finger. She is an NPC you will meet at the Second Church of Marika if the circumstances are met.
Note: If you do not have the Purifying Crystal Tear Physick Mix to negate the curse, use your Crimson Flask to heal yourself after each instance of the curse damage. Remember, as mentioned earlier, the third/last instance of the damage is much higher than the first two instances, so don't be mistaken, as the full activation of this curse is sure to kill.
In the video above, we use the Purifying Crystal Tear to make this boss fight a lot easier. Give it a watch.
Mohg's Shackle
The second item to make this boss fight easier is Mohg's Shackle. You can find it in the pit with two huge crayfish underground of the Royal Capital Leyndell at the Subterranean Shunning Grounds.
Note: The item is still available once the Capital changes to Ashen Capital after burning the Erdtree, as this location remains unchanged.
This item can be used twice to stun and briefly trap Mohg in the ground during each fight.
Note: This item can only be used during the first phase and does no effect once Mohg grows his wings.
Additional Tips
Do not use Fire. Fire attacks deal almost no damage to Mohg. This includes fire and flame-based sorceries, incantations, and weapons with the said affinity. Also, fire damage dealing with ranged weapon ammo is also of no use.
If you want a better Armor or Talisman to help during this boss fight, use things that negate fire damage and physical damage. Also, anything that increases your robustness will increase your resistance to bleed buildup. General Radahn's set provides good resistance to the above-mentioned damages and has high robustness.
As for Talismans, Dragoncrest Greatshield Talisman, Flamedrake Talisman, Stalwart Horn Charm, and Mottled Necklace can be of help.
During the battle, you are bound to get bleed build-up. When the bar fills, you will sustain damage proportionate to your Max HP.
The Bleed buildup can be negated by using consumables called Stanching Boluses. You can also use incantations like Bestial Constitution and Lord's Aid to heal the bleed buildup.
As always, a tanky Spirit Summon like Mimic Tear, Omenkiller Rollo, will do a good job of getting all the bosses' attention. As long as you can stay clear of the boiling blood on the ground, you can take down Mohg without taking any damage while using these Spirit Summons.
Thop's Barrier is a good option to negate the Boiling blood he sprays. You can cast the barrier to avoid the sprays rather than attempt to dodge the blood splatter and get caught.
Ranged fighters have this battle much easier than Melee fighters. Mohg often tends to dodge backward, meaning he might dodge the swing of your swords, but the spells you cast at him will mostly hit him even if he dodges.
Lord of Blood Exultation Talisman can be useful as it boosts your damage when bleed procs nearby. You can obtain the talisman by defeating the boss of Leyndell Catacombs, located underground of Royal Capital Leyndell, beneath the Shunning Grounds.
Sorcery builds are going to have a better time than Melee builds, as Mohg is much more vicious in close range than from afar. He walks slowly, so as long as you have enough space between you and him, you can pummel him constantly with long-range attacks.