Rennala, the Queen of the Full Moon, is the ultimate authority of the Raya Lucaria Academy and the final boss of the area. You can find Rennala at the end of the Academy dungeon.
Rennala isn't counted as one of the most difficult to beat, but still, she has a surprising amount of attacks that can easily catch you off guard.
So let's go through everything we can do to make this boss fight considerably easier.
Rennala, Bossfight Information
Here are the stats and facts that will tell you everything you need to know about Rennala.
Rennala has two phases with different health bars during each phase.
She has 3493 HP during the first phase and 4097 HP during the second phase. This HP stat is for the New Game (NG) only. She also has 109 defense stat during both phases.
She will drop 40000 Runes and Queen of Full Moon's Remembrance upon defeat. She will also drop the Great Rune of the Unborn. Also, once you defeat Rennala, you unlock your ability to perform rebirth.
She does not directly attack during the first phase and has 0 stance health. During the second phase, she has 80 stance-health. Once the stance is broken, she will be stunned briefly.
Her attacks cannot be parried. During the first phase, you will get attacked from multiple directions, and these will deal physical, fire, and magic damage.
During the second phase, Rennala uses an arsenal of spells, and all deal magic damage. She will also use her scepter to perform spinning attacks if you get too close to her.
You cannot perform a critical hit on her. Stance breaking will only stun her momentarily.
She has high resistance to magic damage and is weak to all kinds of physical damage.
During the first phase, there are Juvenile Scholars around the arena that will attack you. Rennala herself will not attack you. Each Juvenile Scholar has around 200 HP and can be killed quite easily, although you do not have to kill them.
During the second phase, she will use four kinds of summons.

A Trio of Lone Wolves—Each wolf has 176 HP, 107 defense, and 30 stance health.
Troll Knight—He has 4307 HP, 107 defense, and 65 stance health. He can be stance broken and critically hit.
Bloodhound Knight—He has 993 HP, 107 defense, and 65 stance health. He can be stance broken and critically hit. His attacks deal bleed damage, and the attacks also can be parried.
Dragon—The dragon has 3713 HP, 107 defense, and 120 stance health. The dragon can be stance broken and critically hit. It deals fire and physical damage. Some of the attacks can be parried.

She is an optional boss to defeat in order to complete the game, but she is one of the shard bearers. You only have to defeat two shard bearers to progress. Although, if you want to get Ranni's ending, she is a must-fight.
Multiplayer and Summons: You can summon multiplayer allies and co-op against this boss. You can also summon Spirits Ashes to assist you during this fight.
Rennala's Moveset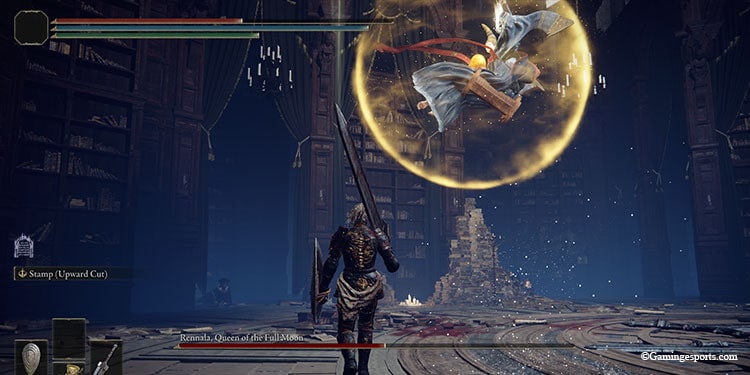 PHASE 1
During phase 1, Rennala herself will not directly attack you, but you will get attacked. This phase is a gimmick fight. Rennala will be levitating and have a golden shield to protect her from damage.
Meanwhile, there will be a bunch of crawling sorcerers on the ground, and one of them will have a golden aura.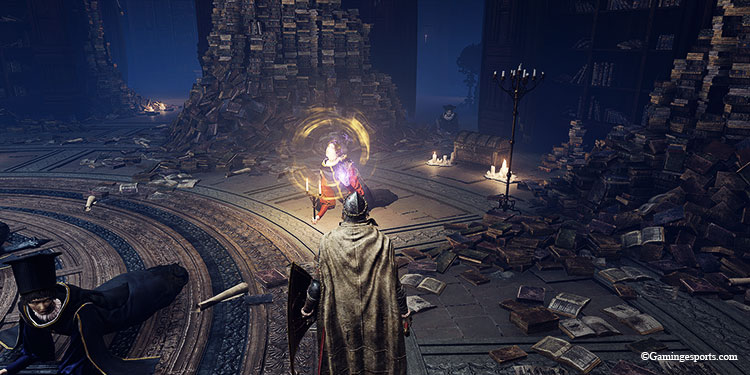 Attacking the one with the golden aura will make the golden glow disappear. This will then pass the golden aura to another crawling sorcerer. Once you break three golden auras, the shield protecting Rennala will break, and she will come crashing down to the ground, enabling you to attack her.
After a while, she will again rise up in the air by rebuilding the golden shield. She will also cause a damaging blast when completing the shield.
This cycle of you breaking three golden auras on crawling sorcerers and then attacking Rennala till she rises back in the air will continue till her health bar is depleted.
The attacks you will have to evade during the first phase are as follows.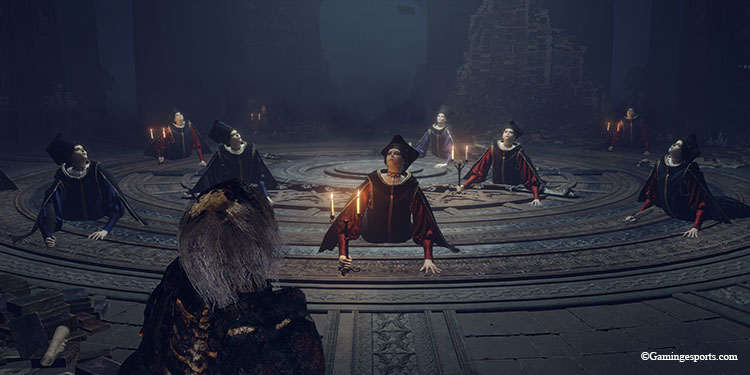 Juvenile Crawling Sorcerer's Attack
Candle Fire Breathing—The sorcerers will blow on the candle and use a flamethrower.
Flying Book Attack—The sorcerers will levitate books and launch them toward you.
Levitating Globe Attack—The crawling sorcerers will levitate the standing globes and launch them toward you.
Headbutt—They will smash their head at you if you come too close to them.
Rennala's Attacks
Dropping Chandeliers—Preluded by small fires dropping on the ground, then a chandelier will drop, dealing large amounts of damage if you get caught.
Stone Slab —Levitates a bunch of Crawling Sorcerers, transforms them into stone slabs, and launches them at you.
Shield Blast—After dropping on the ground, in a few moments, Rennala starts rebuilding her shield. Once the shield is built produces a damaging blast before rising up in the air.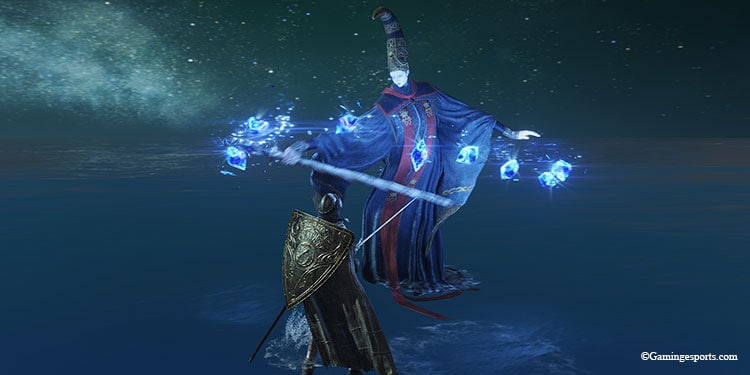 PHASE 2
The second phase is a full-on battle, and Rennala will use everything in her arsenal to fight you. She will use a lot of magic spells and uses spirit summons. Every one of her attacks is listed below –
Comet Azur —Launches a damaging beam at you. She will use this attack as soon as the battle begins.
Rennala's Full Moon—Creates a Full Moon and launches it at you. The moon will explode upon contact.
Star Shower—Creates damaging orbs of light and sends them flying at you. These orbs will chase you.
Glintstone Cometshard—Shoots a magical projectile at you.
Shattering Crystal—Creates a crystal and shatters it to cause damage.
Glintstone Pebbles—Creates a series of magical projectiles and shoots them all at once toward you.
Scepter Attacks—She uses three kinds of attacks using her scepter.

The scepter spins in front of her.
The scepter circles around her.
The scepter attacks in front of her while she makes a backstep retreat.

Summons—She uses four kinds of summons, as mentioned above.
She does not aggressively attack you when the summon are active on the battlefield.
Once she attacks you, the summons will usually disappear. When she initiates summoning, a circle will appear, pushing you away from her if you are too close with a shockwave. This shockwave does not damage you.
Tips and Tricks to Defeat Rennala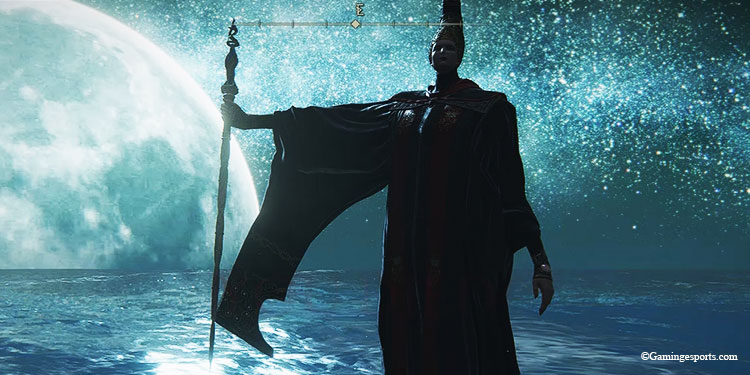 Remember, during the first phase, you dont have to kill the crawling sorcerers with the golden aura. You just have to attack them once to break the golden aura.
Sprint through the arena quickly, breaking the glowing auras, and then ground Rennala to attack her. Spriting around will also help you avoid projectiles launched toward you.
During the first phase, although you won't really need to, just in case you need to take cover from the projectiles, use the pillars. Dont take cover behind the bookcases as the projectiles seem to pass through it.
Retreat away from Rennala as soon as she starts rebuilding her golden shield in case you are too squishy and cannot take the damage from the shockwave of the blast.
During the second phase, as soon as the battle begins, you can roll into her and hug her or run towards the side while heading towards her to avoid Comet Azur's beam easily.
Dont try to fight her summons. It's better to avoid her summons and focus on her until the summons disappear. Defeating and fighting them is useless, as she can summon them again anyways.
Learn to dodge her spells. The most annoying spell to dodge can be the Star Shower. These homing orbs travel really slowly toward you, and sometimes Rennala will shoot another attack at you as you are trying to avoid the orbs of Star Shower, causing you to get hit by one or the other or by all the attacks, which can be lethal.
Wear magic-resistant armor or clothing during this battle. Astrologer's Set is a good option as it has decent magic resistance.
Rennala has high resistance to magic spells, and battling with her using magic will be much harder than battling her using melee weapons. She also has no resistance against physical damage making the fight much easier for a physical melee build.
If you still want to use magic or have no other options, use magic that does physical damage, like Rock Sling and Meteorite Staff, to cast it.
Summons like Lone Wolf ashes or any aggressive summons can make the second phase of the fight much easier. She gets staggered quite easily and becomes unable to do anything when she is staggered, making her much easier to kill.
Below is a video guide to help you learn how to easily defeat Rennala.