It can be hard to find good games on Steam that are under five dollars. However, there are few hidden gems out there if you know where to look. In this article, we will list the best ones on steam under 5 dollars.
The prices for games on Steam vary greatly, but there are definitely some great deals if you look around. Here are over twenty good Steam games that cost less than five.
Best Steam Games Under 5 Dollars
The Room 4: Old Sins (2021)
The Room 4: Old Sins is one of the best puzzle games of all time. It is the continuous series of The Room. Still trapped in the rooms of the abandoned scary house ? You must clear all the puzzles to get out of the home unharmed.
If you are a fan of puzzles game, it is highly recommended to play this game.
Get started with your exploring journey in the unique room. Discover a room that consists suitcase, a small architect home design, and other items. You must obtain to unlock the keys to the demo house. Complete all the rooms riddle of the prototype home and unravel the secrets.
The puzzles are at the next level. You must obtain various objects and use them to unlock another riddle. Collect objects in your inventory and gather information from books to get hints.
You must use eyepieces to see the puzzles from different perspectives. The eyepiece can help you to see the new start and solve micro riddles,
Search for passwords to unlock the doors and safes. Move pieces from one place to another and decode the codes to solve the problems. Listen to the radio and collect artifacts to unlock the puzzles.
You must solve the puzzles one step at a time. The interesting part of the game is that very small-small things hold a large proportion of the puzzle steps.
Furthermore, it has engaging puzzles and has given in-depth details of mico mechanism puzzles. Many mysteries of the house are still unsolved, and you must clear all the stages to get closer to the truth. It has nicely designed video effects and soundtracks.
20 Minutes Till Dawn (2022)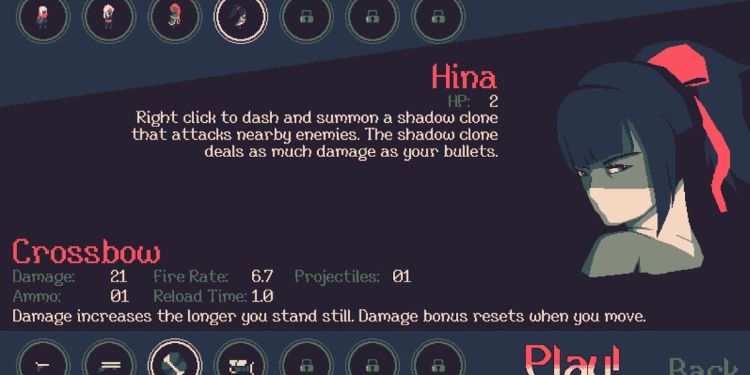 20 Minutes Till Dawn is one of the best action shooting games. Join the space battlefield world to fight against massive groups and endless hordes of enemies. Survive over 20 minutes to complete all the missions.
The main aim is to stay alive and shoot down many foes as possible. Collect battle points, upgrade weapons, level up, and build powerful builds to destroy the enemies.
Choose a character and stay alive until the time runs out. You must fight against the hordes of various enemies such as mutated space octopus, boss laser ball, monsters, and more.
Each of them has unique skills and abilities. Keep on shooting and focus on destroying the group of monsters to move on to the next stage. Use different types of weapons such as dual SMG, crossbow, knife, sword, shields, and more.
Collect gems from the enemies and discover various treasures. Upgrade the weaponry to deal more damage on the battlefields. Boost your combat abilities and destroy the hordes of the oncoming enemies.
You can select a character from many options and grab suitable weapons to boost the gaming experience. Increase the level of the heroes and clear the stage.
Claim rewards after completing quests and unlock new weapons, characters, and maps. You have to build the best build to fight against the enemies.
It offers great visual graphics and soundtracks. At first, have to survive for less than 10 minutes, but the time limit will increase later. You can test your skills play for breaking the highest records online.
As the game progresses, you must develop your character and upgrade the necessary abilities.
Stacklands (2022)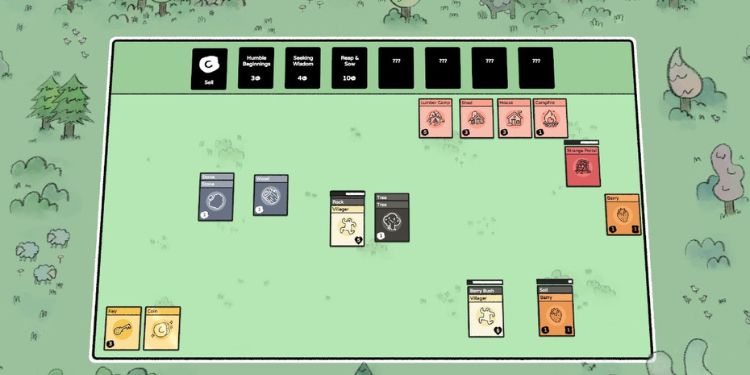 Stacklands is a great single-player card battler game where cards are the currency to obtain everything. Build a giant village using cards or, buy raw materials, items, equipment, and other resources, Trade cards for food, build a home, and fight against the creatures.
Play as the villager and face the evil creatures. You must complete the missions and claim the rewards. The points can be used for unlocking new cards and buying items.
Encounter various monsters and fight them using cards. You must unlock the power of cards to deal more serious damage. Create a team and combine the different personalities of the folks. Each of them has special skills.
Use multiple variations of cards and fire special attacks to defeat the enemies. You must study the rules before playing randomly. You must learn the card type and its powers. Find an ideal card and build the ultimate deck.
Use the cards according to their advantages. You can trade cards with others. Focus on building, farming, and cooking. Complete the daily quest and increase your moon level.
Unlock various abilities and increase the capacity of drawing cards. It has over 100 cards that you need to collect. You can buy booster card decks and must play the right card at the right time to win. Luck is also part of your skill while playing it.
Vampire Survivors (2021)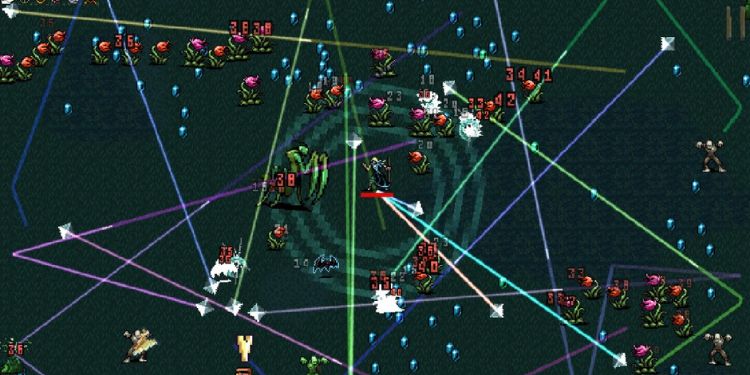 Vampire Survivors is one of the most famous games of action survival. Entry into the zombie world and survive the endless wave attacks of monstrous creatures such as bats, zombies, carnivorous plants, and more.
Choose to die or fight against the enemies. An alone survivor must focus on staying alive till the sun rises. Play the vampire role and fight against the massive enemies' hordes.
You will use skills and abilities to kill the monsters. Setup weapons in various places to defend and destroy different groups of creatures. Hunt down many enemies as you can and survive.
You must collect many gold and rewards to buy necessary items such as weapons, equipment, armors, and more. You will have a hard time and struggle in the process of fighting off the enemies. Maintain distance and use strategy to slow down the opponents.
There are 24 character options, and you must choose one to customize. You must upgrade armors, equipment, attacking weapons, and more. Continue to level up your heroes and clear many stages.
Each stage comes with different difficulty levels, and there will be massive endless hordes of enemies. Continue to fight and complete the missions along the way. Explore various parts of the maps to create escape routes while fighting enemies.
Discover hidden relics and use the milky way map, magic spells, glass vizards, and more. You must boost the character's power to increase the chance of surviving.
Among Us (2018)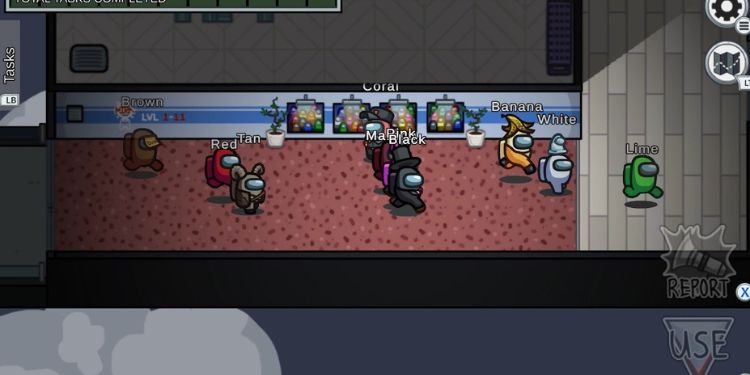 Among Us is one of the popular games for playing with friends. Create a local server and invite friends to play together. It is about surviving in the space station. There are two groups the imposters and other innocents. They have different responsibilities and winning conditions.
Playing as an innocent, you have the suites to fix the space stations. You must complete tasks such as fixing the lights, downloading or uploading files, connecting wires, scanning bodies, and more.
In the meantime, you must investigate and find out the imposters. There are two ways to win the session: all innocents must complete the task or vote for the imposters.
For Imposter side, you must focus on killing and sabotaging innocent players. Eliminate all the innocents to win the session. You have to lie and fake to do the tasks like other players.
You use the vent to travel fast for murder and escape the crime scene. Blame others for the wrongdoings and vote out innocent players in voting rounds.
Imposters and innocents are randomly selected before starting the session. There will be atleast one or two imposters, and the rest will be innocents.
You can trace the movements of others and watch the CCTV. You can hold an emergency meeting if any suspicious activities arise.
Customize control settings to set proper movement speed and change the game settings, such as the number of imposters, select types of tasks, and more. Play on different maps and explore every room part.
You must take advantage of your surroundings and create a safe distance to increase the winning chance.
DEVOUR (2021)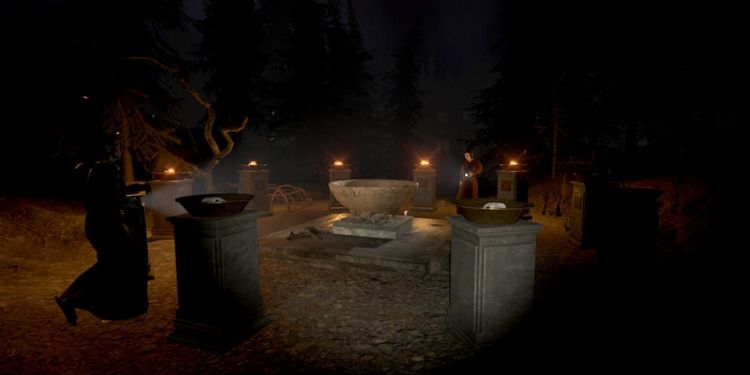 DEVOUR is a demonic horror game of cleansing the evil possessed spirits. It is about eliminating demonic spirits from the earth to where the evil creatures rightfully belong.
Stop them and save humanity from the hands of demons. Engage in ritual activities and perform spiritual rituals to get rid of them.
Play the role of the main executioner and join the demonic hunt at night time. Grab your torchlight and use its UV lights to avoid the attack from the enemies. Collect resources such as fuel boxes and bush stocks to perform the ritual.
Scavenge the abandoned house to collect keys and items. Lure the evil demonic spirits in the ritual place. Draw magic circles, make fire and sacrifice a goat to eliminate the enemies. Do not let your fear win inside your brain; stay strong and focus on defeating them.
Explore different parts of the map, such as farmhouse, asylum, inn, and demonic cult. Those possessed demons can chase you, and if you get caught, you will be thrown into a prison to eat you alive. Run, scream or hide; it's all your choice.
It has great visual graphics and sound effects. You will hear ominous noises and screams from behind. Face the devils right before your eyes. You can play it as a lone wolf or invite friends for co-op mode. It's a great horror game, and you can easily try it.
Acquitted (2022)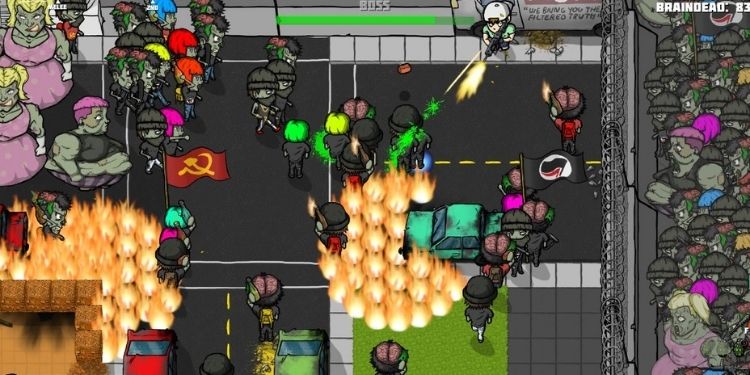 Acquitted is a shooting zombies game of survival. The world is suffering from the zombies' apocalypse and is in the midst of chaos. Battle against infected in front of the US supreme court.
You have been constantly summoned to court for the trial of your criminal charges. After hearing, you must fight against the undead and survive alone until the next summoning.
Customize your character and make it unique. You must fight for survival outside the court. Face the massive hordes of zombies and kill them to stay alive.
It is a fight or flight situation, and there is no one to help you around. Killing the undead will help you to regain health and obtain weapons.
Use various weapons such as guns, machine guns, knives, grenades, baseball bats, rocket launchers, and more. These firearms will be found in different stages according to the level design.
Blast cars, collect ammo, and reload your guns to defeat them. Lure enemies to blast them in a single shot but do not let them corner you, or else you will be dead meat.
There are many stages, and you must kill the entire zombie hordes to go for hearing. You will encounter different species of zombies having special attacking skills.
Move around the map to avoid damage from the infected. Battle against the boss and earn high XP to increase your level. You must maintain your health and health kit to stay alive.
It has great graphics quality and sound effects. As you scale to new stages, zombies will attack more fiercely at high speed. Complete all the missions and claim rewards. Your performance is evaluated at the end of a level, and your result is provided.
Mirror 2: Project X (2022)
Mirror 2: Project X is one of the best fun games of adventure and science friction. Dive into various strange worlds and find yourself surrounded by beautiful ladies.
There are three different dimensions, each with a unique story mode. You will be teleported to those places based on character selection.
You will play as a young adventurer. You must interact with the selected characters and begin roleplaying. Select one option to communicate and find out the mysteries about the world. You will engage in mini-games such as match-making battles of gems, point & click, and more.
Unlock different story archives and upgrade your abilities. Obtain new skills to increase your winning condition of mini arcade games. You must manage your health bar and continue to play until you undress those characters.
Find yourself entangled in the triangular love story. To create a harem world, you must maintain a close relationship with all the characters. There are five characters for now. They are Lani, Leah, Calyun, Qianxi Dou, and Rita. Each of them belongs to a unique race and has special attributes.
Explore different map locations such as ancient Japanese places, vast deserts, deadly science labs, and more. You will find tons of challenges and character customization options.
Furthermore, it has beautiful video graphics, well-drawn characters, story mode, sweet voiceover, and charming soundtracks.
Pacify (2019)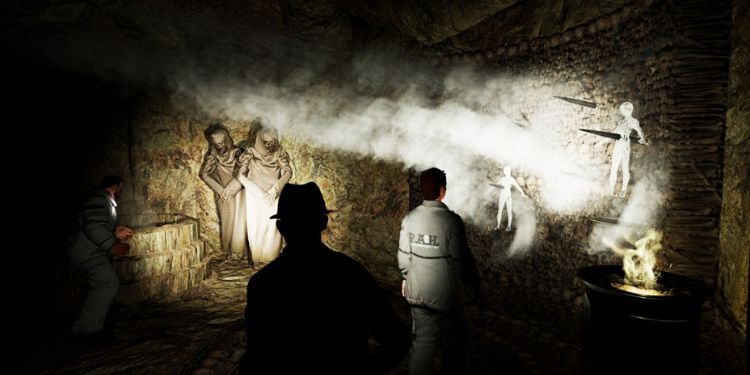 Pacify is a paranormal ghost-catching game of horror. It is about a hunted house in a deserted place. Enter the house from the basement and get trapped inside, along with the scary spirit of the young lady. Playing it will definitely help you to overcome the fear of ghosts or hunted sprites. Grab your torchlight and start playing.
You will play as a ghost hunter in first-person mode. Your main mission is to search for possessed dolls. You must catch them and burn them in the boiler. You will also need woods and can only burn one doll at a time. The only way out of the house is to destroy all dolls.
Unlock various doors of the hunted house and explore its roof, basement, kitchen, and other rooms. The puppet dolls will be moving and running away from you. Finding them can be hard if your fear overwhelms the situation.
Encounter the spirit of a young girl in the house. She will follow you everywhere and try to knock you down with horrifying activities. The ghost cannot physically harm you but will block your path with its presence. You must ignore and avoid it to complete the mission.
It has great sound effects, and you will hear different types of spooky and terrifying noises. Chasing the dolls can be horrifying, and you may get terrified in certain horrifying situations.
If you scream louder in fear, you will automatically lose, and the ghosts will win. Playing with friends is much more fun, or you can play solo. Block and swing dynamites, collection of information papers,
Castle Crashers – Blacksmith Pack (2012)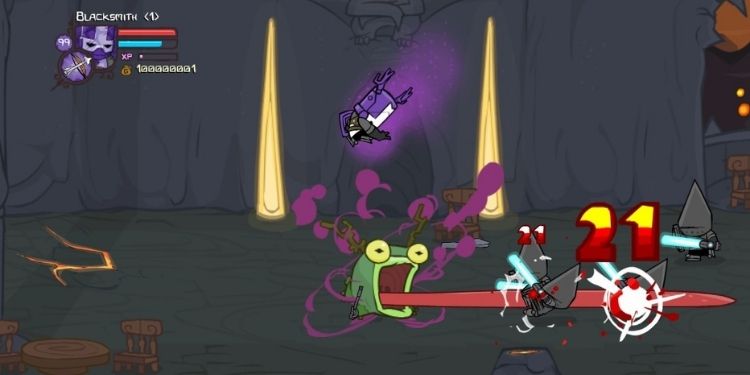 Castle crashers are one of the best action games. It is about a happy kingdom that was suddenly attacked, and its citizens were killed. Demons have stolen the holy crystal of the castle.
Being one of the survival, you must travel to enemies castle to get back what is rightfully yours. Now it's in your hand to restore the kingdom and rescue kidnaped princesses.
You will play as soldiers and chase down the enemies. Attack the enemies to destroy their kingdom. Earn experience to level up your character level. You must unlock various abilities and learn new skills to become powerful. Travel vast land, sea, and desert, destroying enemies' castles.
Collect weapons such as swords, armor, bombs, and more in your inventory. Rare items are hard to obtain, and crafting them will be even harder.
Interact with different characters and make new friends. They will guide you in the journey and fight alongside you to defeat enemies. There are many different stages; you must move forward. Plus, it has a variety of enemies and bosses.
You will discover mystical monsters such as cyclopes, medusa, minotaurs, devils, and more. Each enemy has unique attacking abilities, and you will be encountering them at the end of a stage. Higher-stage contains a level of difficulties, and completing them will be hard.
Take on the daily missions and claim the rewards. Improve your abilities to kill the enemies. Try to land the most combo as possible and move around to avoid the damage from monsters. It has great soundtracks and video graphics.
Mount & Blade: Warband (2010)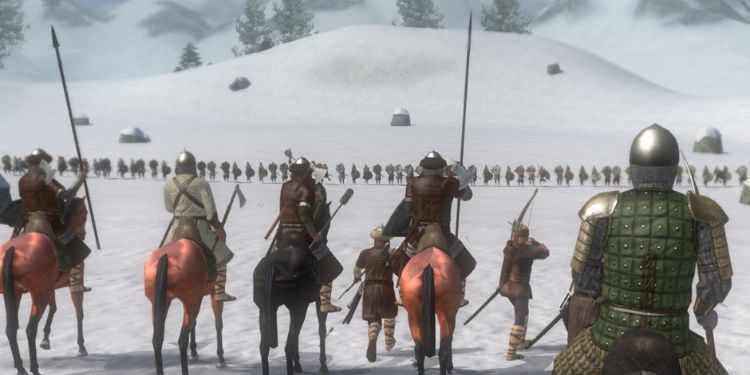 Mount & Blade: Warband is a classic war game of Vikings. Although this game costs a bit more than our 5 dollar mark, it is one of the best games you can find under 10 dollars.
Enter the traditional world where people fight for survival. Create a group to fight against enemies and fac bandits. Conquer various lands to build a nation and keep expanding your land.
First, select a role and customize your characters. You will be playing as a leader of warriors and fighting against the enemies. Use knives, bows & arrows, swords, and other various items.
Defeat your foes for loot and protect your area. Gather your man and make a plan to gain victory. Train your teams and upgrade them to make them strong
Explore different parts of the world and unit them into one nation. Ride a horse to travel from one place to another. To gather information or trade items, you must interact with other players and villages. Complete various missions and claim different rewards.
Unlock new weapons and abilities as you progress. Earn battle points to buy powerful weapons and defense equipment. You can easily switch weapons in the middle of the battle, such as swapping a short spear for a weapon.
Collect various items and put them in your inventory. Build buildings and other infrastructure to settle in the new lands. High motivation will boost the mentality of armies in the battle or in case of low they fill runaway.
You are responsible for the morels of the soldiers. There are many roles, each with different abilities. You can either play solo or multiple co-op modes. Overall it has great sound and visual effects.
A Short Hike (2019)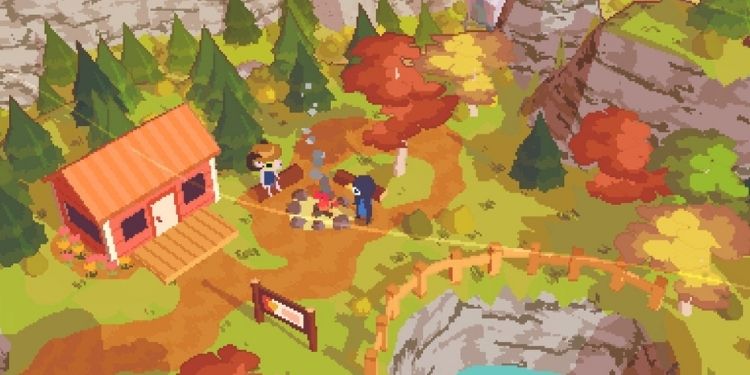 A Short Hike is an adventure game on an island. Enjoy vacation with your families on an island. Climb up to the highest mountains and fly across the lands. It is about finding hidden objects for the villager.
Explore all the places and focus on completing the missions. Discover hidden dungeons' paths to have a shortcut. Play the role of a bird and fly around the island to complete the mission.
You will interact with other animals to learn about the place and to search for a quest. You must find and collect items to exchange them for feathers. You must have a huge number of golden feathers to climb high mountains. But first, you must acquire a navigation compass for direction.
Collect gold coins, sticks, seashells, and golden feathers in your inventory. Discover hidden treasure chests, rare items, and golden features across the map. Sometimes you must dig the objects to collect them. You can buy and trade items in the shop or with other animals.
Plenty of navigation boards and notices guide you on the island. You can ask others to learn about the place. You engage in exciting activities such as painting, cooking, swimming, running, and flying.
Completing a quest can take time, and you must explore every island part. Many may circle the same place over again to find objects. The climatic season changes quickly around the island. Furthermore, it has decent video graphics and great soundtracks.
ARMORED HEAD (2020)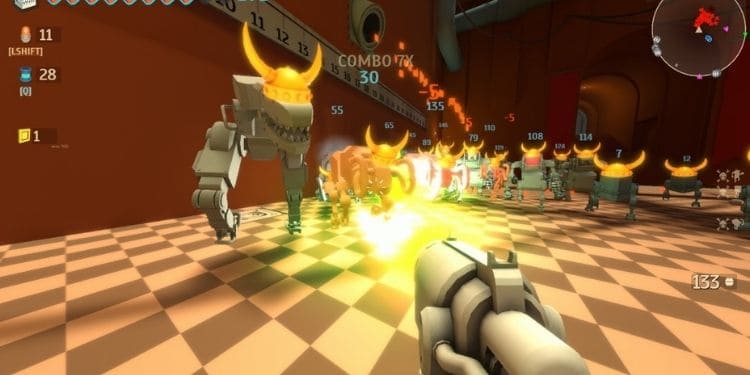 ARMORED HEAD is one of the best action shooting games. Transfer to the next dimension for non-stop shooting the enemies down. Survive the massive waves of machinery robots and fight back to deal the damage. The main mission is to win the gold cup in the arena.
Play the role of the gladiator and fight against the enemies. You will face the non-stop waves of the enemies' hordes. You never know which side enemies will get spawn.
There are different types of enemies, each having special attacking abilities. Killing will help you to acquire gold. Try to use power to slow down the enemies' movement and make easy kills.
Use weapons such as pistols, machine guns, rifles, and grenades to battle against the enemies. You must collect them and refill ammo to continues shoot the opponents.
Do not get cornered or fall into the traps in the arena. To run from the foes, you can use the trampoline to jump from one place to the next end. Collect gold coins and upload them into the system.
It will help you to unlock various arena features. Break boxes around you for gathering resources. Find free spaces to get out of the risk situations and manage your health to stay alive or recover by collecting healing items.
There are in total 30 waves you must survive. It will get harder for you to clear the higher-up's waves. You must dough random booming in the arena and face enemies in the meantime.
Look at maps and arena layout to move freely. Clearing every enemy's wave can be difficult, but you must become the ultimate winner of the arena.
One Finger Death Punch (2014)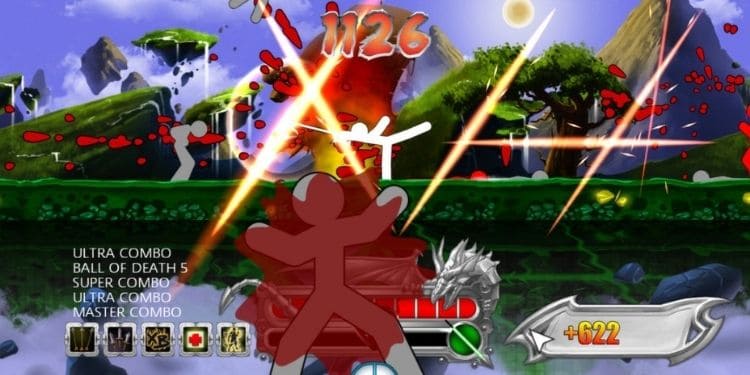 One Finger Death Punch is one of the best arcade close combat fighting games. It is about battling the non-stop incoming enemies. Get ready to destroy the hordes of foes using your close combat fighting skills.
First, select a gameplay mode and difficulty levels such as student, masters, and grandmasters. Enter the battle arena to destroy the enemies. From side right to left, the hordes will come to attack you.
You must defend and land perfect hits. Kill all the enemies that come in your way and keep fighting your opponents. Use various combos such as range streak, power smash, super combo, face smash, and more.
You can use other martial weapons like sticks, hammers, spares, etc., to fight against the enemies, Do not miss your attack, or else opponents will land a hit and decrease your health bar.
The main aim is to obtain hights combo hits and scores, Land perfect hits to multiply scores, and occupy the top spot on the leadership board. You must complete various levels and face many phases.
The enemies' attack speed will be fast and incoming time will keep getting shorter. Fighting them can be tough, and you must put your gaming abilities to the test. The key is to press the buttons at a precise time.
Unlock different stages and explore the map to find the greatest battleground for fighting worth opponents. If you are a fan of a close combat action fighting game, it is you to play.
It offers great battle slow-motion effects. Its background is great, and you can hear special soundtracks.
Tales of the Black Forest (2019)
Tales of the Black Forest is one of the strange adventure games. It is about a mysterious event that occurred to a young girl. She clearly remembers the day she lost her mother in a car accident.
Now she is trapped in the Kuromon-Cho and must find a way back home. Learn about the world's secrets and unravel the secrets behind the mysterious event.
Play the role of girl Kihara Kashin to escape the fantasy dimension's unknown force. Set your journey to learn about the truth of the strange phenomena. Travel across the vast land, cities, fox village, river areas, and more.
Interact with various characters and try to gather information regarding the world. Learn about the historical events and figure out your present condition. You must solve various puzzles to get near the truth.
Complete various missions and chapters to claim achievements. Explore different parts of the world and avoid dangers. You must inspect objects to learn to use them. You must follow your logic rather than random guessing.
For those who like to play a rich-story game, it is perfect for you. It has two endings, and both are beautiful. The characters are attractive with great sound effects and visual artwork.
You can save the progress on certain selected areas. The world is designed in 2D Japanese style, and it is pretty special.
Post Void (2020)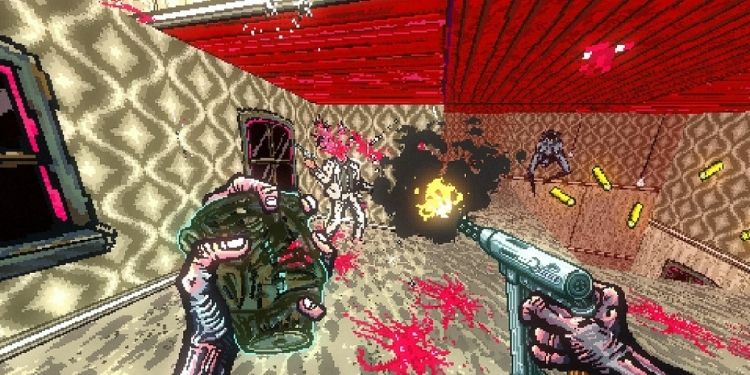 Post Void is an action game of shooting. Click on the start option and enter the battlefield. Kill every enemy in the passage and move forward for a more brutal battle. The aim is to defeat zombies to achieve a high score as fast as possible.
There is no customization; just select a weapon and attack in beast mode. You must target for head to kill the enemies. Run through the endless passage at a fast pace defeating zombies.
Use weapons such as shotgun, pistol, knife, and more. You must unlock firearms, compass, abilities, and more to reach your final destination. You must reload and switch weapons to kill enemies.
Travel Act one to two and upgrade your abilities on the way to deal more damage. Out of three options, you must select one ability to boost. It helps you to increase your chance of survival. Take less damage from zombies and run backward to avoid their attacks.
Your name will be visible on the global scoreboard if you can finish the entire stage at the minimum time with all headshots. It has nice soundtracks and unique video graphics.
Milo and the Magpies (2021)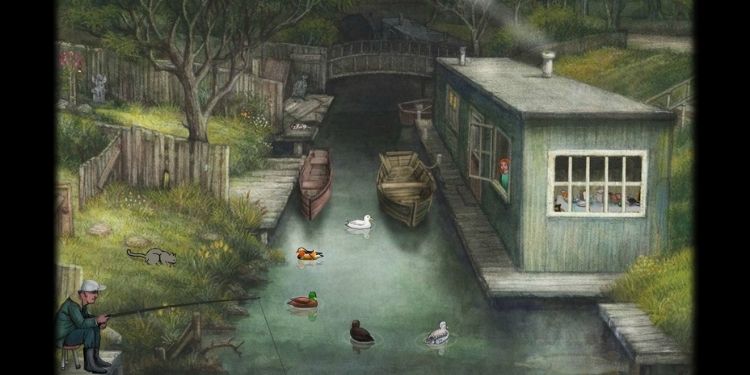 Milo and the Magpies is a simple game of solving puzzles. It is about a cat traveling from one backyard to the next. Gain strange and unique experiences on the journey. Find the way back to the owner and live happily ever after. Do the good deeds and get good things in return.
Play the role of the cat and start playing. Chase birds and jump from one backyard to another. Collect objects such as keys, boxes, etc., and use them to solve problems.
Interact with other cats and animals. Meet different personality people and get help as well as dislikes. Continue to move forward to observe various age group family and their behavior.
There is a total of 9 chapters, and each one silently gives a piece of good advice regarding life. You must inspect your surroundings to find clues and hints.
Overall, it is a nice short adventure game of solving riddles. It has relaxing soundtracks and great video quality. Learning is just the begging of life, and you must live to see wonderful changes that will make you forget your pains.
Nightmare of Decay (2022)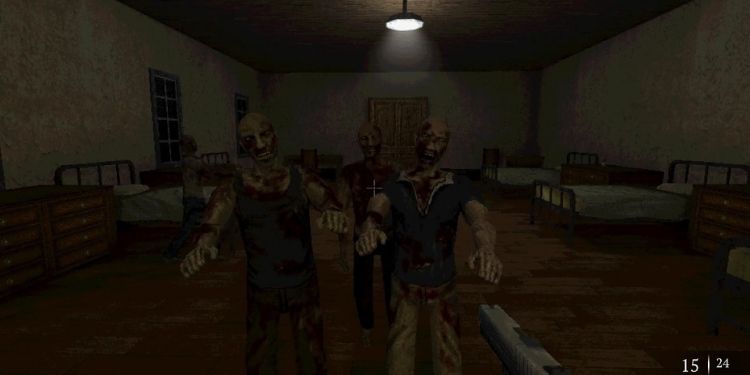 Nightmare of Decay is a survival zombies game of shooting. Many people are vanishing from the cities lately, and their missing reports were broadcasted on national television.
Grab your slice of pizza from the freeze and heat it in the microwave. Take a bath and sleep; the next thing you know, you are in a different dimension.
Play as a solo survivor and start your journey to the next world. First, use a knife to kill zombies, and gather other weapons such as guns, shotguns, and more. You must uncover the mysteries of the mansion and fight against the enemies.
Explore various parts of the mansion such as dungeons, basement, and floors one & two. Collect weapons, ammo, armor, knives, dynamites, holy water, health kit, and more in your inventory to fight against enemies, There are limited resources, and you must use them wisely.
Gather information from various notes, letters, and books. Discover treasure chests with rare items, keys to unlock doors, and codes to open secret portals.
Killing zombies can be hard; you must hit them multiple times using weapons. You will find a variety of zombies, and they attack you at different speeds.
If you like to play horror zombie games, you must try this one. It has detailed zombie effects with great video graphics and soundtracks. You can select a difficulty mode to match your gameplay. You can even practice your shooting skills in a mini arcade game session.
Street Fighter V (2016)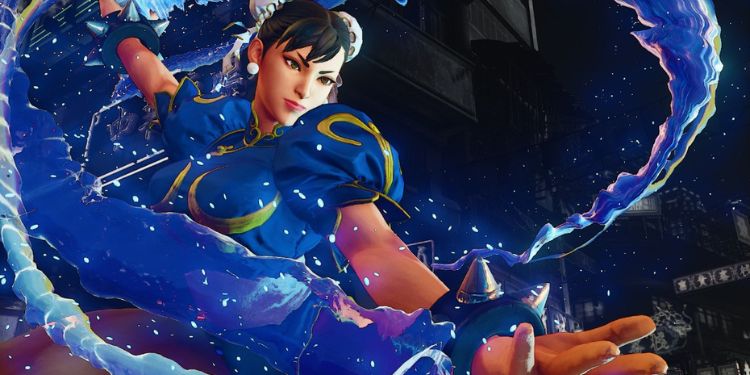 Street Fighter V is one of the most popular action-packed versus games available under $20. It is the upgraded version of previous Street Fighter games. Enter the battlefield and experience the awesome fights.
There are 16 fighter characters. Each of them has an epic background story and fighting skill combos. Enjoy the verse battle against other players and become the ultimate champion.
Select a character to play the rank matches, or you can continue playing casual ones. Complete the challenges of each fighter and collect the battle points. You can use rewards to buy costumes, characters, stages, and more.
Release the ultimate powerful moves and formidable techniques to fight against your opponents. Use a combination of skills to deal massive burst damage to your foes. Try to mix combos and increase straight hit points.
Block, jump, and attack your opponent. Read the opponent's minds and use special skills to decrease the health bar. Time is limited; you must K.O. foes, or the higher life bar will win the battle.
Zone out the enemy, do a critical hit, and follow up the arrack using various close combat combos. It is available in PS5, and you can invite your friends to battle against each other online or offline.
The battlefield is randomly generated, and the next opponent can be easily predictable. Mastery of the character can be hard and you must learn the attacking abilities of other fighters to win.
Monolith (2017)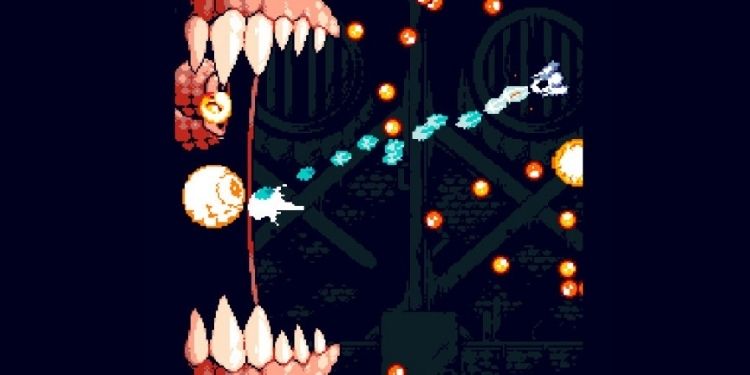 Monolith is a 2D arcade shooting game. Travel across different dungeons and take down the enemies. Avoid the enemies' attacks and shoot whatever comes in the way. The only way to victory is to shoot down everything, including the main villains.
Maneuver the shooting ship and mover around the map. You must travel from one location to another and defeat the foes.
Collect various items and weapons to make your ship powerful. You must upgrade your abilities to deal more damage to enemies. Encounter main villains and dough their attacks.
Defeat them to collect points. Each boss is unique, and they have unique attacking abilities. Destroy the surrounding boxes to discover hidden objects.
You must use your design of the battlegrounds to your advantage. It will help you to take cover from enemy attacks. There are many stages, and each of them is beautifully designed. It has great soundtracks and video effects.
Your performance is evaluated at the end of the stage. Being a gamer, you can put your gaming abilities to the test. You can also increase your ranking on the global leaderboard.
Plants vs. Zombies GOTY Edition (2009)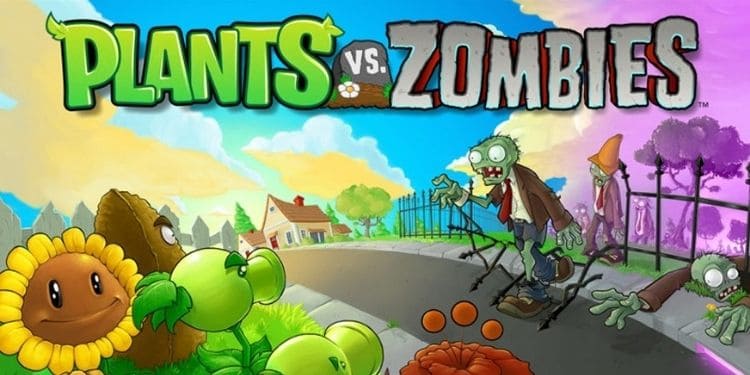 Plants vs. Zombies GOTY Edition is a strategy game to stop the hordes of zombies. Place the cards in the background garden to kill the undead waves. Each plant has different abilities and must be placed strategically.
The main aim is to carefully plant the plants to defend the home from the zombie's attacks. You will plant various plants in the garden to fight against the zombie's waves.
First, you must maintain energy and place the cards on time. Energy can be collected from plants or systems, and each planting of a plant reduces your energy levels.
Unlock different plant species such as sunflower, mushroom, cherry, peas, beans, potato, peach, and more. They have abilities like shooting guns, fire, poison, energy, blocking, etc.
You must wisely place them according to the zombie's waves and path. Killing them will provide you with gold and, on rare occasions, diamonds. You can buy new cards in the shop to fight against the undead.
There are many stages, and each introduces small changes that help to change the dynamics of the level completely. You will find varieties of zombies, each having unique abilities.
You must select appropriate plant cards before starting the level, and you can put a limited number of cards. It is very easy to learn and play. If you are a beginner, you can go through a short tutorial.
It is about playing the right cards at the right time, Completing the various objectives, and claiming rewards. You must defend your home from the zombie's invasion, whether it is from your garden ot roof.
Dead by Daylight (2016)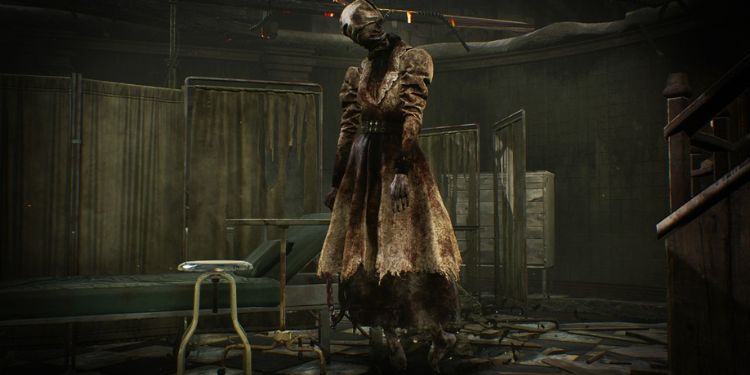 Although slightly expensive, Dead by Daylight is one of the best survival horror games on Steam. In total, there will be five players. Four of them will be innocent survivors, and one will be a deadly psychopath killer.
They must eliminate each other and survive throughout the session. Choose any role and enjoy playing. You can have options to select the role. Playing as the survivors, you must watch out for the murderer.
Hide, run and avoid the killer at every point. Learn about the killer's abilities and weapons. Use the surroundings to your advantage. Gather information and locate the position of the killer.
You will be playing in the third person mode. Break many hooks as possible and pull blockage while running away from the killer.
As a killer, you must hunt down the survivors one at a time. You will search for the four survivors and hit them using weapons. You must use your abilities to track down the enemies, hear their footsteps, breathe, and kill them.
You can leave your traps activated in different locations. Knock them down on the floor and carry them near the hooks for hooking. Hang all the survivors on the hook and slay them to death.
The sounding atmosphere is randomly generated. Both killers and survivors have various starting points. They must learn from the environment and increase their situational awareness.
Risk will rise dramatically over time, and there is no safe place to hide. Read minds of each other and predict the possible moves to stay ahead.
It has great soundtracks, and you can see the visual blood effects on your screen. Unlock new abilities and use strategy to face your opponent. You can play the game in single-player mode, but playing with your friends can boost the gaming experience.
Your performance is evaluated after finishing each session and post your score on the global ranking board. It is a great game, and its price is higher than five dollars.