Skyrim is one of the biggest RPG titles to come out in the last decade. Although the game was released in 2011, it has remained relevant due to its multiple re-releases and, of course, the modding community.
Furthermore, all the dated elements like graphics, visual aesthetics, gameplay, and animation can be easily changed to your liking with the help of mods and make them feel fresh again.
So if you're playing Skyrim for the first time or need a refresher, then we have you covered. In this guide, we've gone through all the fundamental aspects of the game that you'll need to get started.
Stats and UI Elements
Let's familiarize ourselves with the UI elements first. At the bottom of your screen are three different colored stat bars.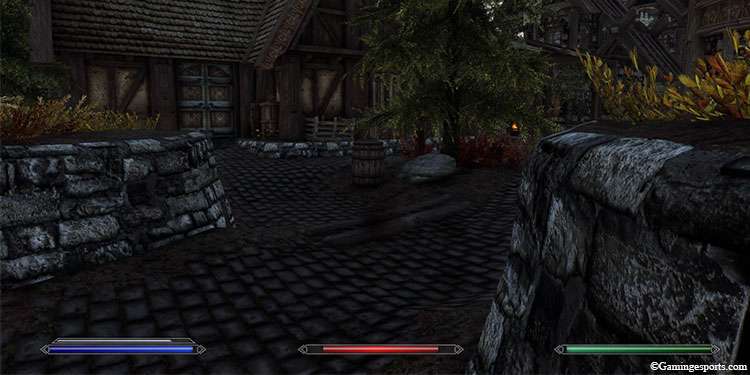 They will only appear if you lose your health or use up your Stamina or Magicka. Otherwise, they will remain hidden for added immersion.
Starting from the left, we have the Magicka bar. The blue-colored meter displays the amount of Magicka that you currently have. Your Magicka will get depleted every time you cast a magical spell or whenever you get hit by a hostile lightning spell.
Next, we have the red bar in the middle, the Health bar. This stat is self-explanatory. It determines the total hit points you can sustain before dying.
Finally, we have the green-colored bar on the right, the Stamina bar. You will use up your stamina when you perform actions like sprinting, power attacks, or if you get hit with hostile frost spells.
All of the above stats will get automatically replenished after a while, but the recovery rate differs for all stats.
For example, your Stamina will get filled much faster than your Magicka, and your Magicka will refill quicker than your Health. There are, of course, different items and enchantments that can boost the recovery rate of all three stats.
Besides these stats bars, you'll also get a compass bar on the top of your screen. You can determine the current objective, nearby notable locations, or the direction of the enemies from the compass bar. The compass bar also acts as the cooldown meter for your Dragon Shouts.
You also have an Item menu to view all your items along with your total carry capacity. Exceeding this capacity will give you the over-encumbrance status. However, there are multiple ways to increase your carry weight.
On the left side of the character menu, you have the Magic menu. Here, you can equip or activate the magical spells and powers you've unlocked in the game.
There's also a separate Active Effects section in the magic menu where you can view all the hidden statuses and effects like Blessings, Diseases, Resist Powers, Penalties, etc.
You have a separate Skills menu on the top section of the character menu. Here, you can view all the skill trees and unlock their perks.
Pressing the pause button will open the Journal menu, where you can keep track of all the quests in the game.
There's also a map system where you can view your current location, landmarks, active markers, and quest markers. Opening the map menu inside buildings or cities will open a small local map of the area instead of the whole map of Skyrim.
Controls
In contrast to other triple-A titles, the controls in Skyrim are simplistic. Anyone can learn them with minimal effort. We've broken down all the controls in the game and grouped them for a better understanding.
Movement
These are the movements that allow you to explore Skyrim's vast open world.
Jog: Pressing the directional button will make your character jog in that particular direction.
Walk: This is a much slower movement than jogging. You can enable it by switching your movement style (via the Caps Lock key). If you're on consoles, you can make your character walk by slightly tilting the left analog stick.
Sprint: This is a special type of movement where your character uses stamina to run much faster than jogging.
Jump: As the name suggests, jumping allows your character to traverse obstacles, cross gaps, dodge traps, etc. This movement also does not require stamina usage.
Auto-run: This feature makes your character jog or walks in a particular direction indefinitely. This makes traveling through Skyrim much more enjoyable as it frees the hassle of pressing the directional keys.
Sneak: The crouched movement is much slower and quieter than jogging or walking. This makes up for the perfect style of movement for stealth gameplay.
Mounts: The movement style remains similar when you're mounting a horse as well. You can perform all three types of movements, including walking, cantering, galloping, and jumping.
Here's a video showing all the movement in action.
Combat
Fighting with enemies in Skyrim is inevitable, so it's important that you learn all there is about offensive gameplay.
Sheath/Unsheath: Before you can attack with your weapon/spell, you must make them ready by pressing the sheath/unsheath button.
Standard attack: This is the most basic form of attack. Hitting the attack button will swing your one-handed or two-handed weapon in predictable directions.

If you're using a bow, then you must hold the attack button to draw it.
You can cast some spells by simply tapping the attack button, whereas some spells may require you to charge it before casting by holding the attack button.

Power Attacks: Power attacks are heavy attacks that can deal substantial amounts of damage compared to regular attacks. This attack can also use up a good chunk of your overall stamina. Hold down the attack button to use your power attack.
Directional Power Attack: You can press a directional key before using your power attack to use a different style of power attack.
Shout: Shouts are the unique magical powers of the Dragonborn that do not require Magicka. Instead, they have a cooldown meter.
Blocking: Besides offensive combat, you can use shields/weapons to boost your defensive capabilities and reduce incoming physical damage.
Mounted Combat: You can only perform limited attacks while mounting a horse. You can use your one/two-handed weapons and bows, but you cannot cast magical spells while on the mount.
Here's a video demonstrating the different styles of attacks.
Miscellaneous Control & Shortcuts
The following controls will neither help you in movement nor combat, but they will make certain actions much easier.
Quicksaving/Quick Loading: The quick save feature is very helpful if you habitually save the game quite often. The quick load button helps you load the quicksave.
Switch perspective: You can switch between first-person and third-person perspectives.
Shortcut menu: If you have marked items or spells as favorites, you can quickly access them without opening the item/magic menu.
Playable Races
There are ten different races to choose from in Skyrim. Each race has a unique appearance, skills, racial abilities, and stat distribution. This gives players the option to try out different builds and playstyles.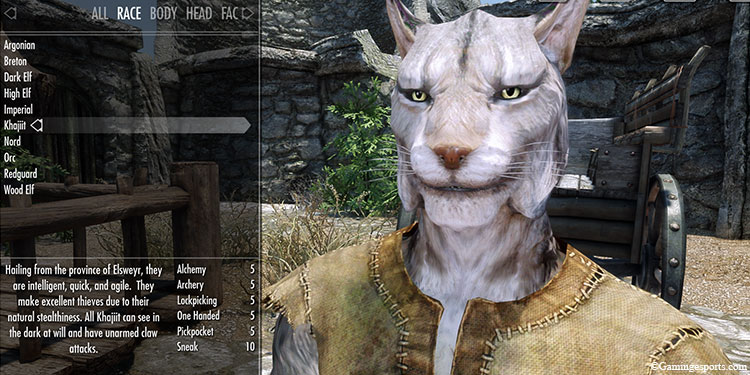 For example, you can make your character an excellent assassin by playing the Khajiit race. In contrast, if you're more into magic and wizardry stuff, you'll have a much more enjoyable time playing as either a Breton or the High Elf.
You can learn more about the best races in the game from our article.
Quests
Taking on quests is an integral part of the game. There are multiple ways to receive new quests. You can either talk with NPCs, read books, explore dungeons, visit landmarks, etc.
You can keep track of all the quests from the Journal menu. All the currently active quests are highlighted and present in the top section, whereas all completed quests are muted and located below.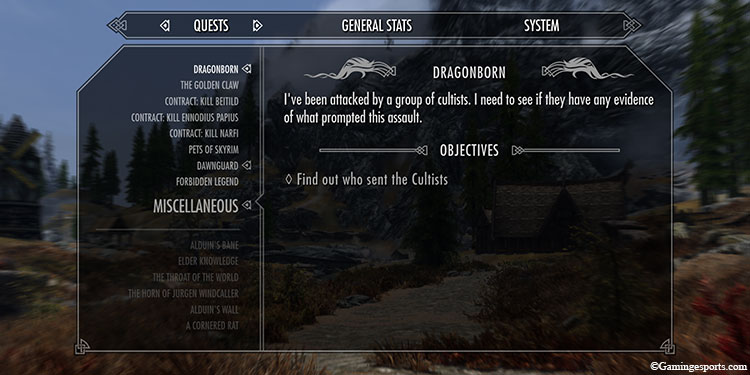 You can switch between active quests by simply selecting them. This will also open up a menu to view the current objective within the active quest.
Leveling Up
Like any other RPG, leveling up your character makes them stronger, gives them access to better weapons and spells, and increases their proficiency in battles against tough enemies.
However, Skyrim's leveling system is slightly different from other similar titles. There are two aspects that you can level up in the game. The first is your skills, and the second is your character's overall level. Let me explain this in more detail.
Skill Level
Regardless of the race you choose, your character will always have 18 different skills you can invest and level up. These skills are categorized into three playstyles—i.e., warrior, thief, and mage.
For the Warrior class, you have
Archery
Heavy Armor
Block
One-handed
Two-handed
Smithing
For the Thief class, you have
Sneak
Speech
Lockpicking
Pickpocket
Light Armor
Alchemy
And finally, for the Mage class, you have the following skills
Restoration
Destruction
Illusion
Alteration
Conjuration
Enchanting
There are multiple ways to earn experience points for a given skill. You can use a particular skill frequently, read skill books, or even pay skill trainers. After accumulating enough XP for a skill, it will level up.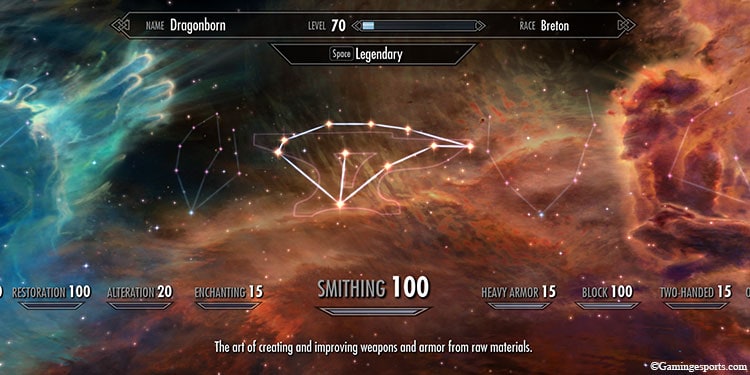 For example, to level up your Illusion skills, you must often use Illusion magic like Harmony, Courage, etc.
After a particular skill reaches level 100, you can make it Legendary to reset it and level it again.
Character Level
Your Skills level is directly linked with your character's overall level. As you level up your skill, it will carry over a certain amount of XP to your character level.
So, you must focus on leveling up your skills in order to level up your character. There are also certain ways to speed up the leveling process; you can learn more about it here.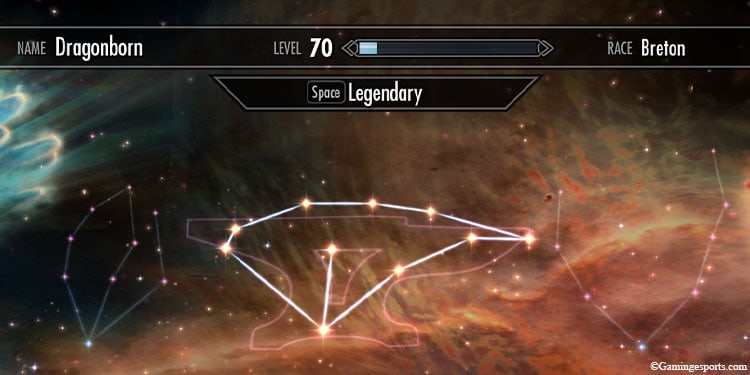 Every time you level up your character, you can increase any attribute by 10 points. You can either increase your Magicka, Health, or Stamina meter. In addition to this, you'll also gain perk points. These are used to get perks from a particular skill tree which will, in return, make that skill more efficient and powerful.
As you increase your character's level, the enemies that you encounter will scale up in difficulty. On the flip side, you will have higher chances of getting rare loot from treasure chests and defeating enemies.
Enemies of Master and Legendary difficulty are resistant to attacks as they have high defensive stats so, you need to level up your offensive skills before you face them.
Combat System
It is important to learn more about the game's combat system for survival. There are two different styles of combat to choose from in Skyrim. You can either use the traditional weapons to face off against enemies or blast them off with spells from a distance.
Weapons
Although any character class can use weapons in combat, the warrior and thief classes are much suited to maximize their effectiveness fully. There are five different combat styles in the weapons category.
Archery
Archery is the most popular combat style as it offers a fun yet gratifying gameplay, especially for those players who enjoy stealth. Nothing feels as satisfying as one-shotting a bandit from a few yards away.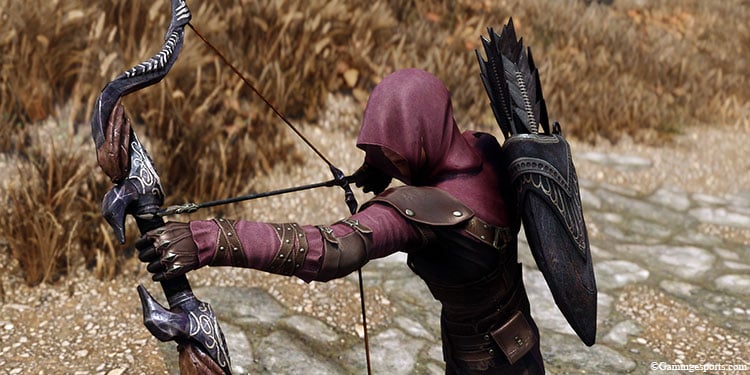 There are two different types of bows in the game. You can use the reliable bow and arrow for long-distance targets or the crossbow to deal significant damage to nearby enemies.
As you acquire more perks from the Archery skill tree, you will become more proficient and stronger as an archer.
One-handed
This is the most basic combat style, including wielding a one-handed weapon such as swords, maces, daggers, or war axes. One-handed weapons are generally swift and easy to use, but they deal slightly lower damage than other weapons.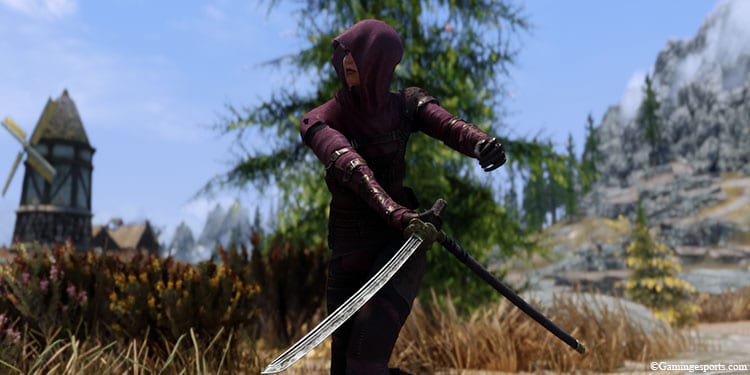 Using a one-handed weapon frees up your other hand, thus allowing you to equip a shield, spell, or even a second one-handed weapon.
Two-handed
Players seeking to deliver the most damage in the game should try two-handed combat. They can deal significant damage compared to a one-handed weapon in exchange for the lack of speed.
Two-handed weapons include greatswords, battleaxes, and warhammers.
Blocking
On the defensive aspect of combat, you have the block mechanic. Blocking with a shield reduces a percentage of the incoming physical damage.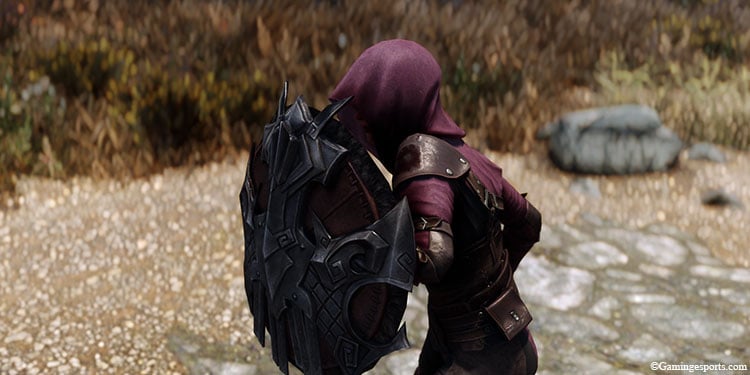 Not only that, you can even shield bash the enemies to stagger them and deal a little damage. Blocking is better suited to be paired with a one-handed weapon for its effectiveness.
Unarmed
You can even go unarmed if you have high overall defensive stats and want to try a rather unusual playstyle. They deal, by far, the lowest amount of damage.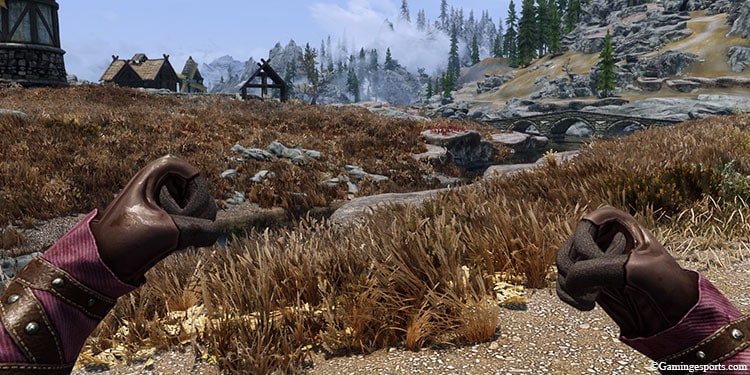 However, races like Khajit or Argonian paired with the Fists of Steel perk can bring the unarmed damage on par with a standard one-handed weapon making it a viable playstyle.
Spells
The second style of combat in Skyrim is magical spells. Wizard-class characters are much suited to use this play style.
Unlike weapons, spells are much more versatile and can also be used by other classes. There are five different schools of magic.
Alteration
The Alteration school of magic falls under the defensive playstyle, mainly focusing on changing you and the world around you. For example, you can cast the Dragonhide spell to boost your defensive stat or use the Mass Paralysis spell to render all nearby enemies useless.
Destruction
As the name suggests, Destruction magic solely focuses on magic that damages enemies. Some spells can shoot out Fireballs, Ice Spikes, or even Thunderbolts.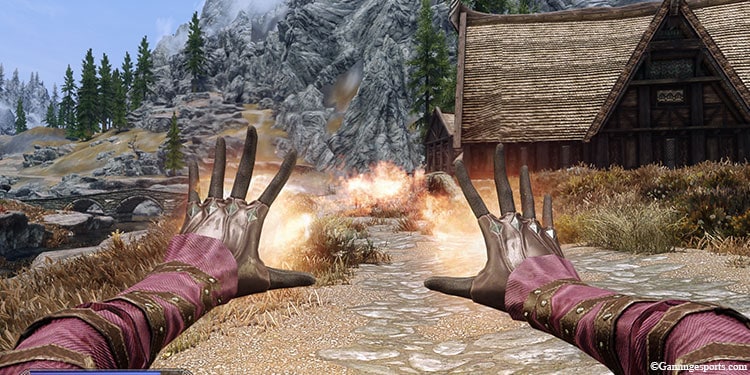 Conjuration
Next up, we have the Conjuration magic. It doesn't deal damage directly like the Destruction magic; instead, it relies on summons and reanimation magic to deal with enemies.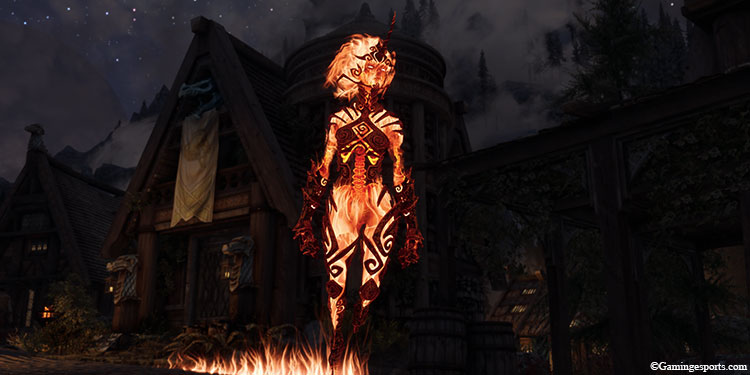 Illusion
Illusion magic is often underrated as there's a limited number of spells, and most need more offensive capabilities.
However, in the hand of a master wizard, Illusion magic can be extremely powerful. With the right Illusion spells, players can avoid enemy encounters or even let the enemies deal with themselves.
Restoration
The most versatile school of magic is, no doubt, the Restoration magic. You don't really have to think twice about investing in restoration magic, as any character class can use restoration spells to heal themselves amid combat.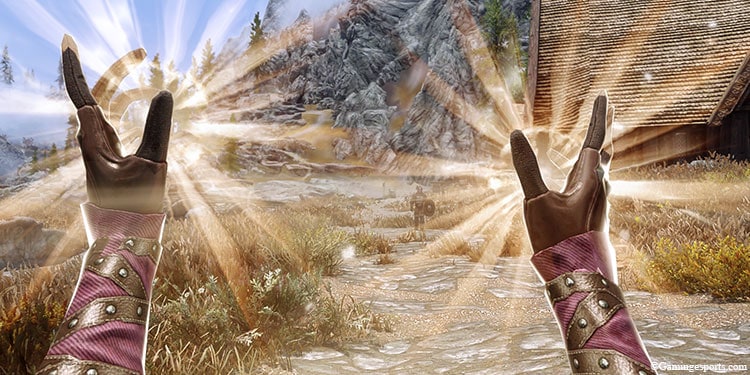 Shouts
Shouts are special powers that are unique to dragons and Dragonborn. They work similarly to magical spells, but they do not require Magicka. Instead, they have a cooldown meter.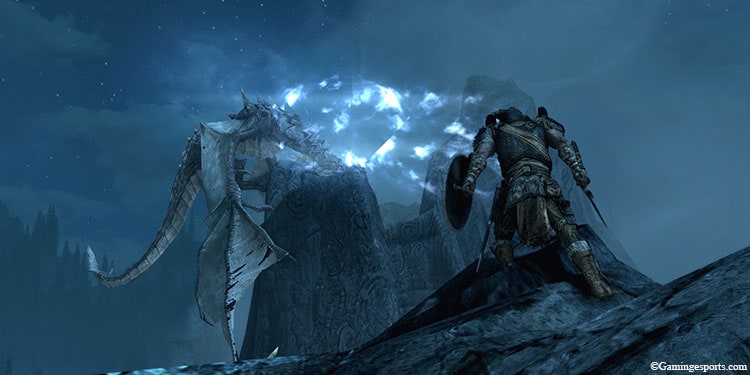 There are over 27 powerful shouts that you can obtain in the game, like the Storm Call shout that can call upon thunderstorms instantly or the Bend Will shout that will let you ride on dragons.
Other Important Skills
Besides the skills mentioned above, there are a few other skills that you should learn about to understand the game.
Smithing
Expertise in Smithing is crucial for any melee-focused character builds. It allows the player to craft gear, such as weapons, arrows, armor, jewelry, etc., from different materials and make it stronger.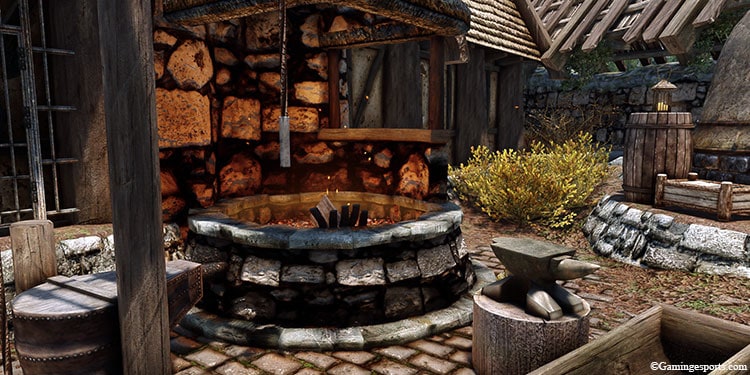 Generally, higher smithing skills and the right perks from the Smithing skill tree will allow you to craft gears much stronger than random items.
For example, you must acquire the Ebony Smithing perk from the Smithing skill tree to make Ebony weapons. You must first unlock this perk by leveling your Smithing skill past 80 to get it.
You can craft any weapon, armor, or jewelry at the blacksmith's forge, granted that you have the necessary resources and perks.
But you'll need to find the upgrade station to upgrade your existing gear. Usually, you'll find these upgrade stations at the Blacksmith Forge.
You can upgrade your weapons at the Grindstone.
You can upgrade armor and other equipable items at the workbench.
Enchanting
Besides upgrading your gear, you can also infuse them with magic to make them even stronger. You can do so by applying enchantments on your gear. There are all sorts of different enchantment spells for your weapons and armor.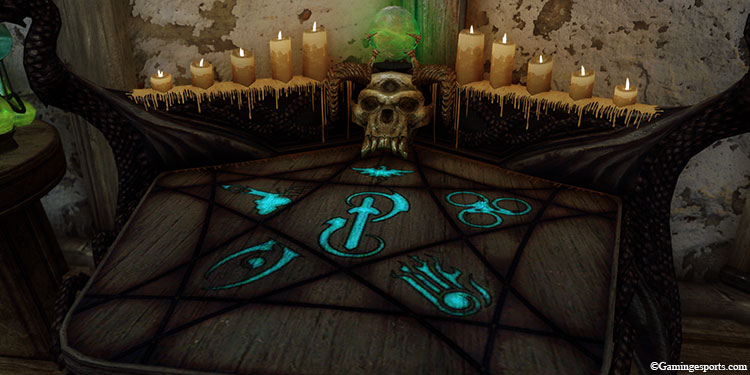 For example, you can make your armor give you elemental resistance or boost your character's attributes. Likewise, weapons can also be enchanted to inflict elemental damage or make them steal enemies' health.
Alchemy
Lastly, Alchemy is an underrated skill that allows players to craft potions. This skill is often overlooked because there are magical spells and enchantments that can mimic the effects of potions.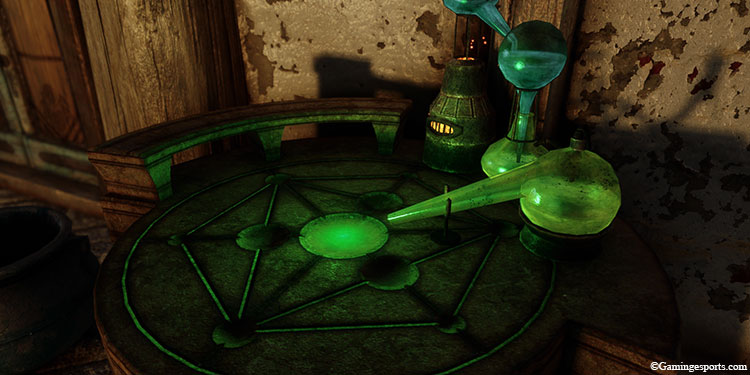 However, potions have many uses besides restoring your Health and Magicka. Some potions can temporarily boost your Skills, like Speech, Sneak, Smithing, etc. For example, drinking the Blacksmith Elixir potion will make your gears 50% better when upgrading.
Furthermore, you can also craft rare potions and sell them for an easy profit.
Earning Gold
Gold Septim/Coin is the currency in Skyrim that you'll often come across from random treasure chests or corpses. They are rather valuable resources that can be used to buy items, get a bed at inns, bribe the guards, etc.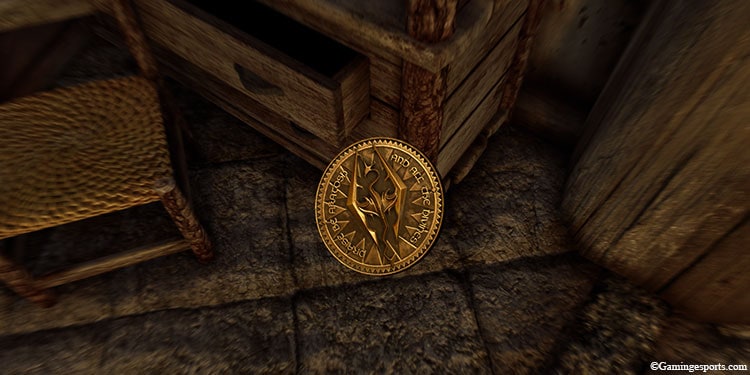 The most consistent way to earn gold coins is by selling items to merchants. If you have "stolen" items, you can sell them to fences. They are unique merchants that you can unlock after joining the thieves guild.
Other ways to make gold coins are by completing quests, scavenging through ancient tombs and ruins, etc. If you've picked the Imperial race at the start of the game, then you will always get an additional gold coin while scavenging.
Followers and Companions
The follower system in Skyrim is a convenient addition to the game, which allows players to choose a traveling partner. In my opinion, It helps to kill the lonesome feeling of traveling alone in Skyrim's open world.
In addition to assisting you in combat, you can give your followers some other basic commands like waiting, stealing, picking up items, or even killing.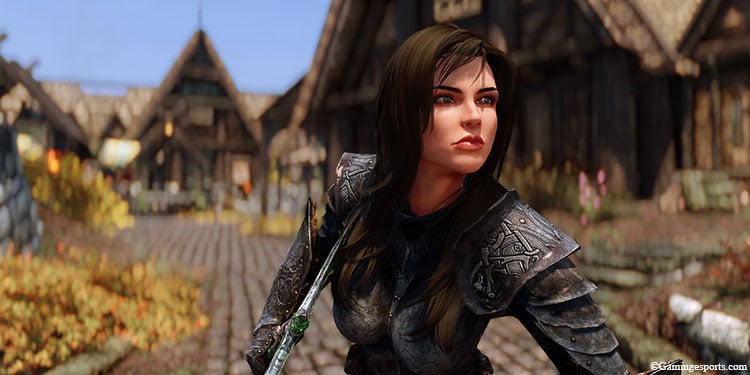 Most of the followers in the game have unique appearances, stats, combat skills, and prerequisites that you'll need to complete to make them your follower.
Other NPCs
There are a lot of friendly NPCs in the game that you can interact with. Many will offer you questlines, rewards, services, etc., whereas others may simply exist to fill the settlements.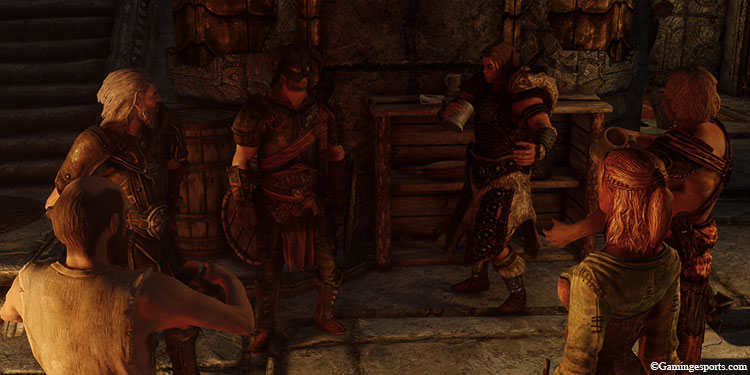 NPCs are categorized into two groups. I.e., essential and non-essential. The NPCs that are marked as essential are immortals. They will not die even if they run out of health. On the other hand, non-essential NPCs are disposable characters that will disappear if they're killed off.
Completing small errands or questline for NPCs will also unlock the option for marriage (if they're available). You can then marry them for bonuses like Lover's Comfort, Home Cooked meals, or a personal merchant.
Traveling Methods
Besides walking, there are three other ways to travel between destinations.
You can get yourself a horse to travel with. They have faster movement speed and can sprint for much longer. You can buy a horse from the stable or find a free one out there.
You can rent a carriage to travel between the major holds in Skyrim. This also works if you've yet to discover the city.
A much quicker option to travel between destinations is via Fast Travel. Simply open your map and select the location that you wish to go to. However, you can only use this option if the destination is already discovered and if there are no enemies nearby.
Morality System
The game has a morality system where immoral deeds like stealing, pickpocketing, or killing will place a bounty on you in that respective hold. This means the bounty you've accumulated in the Whiterun will not carry over to Markarth.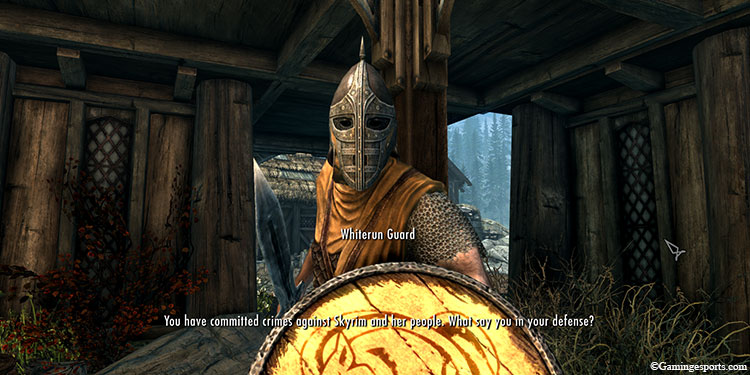 If you do not clear your name, guards of the hold will pursue you and be hostile toward you.
To end the pursuit, you can either stall the guards by bribing them or clear your name by paying the bounty amount or serving time in jail. To learn more about removing your bounty, refer to our article here.
Death
Like any other RPG, your character can die if they run out of health. After death, the game will automatically load the latest save file. To prevent losing your progress, make sure to save your game often.
After mastering all the basic movement and combat techniques, you can move on to the first things you should do when starting a new playthrough.