FromSoftware proved that video games could be masterful works of art with the creation of Elden Ring.
The game's world was created by an ultimate collaboration between the most decorated fantasy writer of the 21st century, George RR Martin, and one of the most acclaimed game directors of our generation, Hidetaka Miyazaki.
The game is a magnum opus, representing the best of all souls games made before date. You will experience cherrypicked mechanics and see visual resemblances from all its predecessors, i.e., Dark Souls, Bloodborne, Sekiro, and Demon Souls.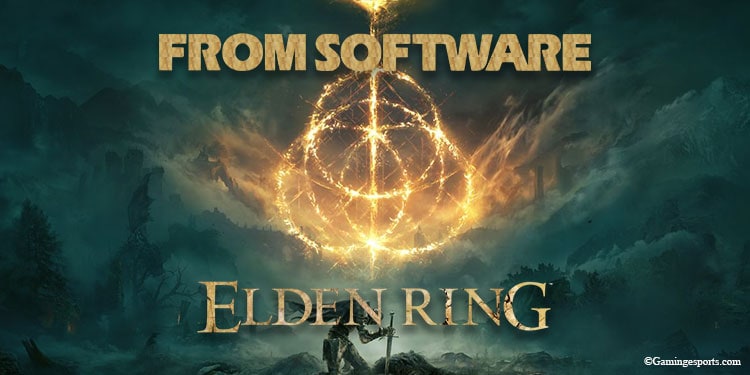 With the recent announcement of Shadow of the Erdtree DLC, the world of Elden Ring continues to expand, and its legends will keep echoing till there are Tarnished warriors like you seeking the path to becoming the Elden Lord.
This will be a complete beginner's guide for everyone who is set to embark on their journey of The Lands Between.
Understanding the Basics
To play the game, understand the game better. Elden Ring has some important game mechanics you might need to get accustomed to. Let's discuss!
The HUD or the Heads-Up Display
The HUD contains a lot of important information. It is vital to get acquainted with it quickly.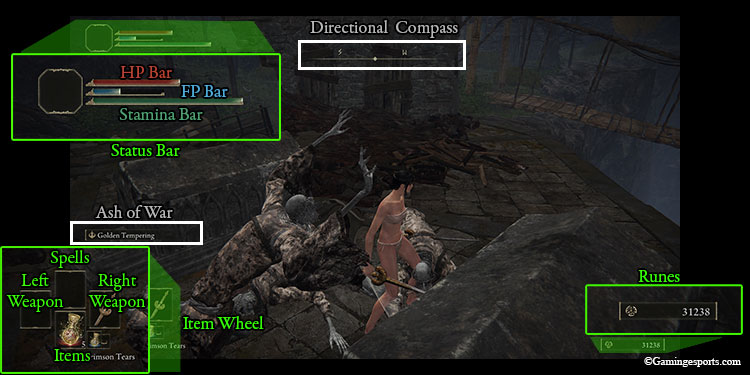 HP Bar – The Red Bar: Like in any game, you will die if your HP Bar reaches zero. Getting hit by enemies, walking on fire or lava, getting poisoned, or being affected by other status effects also decreases HP.
You can increase your maximum HP permanently by increasing the Vigor Stat. You can also increase your HP or Vigor Stat by various other means, which include equipping talisman items, using Great Runes, etc.
FP Bar – The Blue Bar: FP bar is used to perform special attacks, summoning, or magic. Some status effects can decrease your FP, like madness.
You can increase your FP permanently by increasing the Mind Stat. Like HP, you can hold equipable items that optimize your FP usage.
Stamina Bar – The Green Bar: Actions like rolling, attacking, casting spells, blocking, and sprinting consume stamina when you are in battle. New to the Elden Ring, no stamina is consumed outside battles while performing these actions. You can increase your stamina pool permanently by increasing the Endurance Stat.
Unlike HP and FP, by default, your Stamina recovers automatically when you do not perform a stamina-depleting action. You can increase stamina recovery by using consumables or equipping talismans.
Weapons and Item Wheel: The bottom left of the screen has four rectangles that show different things you have with you.
Right Rectangle – It shows the actively equipped right-hand weapon.
Left Rectangle – It shows the actively equipped left-hand weapon.
Bottom Rectangle – It shows quick-use items.
Top Rectangle – It shows your attuned spells and incantations.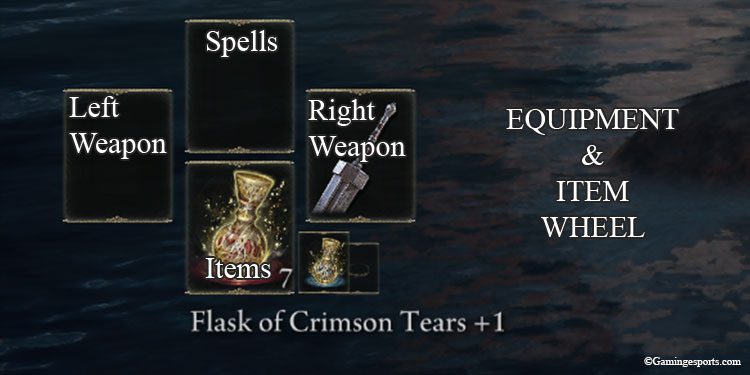 Runes: The bottom right of the screen will show a bar with numbers. The number represents your in-game currency. It is consumed when leveling up, upgrading, or purchasing new items.
Directional Compass: It's incredibly vital that you learn to look at the compass as Elden Ring does not give you a minimap. Make a habit of keeping track of the direction you are heading toward, and you will rarely lose your way.
Movement Mechanics
There are various movement options in Elden Ring, all are listed below and also shown on a video.
Walking – This is the standard jog, it does not consume Stamina.
Slow Walk– You can walk more slowly to stealthily approach an enemy that hasn't seen you yet. Slow Walk does not make a walking noise.
Sprinting– You can sprint to get around faster, this will consume Stamina during battles.
Crouching– You can crouch in the Elden Ring, crouching in bushes can hide you from enemies.
Crouch Walk– You can crouch walk, this will make you walk slowly and silently, and you can ambush enemies this way.
Jump– You can jump, this can be used to dodge some attacks and reach higher places.
Rolling– You can roll to avoid enemy moves. During the roll animation, you are invincible to enemy attacks. The length of the invincibility is determined by the lightness of the load you have equipped on.
Backstep– You can quickly backstep to avoid enemy attacks.
Ash of War– Ashes of War can add more movement options, these include Quickstep and Bloodhound Step.
Mounted Travel– You can call upon your mount, the Spectral Steed Torrent, while on the overworld to travel faster. Torrent can sprint as well.
Double Jump- You can perform a double jump while mounted on Torrent.
Spritspring Jump– You might see a stream of wind sometimes on the overworld, these can be used while mounted on Torrent to reach high-up places or descend from high-up places safely.
Combat Mechanics
Elden Ring has a well-polished combat system addressing many different playstyles. You can play melee build, you can play from long range, and you can definitely play with magic. You can even try wonky builds if you are bored of standard playstyles.
In combat, there are various things you can do. Everything in the list is shown in the video as well.
Light attack – This is the standard light attack combo performed by melee weapons.
Heavy attack – Each weapon type has a heavy attack that deals more damage to enemies.
Jump attack– Perform an attack while jumping, this will deal more damage.
Blocking – You can use shields and even weapons to block incoming attacks.
Parrying– Some shields or weapon skills can be used to perform a parry or deflect enemy attacks.
Critical Hits– There are many types of critical hits, you can perform a critical hit after successfully parrying and breaking the enemy's stance. You can perform a stealth critical hit that backstabs the foe if you can approach them without them knowing. This can usually only be performed on human-like enemies. You can attack and break an enemy's posture, during the broken posture state, you can perform a critical hit. Performing a critical hit deals more damage, and while your character is undergoing the critical hit animation, you are invulnerable to enemy attacks.
Plunging attacks– You can perform a plunging attack at certain times when descending upon an enemy from above.
Guard Counter– You can perform a guard counter after successfully blocking an enemy's attack.
Spell Casting– You can use a staff or a sacred seal to cast sorceries or incantations. Some weapons can cast their unique Weapon Art or Ash of War.
Mounted Combat: You can fight even while mounted on Torrent. Even if you are overweighed with equipment, Torrent's movement capacity is not affected in any way. This can make mounted combat quite interesting.
There are some additional Combat Mechanics that you must know to play Elden Ring effectively. Let's go through them one-by-one.
Combat Mechanics: Ashes of War
Ashes of war are skills and elemental affinities that can be applied to a weapon. There are numerous Ashes of War for you to choose from. Read the linked article if you need a complete understanding of Ashes of War.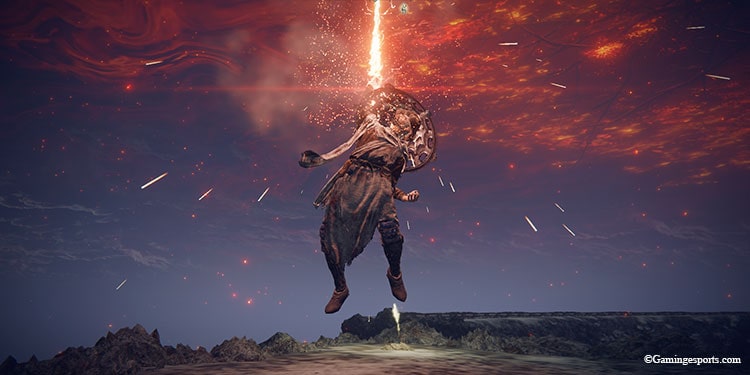 Combat Mechanics: Spirit Summons or Spirit Ashes
You can summon additional help in the form of summonable companions, and these helpful companions come in all shapes and sizes. There are lone spirits, and there are spirits that come with a whole group of fighters. Select the one you like the most and it often.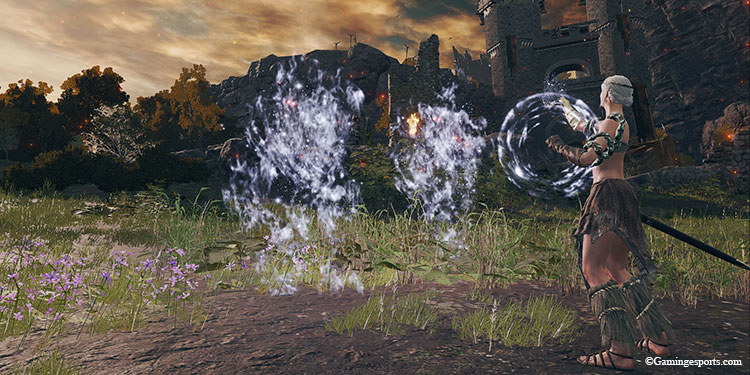 Remember, you can only summon spirits when the Spirit Gate icon is shown on your HUD. This icon will only appear when there is a Rebirth Monument, it's a little pointy statue you might find scattered around many places.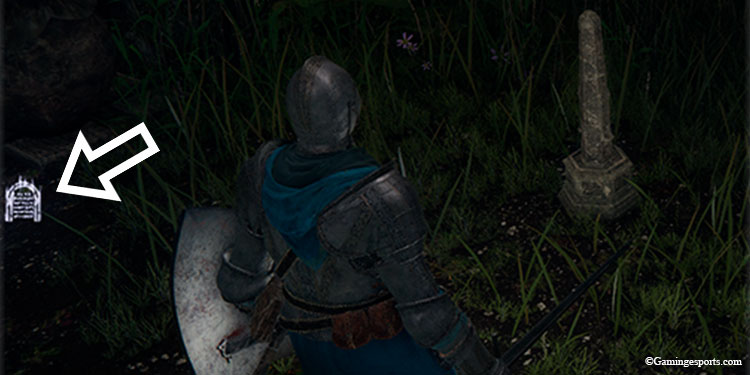 Combat Mechanics: Poise
Often when you repeatedly attack enemies, you must have noticed some enemies falling on their knees for a moment, getting stunned, and letting you perform a coup-de-grace. This happens when the enemy's poise gets broken.
Poise can be compared to the fighting mechanic found in Sekiro, where once the poise bar is full, whether it is your character or an enemy character, they get stunned and become open to getting hit.
In Elden Ring, poise is determined by the Armor of the player character. Every enemy we face has a fixed poise. Every hit that lands damages poise, just like the damage done to health.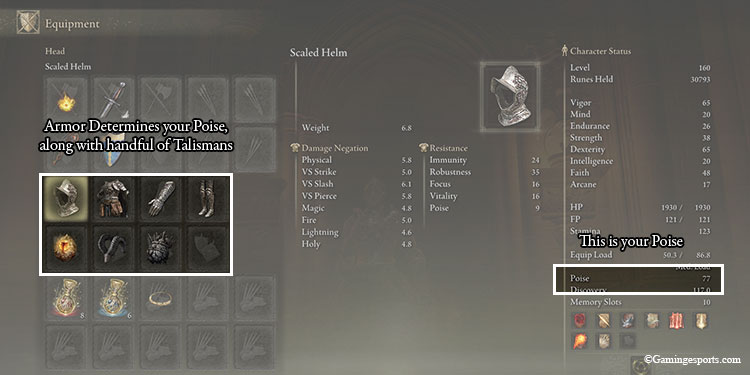 The only problem, the poise bar is invisible in Elden Ring. So you will have to gauze the poise of an enemy from memory and with practice. We have a guide with everything you need to know about poise.
Combat Mechanics: Power Stance
Power Stance is a revived mechanic from Dark Souls 2, where if two similar weapons are equipped on each hand, they allow you to use a dual-wielded move-set. If you are someone who doesn't like hiding behind a shield, try weapons on both hands.
We have written a detailed guide about power stance addressing every weapon. There is a video showing all move-sets with power-stance for your convenience. Do check it out.
Understanding Build and Equipment
You can choose from loads of equipment in the Elden Ring. The type of equipment you choose to wield determines your build and, more importantly, your sense of style in Elden Ring.
One more thing that determines your build is how you choose to allocate your stats when you level up. Your stats also determine what weapons you are qualified to wield, playing an important role in your build.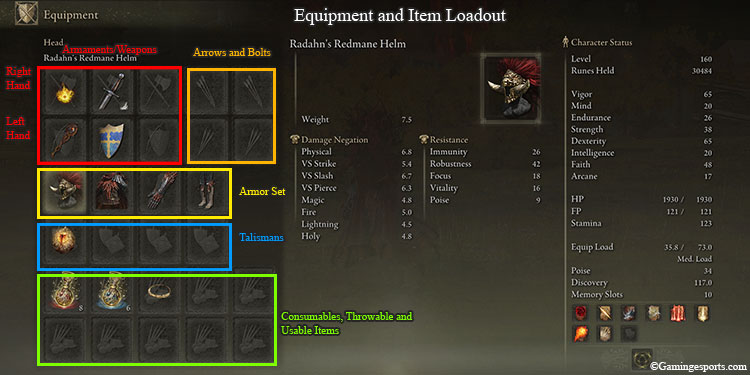 Your currently allocated stats, along with the equipment and items on your loadout menu, determine your build. The categories of equipment and items in your loadout are shown in the image above and explained below.
Armaments or Weapons– You can equip weapons in your left and right hands. Weapons can be offensive, like swords, defensive like shields, ranged weapons, magical weapons, sacred seals, and utility-based, like torches.
Arrows and Bolts– Arrows for your Bow or Greatbow and Bolts for your crossbow can be set in the loadout menu.
Armor– You can equip four pieces of armor. Head, Body, Arms. and Legs. Armors can come in sets, have different resistances, and produce different looks.
Talismans– You can equip rings, necklaces, and other items to improve your character further build.
Consumables, Throwables, and Usables– You can use many consumables in battle. These can heal, produce offensive or defensive effects, and do much more. You can also use throwable weapons like knives and multi-use items at your convenience.
Build: Stat Allocation
Stats play a vital role in combat by determining the damage you inflict and your resistance to taking damage.
Each stat point you increase gives an increase in certain factors of your character. You can increase one of the eight main stats when you level up by consuming Runes. (as seen in the image below)
You can see the increase with the blue numbers that change when you allocate the stat point before confirming the change.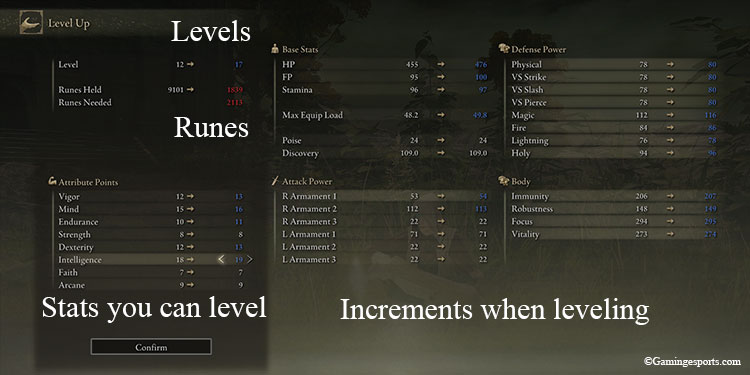 If you increase the stats beyond a certain point, you won't get the usual benefits, this is called soft caps, and it is not recommended to raise your stats beyond the soft caps.
Later in the game, you can rebirth or respec your stats if you want to change your build. This can be done by Rennala, Queen of the Full Moon, once you spend an item called Larval Tear.
Build and Equipment: Weapons and Armaments
Weapons have always been the highlight of any Souls game. In simple words, if the amazing bosses are the foundations that make a Souls game, then the weapons you use to slay those bosses are the pillars.
Elden Ring comes with more variety of weapons than ever before compared to its predecessors. Also, the weapons are called Armaments in Elden Ring.
Weapons/Offensive Armaments:
Here's a list of all things that are considered as offensive armaments in the game.
Straight Swords: The most popular weapon in the Souls game, the bread, and butter of a knight build, is the Straight Sword.
Daggers: Short but swift, these vicious weapons are for assassins who show no mercy to their foes.
Greatswords: This category of swords includes the popular claymore. With its long blade, swing and swipe at foes further away than a standard sword.
Colossal Swords: These are swords that have transcended what it means to be a sword. They are simply monsters made up of metal.
Katanas: Become a true Samurai with these weapons created by the master blacksmiths who considered smithery the ultimate art and discipline.
Curved Swords: No sword is more savage and vicious than a curved scimitar. These are the kings of the desert personified in curves of steel.
Curved Greatswords: Only in a fantasy video game can you wield the weapons like this. These are the weapons we hear about in epics that cleave a mountain and turn them into valleys.
Thrusting Swords: The elegant thrusting swords are the reason why swordsmanship is considered a beautiful display of martial art.
Heavy Thrusting Swords: Mix the elegance of thrusting weapons with the sheer brutality of heavy weaponry using these massive pointy swords.
Twinblades: "Dancing through the battlefield," the term is brought to life with Twinblades. You will look like a tornado ripping through your enemies with these in your hands.
Axes: What are axes good for other than chopping trees? Of course, for chopping down your enemies.
Greataxes: To slay great enemies, you need great weapons. None will dare stand in your way if you can wield these monster axes.
Hammers: Edges aren't always the best features of weapons, sometimes, it's the dull ones that truly shine for the destruction they can cause.
Flails: If any weapons out there abuse the laws of physics to inflict havoc, it's the flails.
Great Hammers: Sometimes you just don't want to defeat your foes plainly, you want to smash them into smithereens. These weapons will powder your foes, and a gust of wind will take care of them.
Colossal Weapons: To slay Colossal enemies, you will need, yep, you'll need those Colossal Weapons. Distort time, space, and reality itself with every swing you make using these weapons.
Spears: Swords are to show off, whereas hammers and axes are merely tools. Spears, on the other hand, are the proper form of weapon.
Great Spears: These weapons were forged for the hands of gods. But if a human can somehow wield them, s/he will slay even gods themselves.
Halberds: If spears are the proper weapons, then Halberds are the perfect weapons. The person who combined sword and spear into one weapon wasn't just a mere genius, they were a legitimate revolutionary.
Reapers: Evoke the god of death in you with these weapons and simply cut down your enemies like they were weeds in an open field.
Whips: Whips make you undeniable as they cannot be blocked, unlike every other weapon in this list.
Fists: Getting your hands dirty with fists is the only way to experience the pure brutality of a fight.
Claws: You can give Marvel's Wolverine a run for his money with the claws available in Elden Ring.
Bows: Why even go close to an enemy if you can shoot them from afar? The simple answer to ranged combat is a bow. They use Arrows.
Light Bows: Ever wanted to be just like Hawkeye or Green Arrow? Leap and roll as you shoot down your enemies, from close or far, just get yourself a Light Bow. They use Arrows.
Great Bows: One shot, one kill. Only a Great bow can make you a sniper in Elden Ring. They use Great Arrows.
Crossbows: You don't need to trouble your hands to pull on a string when you can just pull a trigger to shoot down your enemies. They use Bolts.
Ballistas: It's like carrying artillery in your hands. With these, nothing will come even close to you. They use Great Bolts.
Glintstone Staffs: Magic, sorcery, and wizardry can solve many problems that a normal weapon will never solve for you.
Sacred Seals: Use the powerful divine forces of Elden Ring to smite down your foes, the only thing you will need is a little faith.
Torches: Some weapons aren't just for fighting. Use these to navigate dark places and burn down any jumpscares that leap at you.
Shields/Defensive Armaments:
There are three types of shields in Elden Ring.
Small Shields: Small but swift. What they lack in size, they make up with their ability to parry even the largest weapons.

Medium Shields: These shields are what make a true knight. Use these with your sword and spear to build a balance of defense and offense.

Great Shields: There are times when offense just isn't the answer, for those times, put a Great Shield in front of you and keep moving towards your enemies.
Two Categories of Armaments
Weapons and shields come in two more categories, the standard ones, and the unique ones. There is a simple difference between these two categories.
Standard: Their weapon art/skill can be changed by applying an Ash of War.
Unique: Their weapon art cannot be changed by applying an Ash of War, and they have their own unique weapon art that no other weapon possesses.
Upgrading Armaments: Weapons and Shields
Understanding how to strengthen your weapons is necessary if you want to progress in the Elden Ring. Even if your character is high-level, you won't kill a fly if your weapons aren't leveled. We have an article all about upgrading weapons.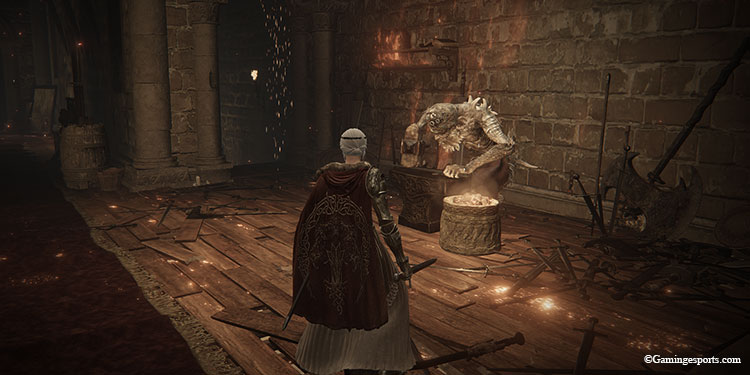 Build: Sorceries and Incantations(Magic Spells)
Elden Rings allows you to dig deep into its awesome magic system and cast amazing spells.
There are two kinds of magic spells in Elden Ring:
Sorcery: You'll require Intelligence and a Glintstone Staff to perform sorceries. There are numerous sorceries to choose from, and each is special in its own right.
Incantation: You'll require Faith and a Sacred Seal to cast Incantations. The pool of incantations you can access has 100+ varieties to choose from. These range from destructive casts to spells your character can use to buff and heal.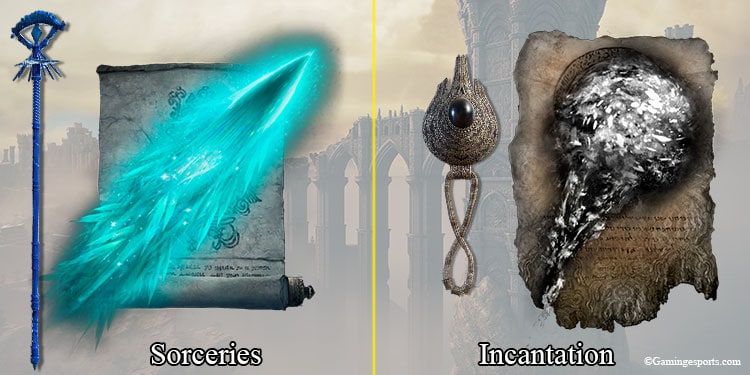 You will find the scrolls containing sorceries and incantations all across the world Elden Ring. You can also buy them from merchants and get them after vanquishing enemies.
Build and Equipment: Armors and Talisman
As discussed above, you can wear armor for style or to accomplish a certain defensive goal. Some armor even helps in the offense. There are four pieces of armor you can equip. The types are listed below.
Helmet or Headgear: The protective gear for the head.
Body Armor: The protective gear for the torso.
Gauntlets: The protective gear for the arms.
Leg Armor: The protective gear for the legs.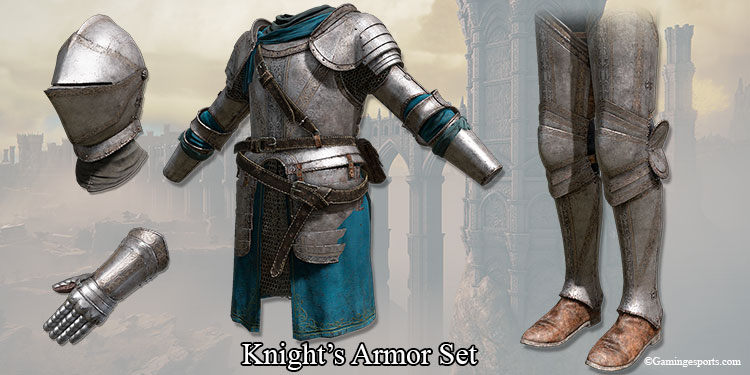 Additionally, there are special ornaments you can equip called Talismans. By the end of the game, there are four talismans you can equip on your talisman slots.
Talismans have many uses, these can help in mobility, offense, and defense. There are 80 different Talismans to acquire and choose from in Elden Ring.
Some Talismans even have negative effects, such as making your character take more damage, so use them with care.
Build and Equipment: Equip Load
If you equip any equipment on your loadout menu, they impose an Equipment Load on your character. I recommend you ensure your character is in the Light Load or Med Load category while playing the game.
To clarify, the equipped armor, weapons, and talisman impose equipment load. Equipment that is in your inventory does not impose a load even if you carrot hundreds of them until they are equipped. You have a limited equipment capacity which can be raised by leveling the Endurance Stat.
Your Equipment load status is determined by a percentage that compares your capacity to bear the load to the load of the worn equipment. Equipment load status has four outcomes.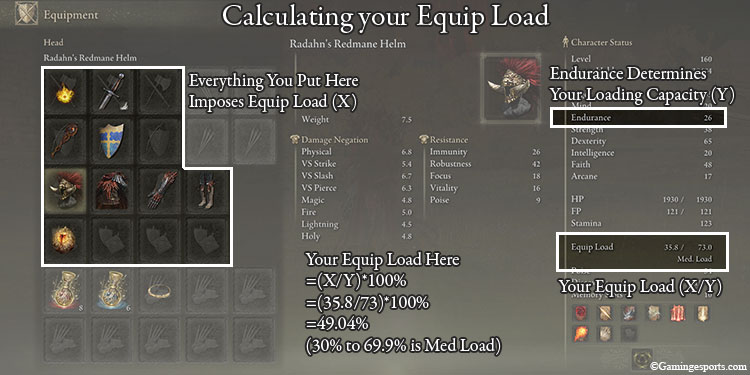 Light Load: When you have less than or equal to 29.9% of the load. You can move faster, recover quicker after backstepping, and roll with more invincibility duration.
Med Load: When you are loaded within 30% to 69.9% of your capacity. You will have reduced roll invincibility duration compared to a light load. It takes you longer to come out of your roll animation as well.
Heavy Load: When you are loaded within 70% to 99.9% of your capacity. You will perform a slow fat roll. You will experience a reduction in your stamina recovery.
Overload: When you are loaded over or equal to 100% of your capacity. You cannot roll or perform a backstep. Additionally, your movement also becomes slow and clumsy.
Important Note: Many beginners forget or do not notice that the backup equipment on your loadout menu also imposes weight, even if it is not shown in your hands. So best to remove your extra weapon if the Equipment load starts becoming a problem.
Other Important Game Mechanics
Not all game mechanics are directly related to combat, but they are still essential as you might have to understand them whether you are in or out of combat, even while exploring the dangerous world of Elden Ring.
Game Mechanics: Healing and Recovery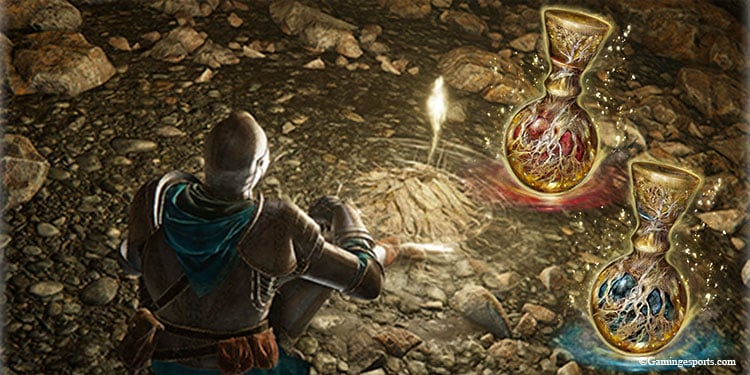 HP recovery: Crimson Tear Flask recovers your HP. There are various other ways to recover and optimize your HP.
FP recovery: Cerulean Tear Flask recovers your FP. Just like HP, you can use other ways to recover your FP or optimize your FP usage.
Refilling Healing Flasks:
You can always rest in a Site of Grace, the shiny glowing checkpoints scattered across the map to refill all your flask charges. But this will also respawn all enemies you defeated along the way.
Alternate ways to refill the flasks:
While traveling in the overworld, if you eliminate a whole group of enemies, it will refill some charges of your flask.
You can also kill scarab beetles with red orbs that are sometimes found on the overworld to recover a charge of your Crimson Tear Flask. Similarly, the kill beetles with blue orbs refill the used charge of the Cerulean Tear Flask.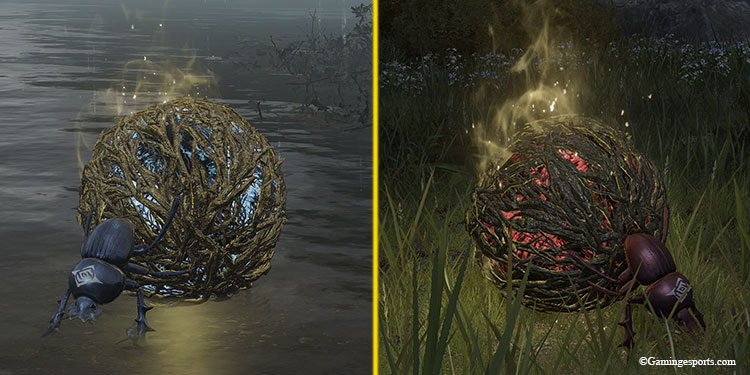 Game Mechanics: Dying
It is a mechanic we find in almost every video game. In Soulslike games, dying and respawning are integral to the game's story.
As mentioned earlier, you die when your HP reaches zero, but dying is more complicated than that. There are some mechanics related to dying that a beginner should keep in mind, as death is inevitable.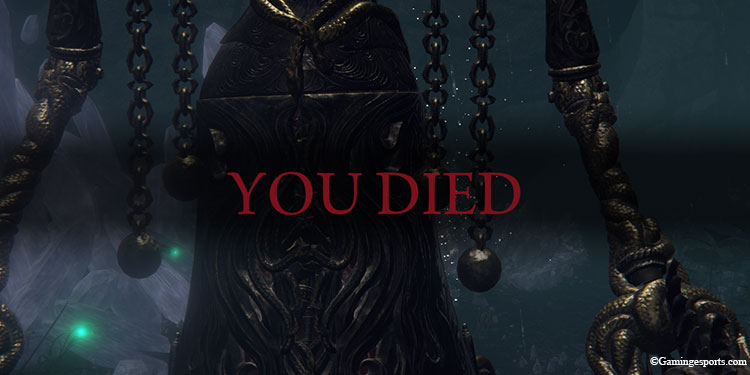 You lose all your Runes(Currency used in Elden Ring) you are carrying when you die, but you have one chance to pick them back up from where you lost them. If you die before you can pick your runes up, they will be lost permanently.
When dying, you will not lose your items or levels, so do not worry about those. The Golden Runes you pick up are stored as items, which can be consumed and made into Runes whenever you need, so consume them only when you need to buy items or while leveling up.
Death from Falling: You will die if you fall from a height, but falling always does not kill you. To gauge the depth of the fall, you can use Rainbow Stones. Drop these pebbles from a height, and if they make a mellow sound without changing their color, the fall should be relatively safe. If the stone makes a sharp sound and changes its color to red, the fall will damage you. If the stone shatters on landing, you will certainly die.
Water: Do not go into deep water because you will die. Your character cannot swim in Elden Ring, so don't be a hero and go into the ocean. You can walk on land covered in shallow water.
Prevent Rune loss when Dying: You can prevent Rune loss while dying by equipping the Sacrificial Twig in the Talisman slot. There is an alternate way to prevent Rune loss while dying by using a Wondrous Physick Mix that has a Twiggy Cracked Tear.
Understanding the World of Elden Ring
As Elden Ring is a massive open-world game, you must understand how to travel around efficiently. You also need to know and be able to identify the important things you come across.
Landmarks: Sites of Grace
The most important landmarks are the Sites of Grace. Individually they all look the same, but each bears its unique name and functions as a safe point for the player.
They also often accompany an important architectural landmark across the Lands Between.
If you have not discovered a Site of Grace yet, a Golden Swirl of Light will gather into an area when you are near one that is still unactivated.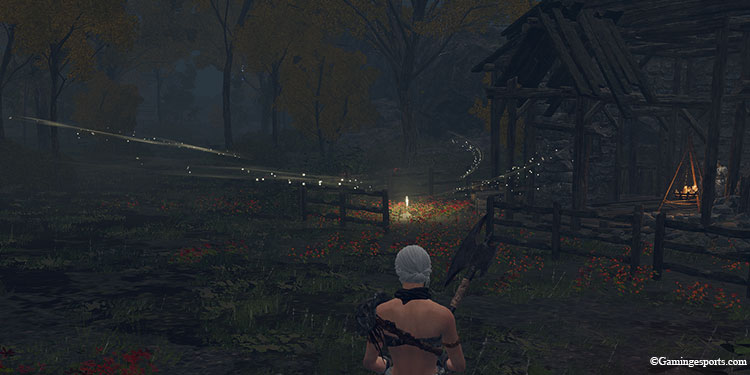 You can perform various actions in a Site of Grace. You will be fully healed, and your flasks will be automatically filled if you rest or fast-travel to a Site of Grace, but in exchange will respawn all the non-boss enemies you killed.
Landmarks: Golden Branches
Just like Sites of Grace, you will see tiny golden branches of Erdtree growing out of the ground in some areas. These are usually along the game's main path and are not deliberately hidden away, so make sure you pick up the items found around a golden branch.
The items you will find are going to be Golden Seeds. You can use them to increase the charges of your healing flasks.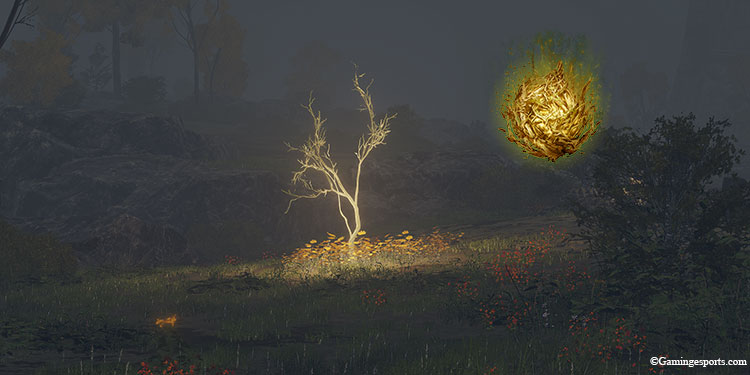 Landmarks: Churches
Whenever you see a church on the horizon, make sure you give it a visit. Most churches will have a Site of Grace and essential items.
The most important items found in churches are Sacred Tears. You can find them in front of the Marika Statue. There are a total of 12 of these scattered across Lands Between. Use them in Site of Grace to reinforce your flasks, and you will get an upgraded healing each time you do so.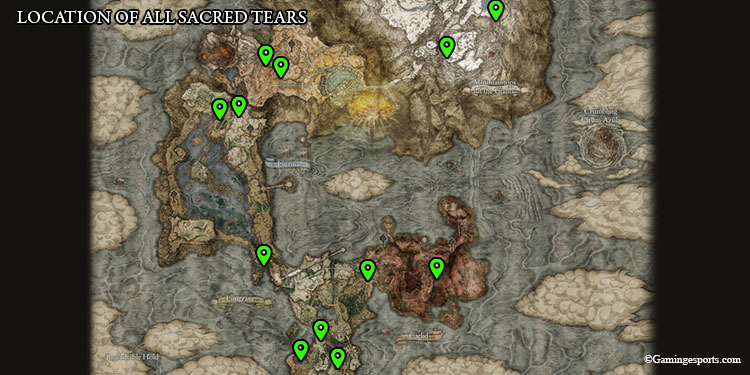 Landmarks: Legacy/Traditional Dungeons
The highlights in the map design of Elden Ring are the large, traditional, souls-like dungeons that you will have to go through to unravel the game's story.
The basic difference between these locations and other locations is,
You cannot ride on Torrent when within the confines of these areas.
There are big bosses at the end of these areas.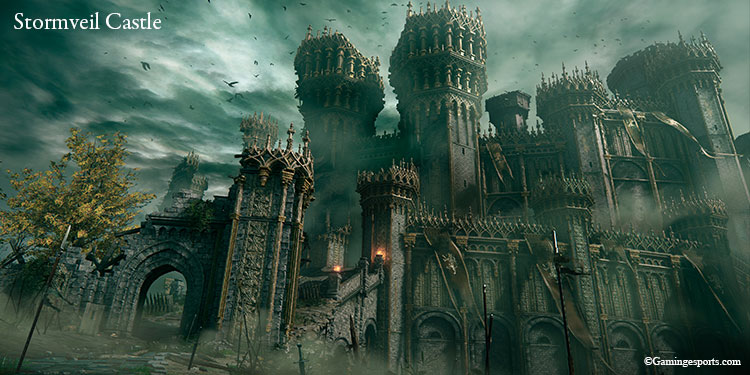 A total of 6 dungeons are considered as large Legacy Dungeons among the numerous dungeons found in Elden Ring. These are usually part of the canon storyline and house the bosses that play a great part in the story of Elden Ring. The dungeons and their final bosses are listed down below:
Stormveil Castle – Godrick the Grafted
Raya Lucaria Academy – Rennala, the Queen of Full Moon
Volcano Manor-Rykard, the Lord of Blasphemy
Leyndell, Royal Capital– Morgott the Omen King
Crumbling Farum Azula– Maliketh the Black Blade
There are other dungeon-like areas almost exactly like traditional dungeons but are smaller or more linear in pathing, so they cannot be called Legacy Dungeons. We have listed all of them below:
Redmane Castle– Starscourge Radahn
Castle Sol- Commander Niall
Castle Morne– Leonine Misbegotten
Caria Manor-Royal Knight Loretta
Shaded Castle– Elmer of the Briar
Ruin-Strewn Precipice– Magma Wyrm Makar
Leyndell, Ashen Capital– Elden Beast
Subterranean Shunning Grounds– Mogh the Omen
Lake of Rot– Astel Naturalborn of the Void
Landmarks: Dungeons and Catacombs
You can come across enterable caves and small forts in many areas across Lands Between. They have a standard layout with a Site of Grace in the beginning and a boss room or an item at the end.
Some of these smaller dungeons also come with a puzzle to get to the boss room or the final prize. Defeat the bosses and explore the nooks and crannies of these dungeons to get some handy items.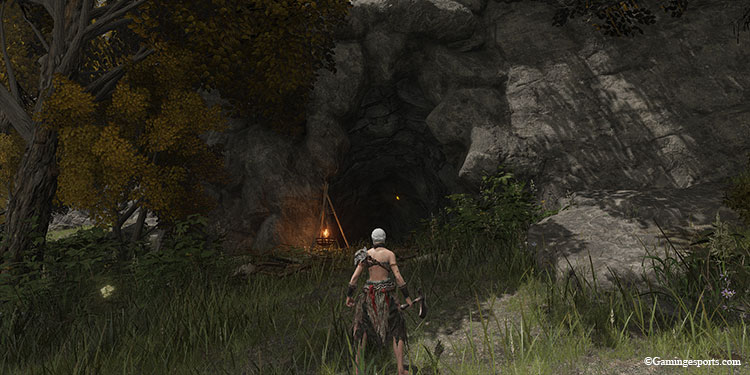 Landmark: Imp Statues
You might come across some gates with fog blocking your access to them. If a small Imp Statue is in front of the gate, use a Stonesword Key to unlock the fog gate. The new path will lead to a dungeon or an area that will usually have a special item.
You can buy Stonesword Keys from merchants scattered across the Lands Between, so always check what they have in their store. You can also find these stone keys all across the Lands Between.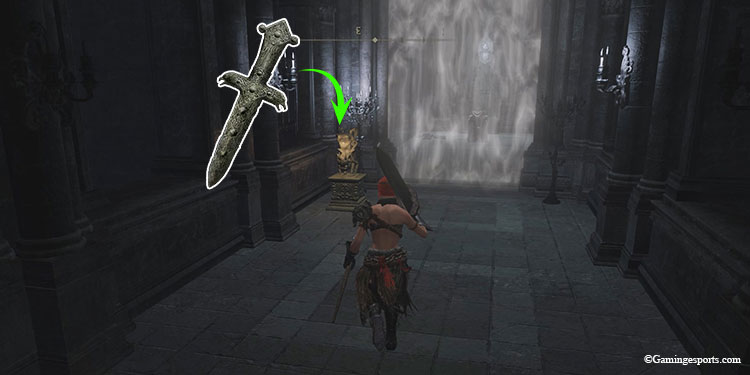 Other Landmarks
There are several other notable landmarks in Elden Ring, and we'll list them all below:
Minor Erdtrees: These are small Erdtrees that are protected by a field boss and have a Crystal Tear item as a reward.
Evergaols: These are a type of portal you can enter to reach an alternate world where you often have to fight a boss or complete a challenge to obtain an item.
Portals: Just like the name says, they take you from one area to another area across the Lands Between.
Stakes of Marika: Statues of Queen Marika that are found across the Lands Between, usually before an area with a difficult fight. You can choose to respawn there when you die.
Summoning Pools or Martyr Effigies: Another type of statue that you can activate in an area to play multiplayer.
Divine Towers: Very tall towers you can climb to the top and activate a Great Rune obtained by slaying a demigod.
Smithing Table: There is only one smithing table in Elden Ring, and you will find it in the Church of Elleh.
Wandering Mausoleums: Walking Buildings that can be brought to the ground by attacking the skull-shaped deposits they carry. You can use these to duplicate bosses' remembrances.
Spiritsprings: Stream of wind you can ride while on Torrent to access normally unreachable areas.
Rebirth Monuments: Thin, tall monuments scattered across Lands Between. When you are close to one, you can summon your Spirit Ashes.
Map Fragment Pedestals: You will find the map fragment of the area from these pedestals located within the area itself.
Guide Statue: You will notice crooked statues signaling toward a direction in many places. Examine these statues to reveal a blue light that guides you towards something in that direction, which are usually optional dungeons.
Stone Astrolabe: These are a quarter of a sphere or a half-cut bowl-looking structures you might come across during your travels. You will find Starlight Shards in these structures.
Enemies
You can encounter a huge variety of enemies during your travels. From knights to dogs, everything that develops a sense of aggression as soon as they see you are your enemies. If you were to put the enemies into categories, there are a few variations.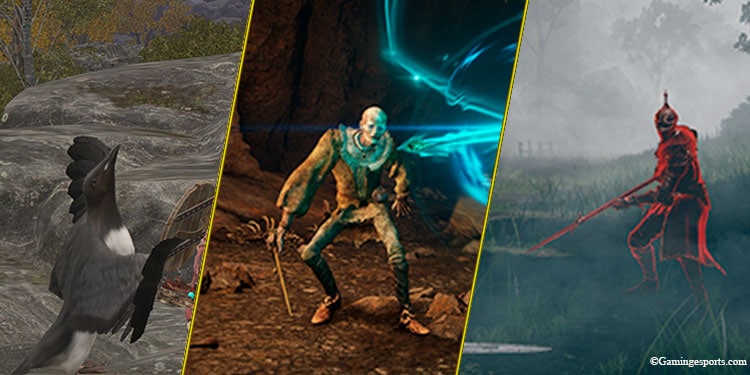 Wildlife: They serve no factions and are found all across the Lands Between. Some are aggressive, and some are not. Regardless you can usually kill everything you come upon.
Factions: Every Major region of Lands Between has its own factions. They are usually found warring with each other. Factions are made up of Soldiers and creatures that serve the will of these particular factions.
NPCs Invaders: Invaders are player-like enemies that attack you in various places. NPC invaders are recognized by their red color.
Bosses
The biggest attraction of souls-like games is all the bosses we meet. They are iconic and the most recognizable beings in every souls game. Elden Ring also has its share of superstar bosses like Malenia or Maliketh.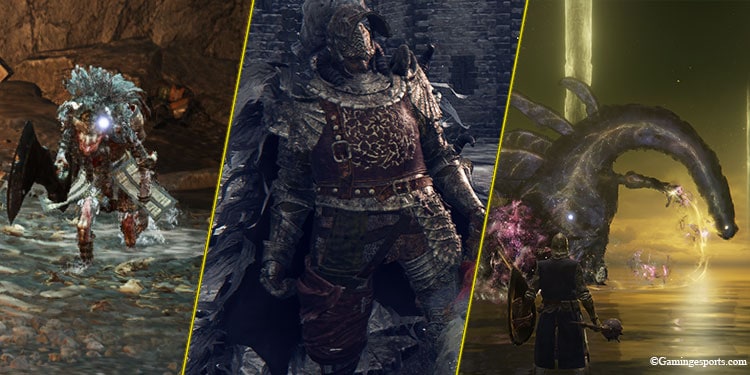 Legends: The highest tier of bosses in the Elden Ring are the gods and demigods. The mains like Radagon, Elden Beast, Malenia, Radhan, Rykard, etc., fall under this category. They are essential characters in the main narrative of Elden Ring.
Great Enemy: These enemies are usually the optional bosses you meet along the way. Most of them have intricate story implications and are put in the location you find them with a lot of thought.
Field and Dungeon Bosses: You will meet many bosses as the final obstacles in the dungeons and as an obstacle in the field. Most of these bosses serve no visible purpose to the main narrative of Elden Ring, but they still come with their backstories and can drop very useful items.
NPCs and their Storylines
You can meet multiple NPC characters with varying stories while traveling across the Lands Between. After you meet them, their location will be marked with a small hooded icon when you open a map.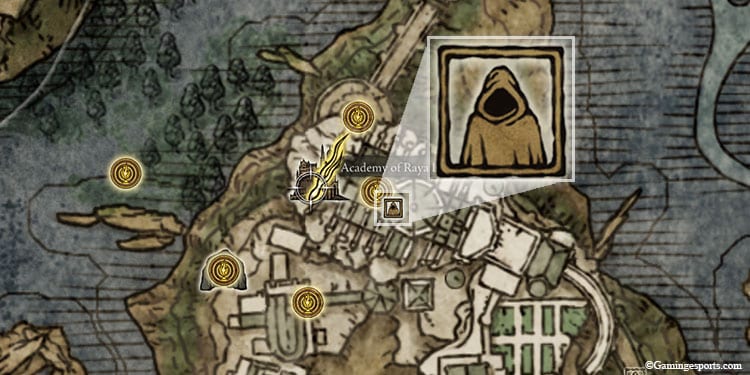 Some characters are helpful and heroic, whereas some are insidious and will use you for their benefit. Some NPCs you meet are even being manipulated by someone else.
You can either choose to assist these NPC or reject their cause, or you can even choose to ignore most of them completely.
You will usually get valuable items if you assist them or complete their questlines.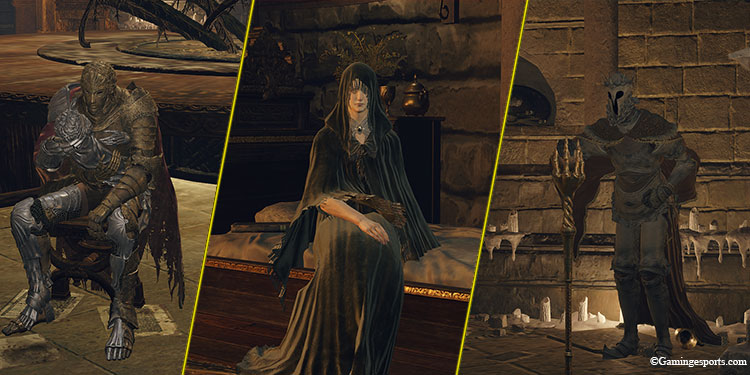 Merchants and Ball Bearings
Some NPCs will sell you items in exchange for Runes, ones like Kalé the Merchant. They are scattered all across the Lands Between.
Once you discover them, their location will be marked on the map with an icon of a hooded figure, similar to how NPC locations are marked.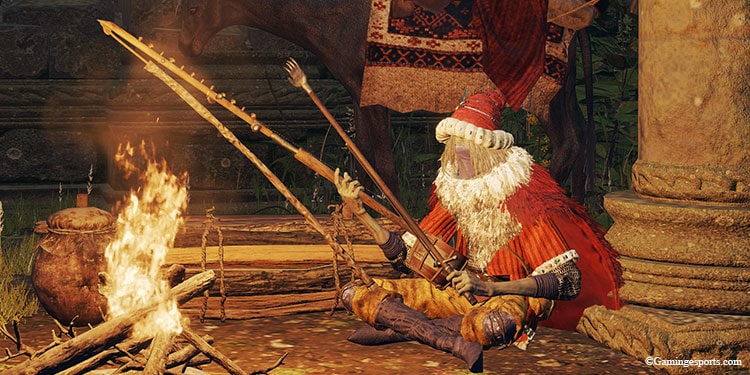 These merchants have all sorts of goods they will sell to you. The goods range from practical to vital for a more enjoyable experience of the Elden Ring.
If you accidentally attack and kill these merchants, they will drop a Ball Bearing. If any merchant character dies due to story events, they will also drop a Ball Bearing.
Give the Ball Bearings to Twin Maiden's Husk, an NPC merchant in the Roundtable Hold.
Once you give her the Ball Bearing of a slain merchant NPC, you can buy the items you originally bought from them and give them to her.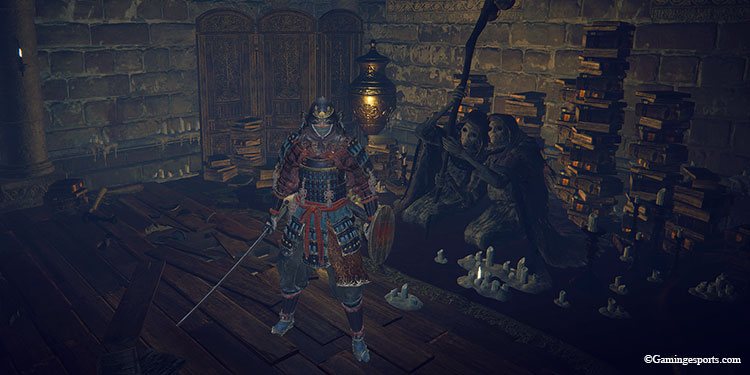 Absolution and Forgiveness
If you mistakenly attack an NPC or a Merchant, causing them to aggro or be offended, they will attack you or refuse to talk to you. If this happens to you, there is a way.
Make sure you haven't killed the NPC or the Merchant who has problems with you, in such case, you can have a truce with them again by performing absolution.
You need to find your way to a location called the Church of Vows. You can find it decently early in the game while traversing Liurnia. There you can use one Celestial Dew to gain forgiveness and mend your relationship with an infuriated NPC.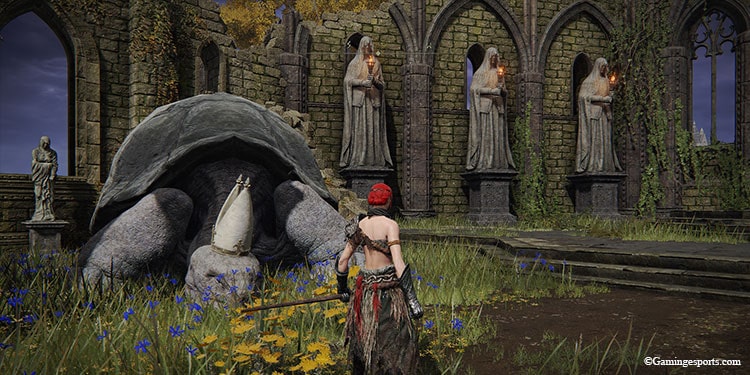 Useful Items and Where to Find Them
Some items help in multiple aspects of gameplay, from exploration and battle. Once you start using them, not using them will feel like you are playing the game with a handicap.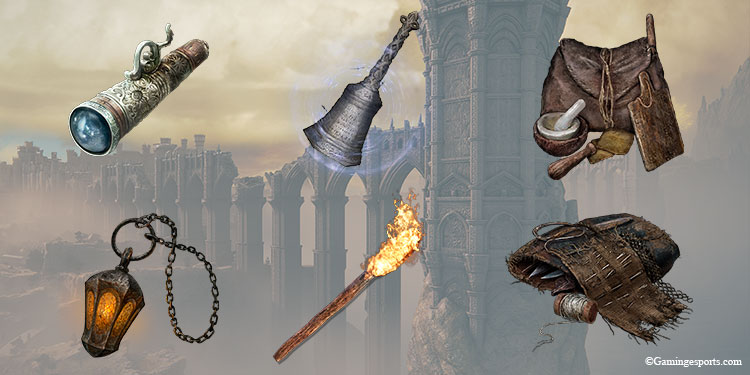 Torch and Crafting Kit- Ensure you buy these two items from the first merchant you meet, i.e., Kalé, who can be found at the Church of Elleh.
Flask of Wondrous Physick – You can obtain it from the Third Church of Marika in Limgrave. It can also be bought from Twin Maiden's Husk merchant later in the game. This item will let you make a potion using two crystal tears that give helpful buffs and effects.
Lantern – Buy from an NPC Merchant found in the overworld. The first merchant is found in Weeping Peninsula and will sell you the Lantern for 1800 Runes. The second merchant can be found in Liurnia who will also sell you the Lantern for the same price. Use the lantern to light up dark places without consuming a weapon slot.
Spirit Calling Bell – You can obtain it from Renna or Ranni from the Church of Elleh after you visit there once you obtain your mount Torrent.
Tailoring Kit – This allows you to alter some armor and clothing items. You can find this key item inside the Coastal Cave situated in western Limgrave after you defeat a beastmen duo bosses. Once obtained, use it at any Site of Grace to alter clothes.
Sentry's Torch- A somewhat helpful torch that can reveal the invisible. Buy it from a merchant on the outskirts of the Royal Capital Leyndell.
Memory Stones and Talisman Pouches
You can increase your spell equipment capacity or talisman equipment capacity by finding Memory Stones and Talisman Pouches, respectively.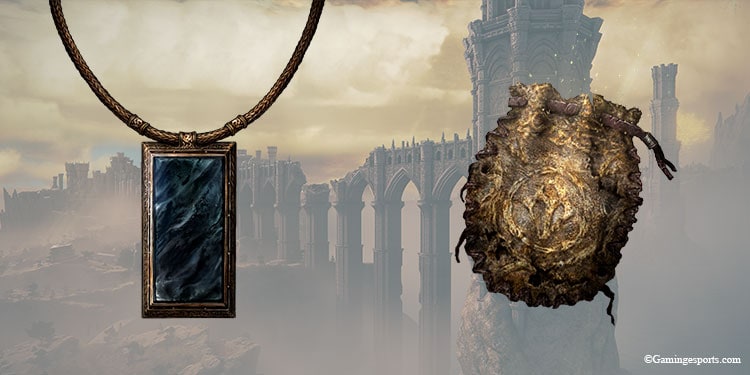 Memory Stones are found atop towers; you can follow a guide to finding each Memory Stone's location.
You can find three additional talisman pouches. One after defeating Margit or Morgott. Another can be obtained from Finger Reader Enia when you talk to her after having two Great Runes. Third is found after defeating Elden Lord Godfrey in this golden form at Royal Capital Leyndell.
Collectible Items
In Elden Ring, the collectibles aren't just for show like most games. Getting your hands on a collectible will always lead you to better and more useful things.
Map Fragments – You can collect the Map Fragment of each area and complete the map drawing. There are a total of 19 Map Fragments, of which 14 are for above-ground regions, and five are for underground regions.
Paintings– Paintings are collectible items you can come across in many areas. Usually, the paintings will have an area that is painted on them. You can receive rewards if you reach the area that is depicted on an obtained painting.
Cookbooks– Find cookbooks to increase the array of items you can craft using the crafting mechanic. Cookbooks are found in the overworld and can be bought from NPC Merchants.
Spellbooks– Find spell books and give them to wizard merchants. Miriel, the Pastor of Vows, Sorceress Sellen, and Sorcerer Seluvis are the wizard merchants who will teach you the spells in the spellbooks. If you proceed with Sellen's or Seluvis' individual questlines, they die or move on to new places, so the best bet would be to give your spellbooks to Miriel later in the game.
Boss Items
If you want to obtain the items the bosses are using or want to wear the same cloth as them, all you have to do is find the Finger Reader Enia in the Roundtable Hold. She can be found in a room accessible from the central hall once you defeat a shard-bearer like Godrick.
Once you can get the remembrance of a defeated boss, take it to Enia and exchange it for a weapon or spell the boss used. Each remembrance can be used only once and can be duplicated in a Walking Mausoleum. Each Mausoleum is also single-use.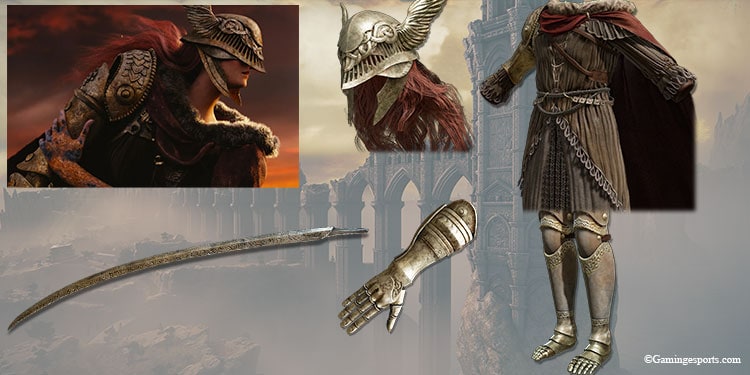 You can also buy armors of a few bosses you have defeated from Finger Reader Enia. Equip and cosplay bosses like Radahn, Godfrey, or Rennala.
Multiplayer Items
There are various items to facilitate the multiplayer and Co-Op part of Elden Ring, as you can start getting the multiplayer experience very early on.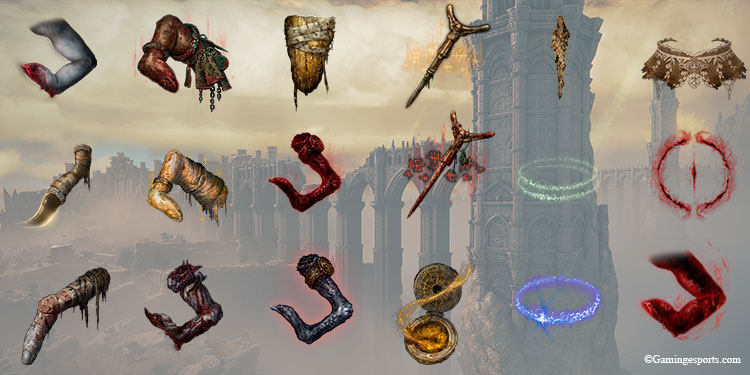 There are numerous multiplayer items, each serving a different purpose in the multiplayer experience. From calling another player for help, attacking a player by invading their world, leaving a message that other players can read in their world, transforming into an inconspicuous object to fool other players, and much more.
You can find Multiplayer items everywhere. Get them as quest rewards, as loot in the overworld, they can also be purchased from merchants.
First Things to Do in Elden Ring
Elden Ring is a massive open-world game with a lot of freedom. Still, there are a few things you can do to make a strong start,
Choose your Starting Class and the Keepsake you want to take with you into the Game.
If you are new, take a leap into the Tutorial Area and learn the basics. The older players might also want to do the tutorial, as Elden Ring has a few brand-new game mechanics.
Once you are out in Limgrave, head to the Church of Elleh, it's a dilapidated building on a closeby hill. Best to avoid the Horseback knight as you go there.
Meet the Merchant and buy a few essentials from him, like a torch, crafting kit, cookbooks, etc.
In the Church of Elleh, a Smithing Table is placed that you can use to upgrade your weapons.
Head to the Gatefront Ruins and Meet Melina, who will offer to play the role of the maiden and guide you. She also hands you a whistle that can call Torrent the Spectral Steed.
You can level up your character after accepting Melina's request.
Head back to the Church of Elleh and meet Ranni the Witch, she will give you the Spirit Calling Bell and Lone Wolves Ashes. You can now summon spirits in locations that have a Rebirth Monument close by.
The Military Camp in Gatefront Ruins has many useful things. First is the Map Fragment of Limgrave. Next, pick up a Whetstone Knife from the underground chamber. Multiple weapons can be looted from the chests inside the broken carriages.
Start exploring! The world of Lands Between is your oyster. As you explore, Melina should invite you to the Roundtable Hold. It's Elden Ring's hub area where more possibilities will unlock.
If you are a complete beginner planning to start your journey of the Lands Between, we have a detailed guide on the first few things you can do in Elden Ring.
Lore of Elden Ring
After going through everything above, in the end, as a player, you need to understand the main character's purpose in Lands Between.
The main character is called Tarnished. There are many other characters who are also called Tarnished in the game, along with the player. Even some bosses are Tarnished like us.
Simply put, the Tarnished warriors do the bidding of the Two Fingers and seek to unite the Elden Ring and, thus, become the new Elden Lord.
Long ago, Queen Marika shattered the Elden Ring, and its shards are scattered across the Lands Between, held by the Demigod children of Queen Marika. These Demigods waged war against each other, which reached a stalemate.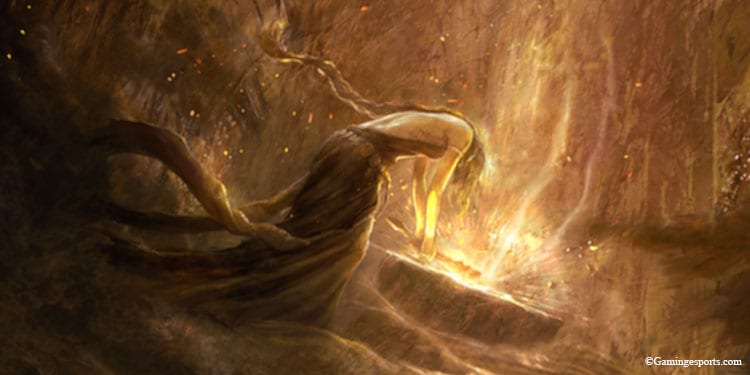 During this long era of ceaseless war among the Demigods, the Lands Between fell to ruins, and its inhabitants slowly lost their sanity.
Now, some suffer an unending madness, some suffer from the terrible Scarlet Rot, some attack everything they come across, and some purposelessly roam the lands doing as they please.
There are some who still do the bidding of their Lords. However, the Lords they follow have completely lost their wits and the ability to reason.
In simple words, all hope has been lost.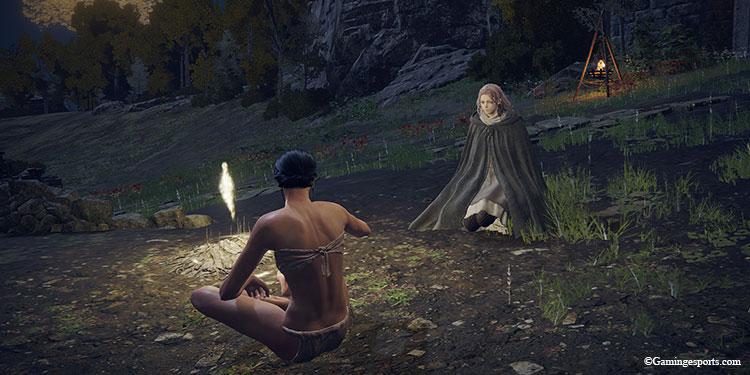 During such time, you, the player character, reach the Lands Between. It's upon your shoulders to defeat these Demigods, extract the shard of Elden Ring from them and unify it once more. Thus, becoming the new Elden Lord.
Or that is what the game and your companion Melina will tell you to do.
You, however, can choose not to become the Elden Lord. Instead, you can upend the whole thing and forge a new order. You can even choose to burn down the whole world into nothingness. You can do something else entirely and forge your own path.